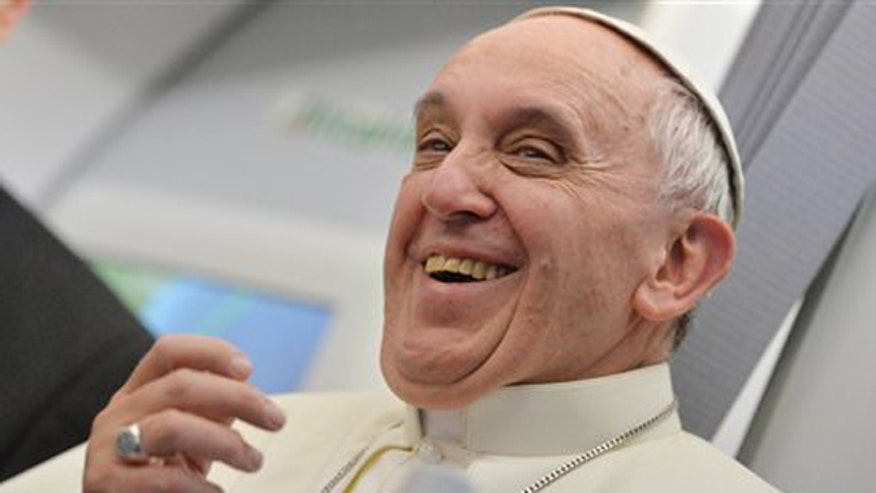 The next time someone tells you, god is dead; tell them to take a look at this.
Millions jamming a beach in Rio de Janeiro to see--
The pope.
You heard me.
These throngs weren't gathering to hear The Stones.
But to Catholics their rock.
Not the Foo Fighters.
Francis.
This first pope from the Americas.
Greeted very much like the rock star he has become throughout the Americas.
Particularly Latin America.
Where the church's grip isn't what it was. And whatever local pride in having one of their own in the Vatican, faith of any sort isn't close to what you'd think it would be.
Or so we were told, an increasingly godless continent that would care little for what Catholics believe is his spokesman on earth, and what he had to say.
Until they did.
By the millions.
Many were old. Many more were young.
Many were Catholics. Many were not.
And this pope wanted to know why.
Why is it, how is it--
That this country that has more Catholics than any other country--123 million by last count--seems to be losing them faster than any other country?
Just 65 percent of Brazilians even identify themselves as Catholics now.
Many others increasingly drawn to fast-growing evangelical churches or no churches, at all.
Yet all here to catch a glimpse of this 76-year-old Argentine Jesuit, who wanted to know not only why they had left the church, but why the Brazilian clergy had let them.
A lot of these beach-goers probably didn't agree with this pope on abortion or why all priests must be men or why those men can never marry.
Yet all crowded arm-to-arm, with barely an inch to spare to catch a glimpse. And savor a moment with a man who seemed strangely more.
In a country increasingly having trouble keeping up with itself and the burden of being an economic power.
Millions of human beings seeking out an even higher power.
And all played out on a beach in Brazil.
To hear a simple man with a simple message.
God is good.
And so are you.
Because this wasn't about saving a church.
Francis seemed more interested in just soothing some souls.