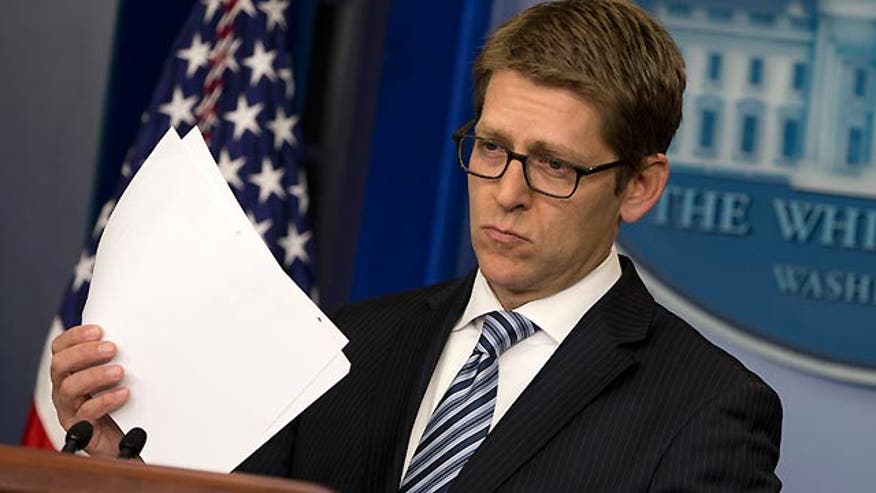 And now some fresh pickings from the Political Grapevine...
You Really Got Me
White House Press Secretary Jay Carney admits he does not have all the answers.
After nearly 450 briefings, Carney has had considerable experience answering reporters' questions but he's also perfected what the Washington Post refers to as the art of the dodge.
Yahoo News identified 13 distinct types of dodge in Carney's 9,486 non-answers not counting today's briefing.
1,905 times he said "I don't have the answer."
1,383 times he said "I would refer you to someone else."
1,125 times -- "you already know the answer."
Carney also frequently "won't speculate;" "will get back to you;" "thinks it's a good question;" and "appreciates the question."
Mind the Gap
Gap Inc. -- which runs apparel company Banana Republic -- blames human error for a mishap that would have made an identity thief giddy.
The daughter of actor Richard Dreyfuss -- Emily Dreyfuss -- ordered a pocket square and tie for her fiance two weeks ahead of their wedding.
What she got was confidential files of about 20 former employees -- including social security numbers and W-4 tax forms.
Banana Republic apologized and offered Dreyfuss a free tie and pocket square but she declined.
Lost in Translation
Finally, here's a case of lost in translation at the pre-trial hearing for Khalid Sheikh Mohammed and four other prisoners at Guantanamo Bay, Cuba.
A navy captain testified that restrictions on mail screening were tightened after a defense lawyer tried to send a copy of Inspire Magazine to one of the defendants.
Inspire, you may remember, is a publication of Yemeni-based group Al Qaeda in the Arabian Peninsula.
The U.S. considers it propaganda and a recruitment tool.
The translator, however, identified the contraband magazine as Esquire -- a magazine geared toward men.
Two rather different publications.