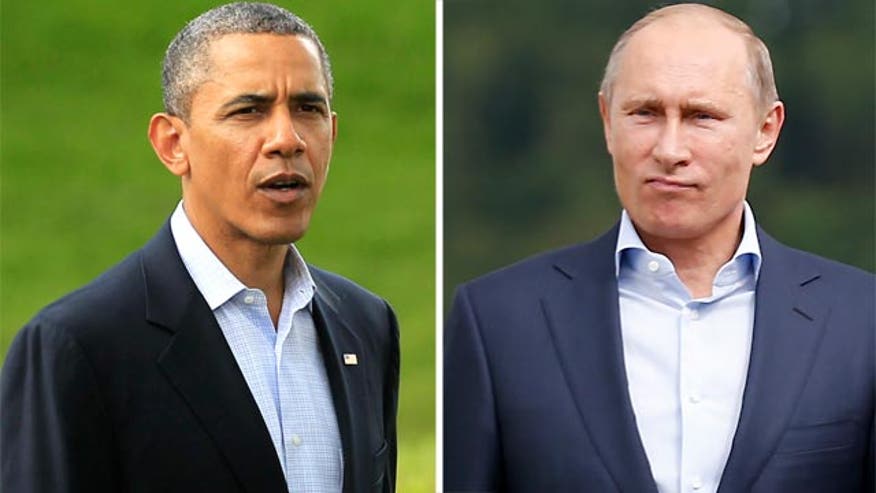 And now some fresh pickings from the Political Grapevine:
Presidential Power Play
A power play at the G8 summit pitted President Obama against Russia's Vladimir Putin in a battle over the hotel gym.
The Sun newspaper reports both leaders put in a request for exclusive use of the fitness room at the Northern Ireland resort where the summit was held, but apparently the presidents did not want to compromise and workout together.
Ultimately the Obama camp won since it turned in the request first. In true Putin style, the Russian president then decided to take a chilly swim in the lake outside.
Is This Thing On?
As we've been reporting, the NSA and FBI are testifying before Congress this week about government surveillance. Apparently NSA director General Keith Alexander thought yesterday's testimony by FBI Deputy Director Sean Joyce went quite well. After the hearing, but before microphone were turned off, Alexander expressed his appreciation to Joyce.
(BEGIN VIDEO CLIP)
GEN. KEITH ALEXANDER, NATIONAL SECURITY AGENCY DIRECTOR: Tell your boss...
SEAN JOYCE, FBI DEPUTY DIRECTOR: Good to see you.
ALEXANDER: Tell your boss I owe him another friggin' beer.
JOYCE: Really?
ALEXANDER: Really.
JOYCE: Tell him to give it to me.
(END VIDEO CLIP)
Joyce repeatedly backed Alexander's claims to Congress the surveillance programs are essential to prevent terror attacks.
Holy Ride
Finally, a special ride for a teenager with Down's syndrome. Seventeen-year-old Alberto Dipuglio was in Vatican City today. At the end of Pope Francis's general audience, the pontiff hugged the boy and then invited him to take a spin around St. Peter's Square in the Pope's open-top car as tens of thousands looked on.
The boy's father says it brought him to tears.