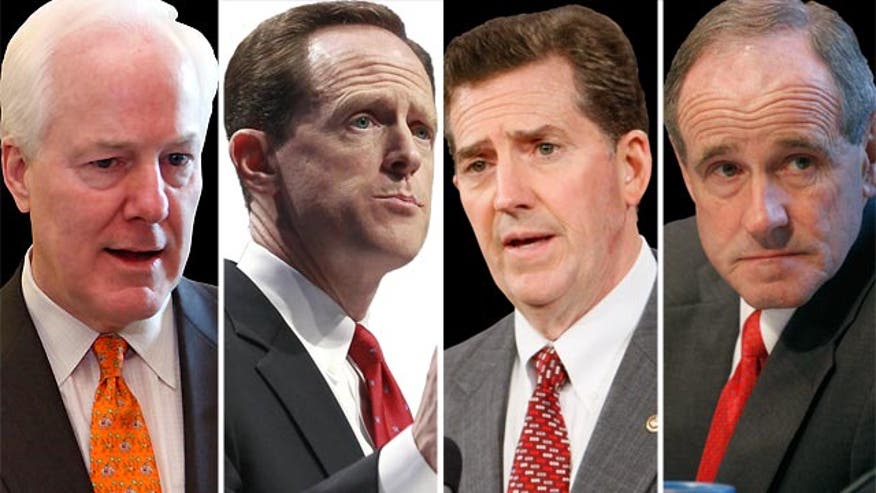 And now some fresh pickings from the Political Grapevine...
The Envelope Please
National Journal has named the most conservative and most liberal members of the U.S. Senate.
The top ranked liberals by voting records are Connecticut's Richard Blumenthal, New Mexico's Tom Udall tied for first; Illinois' Dick Durbin and Minnesota's Al Franken tied for third; and then Washington State's Patty Murray and New Jersey's Frank Lautenberg.
The top six conservative members of the Senate -- James Risch of Idaho; John Cornyn of Texas; the now-retired Jim DeMint -- the head of Heritage Foundation, of course, now; Pat Toomey of Pennsylvania; Ron Johnson of Wisconsin and Rand Paul of Kentucky. Rounding out that list.
Double Standard
NewsBusters caught a bit of a double standard in PBS coverage of last month's March for Life and this past weekend's Keystone XL pipeline protest we told you about a little earlier.
"NewsHour" dedicated just 56 words to the annual March for Life that was hundreds of thousands strong, while hyping the pipeline protest as -- quote -- "the biggest climate rally in U.S. history," in a segment that was nine times as long. That pipeline protest was estimated to draw about 35 thousand protesters.
Golf Buddies
While those protests were going on the focus the media gaze was on the president's golf trip to Florida with Tiger Woods. But, what the media did not focus on -- the other members of the president's foursome -- a pair of Texans who are key oil, gas, and Keystone pipeline players.
The Huffington Post reports liberals don't see the president's new rhetoric on climate change in the State of the Union lining up with his choice of golf partners.
The White House says President Obama is still quite committed to environmental issues and the golf trip has nothing to do with policy.
Clothing Biz
Finally, the U.S. Postal Service -- which has lost more than $40 billion over the past five years -- billion with a "b" -- and recently announced it would stop Saturday delivery -- is now getting into the clothing business.
The service has signed a deal with an Ohio-based clothing company to produce a line of apparel dubbed "Rain, Heat & Snow."
The attire includes baseball caps and T-shirts as well as wearable electronics like jackets with iPod controls built into the sleeve.
The Postal Service says the move will help the bottom line but they say it's also about brand awareness and reputation.