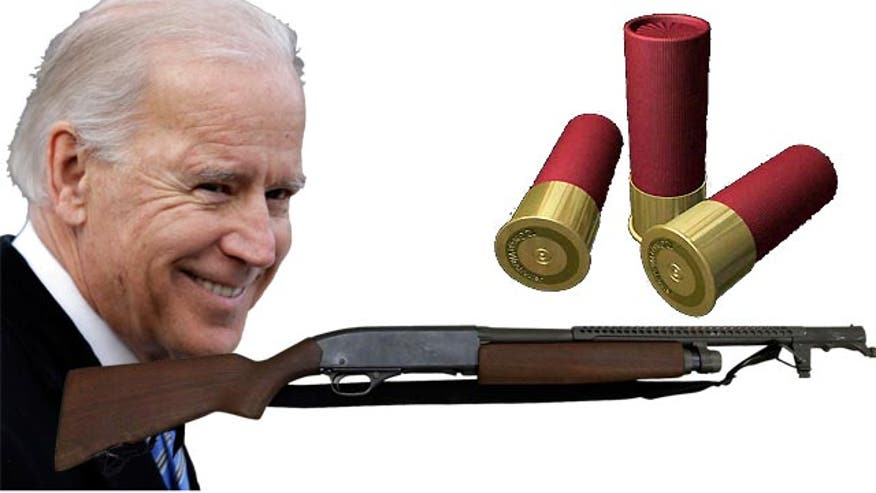 And now some fresh pickings from the Political Grapevine...
Joe Being Joe
Here's another case of Joe being Joe.
National Journal reports Vice President Joe Biden brought his fight against gun violence into a Google Plus Hangout online but ended up recommending a gun as protection in a crisis.
Quote -- "If you want to keep people away during an earthquake, buy some shotgun shells."
Adding -– quote -- "Guess what, a shotgun will keep you a lot safer -- a double barreled shotgun -- than an assault weapon...It is harder to use an assault weapon to hit something than it is with a shotgun."
The Old Switcheroo
The Huffington Post seems to have changed its mind about Goldman Sachs in record time.
Thursday, Huffington Post and Goldman Sachs announced they will partner for a new initiative aimed at job creation.
The Washington Free Beacon reports just two days earlier, Huff Post accused Goldman Sachs of profiting from the global food crisis.
It was part of a slideshow titled CEO's who look like villains and it showed Lloyd Blankfein compared to Doctor Evil.
Earlier, the Post slammed Blankfein for receiving a 75 percent raise, allegedly lying about the firm's proprietary trading, and the Huffington Post called him a "vampire squid," two days before the new job creation partnership.
You Don't Say
Finally, you can file this under "someone should have seen it coming."
Brazil gave about 27,000 minimum security prison inmates a holiday vacation home for good behavior and more than 2,400 of them did not return.
The Daily Mail notes that in 2011 nearly the same number of inmates did not return from their furloughs.
Officials still think some of the at-large inmates may come back figuring they are experiencing -– quote -- "transportation issues."
Brazil says those who are recaptured will not be eligible for future furloughs.