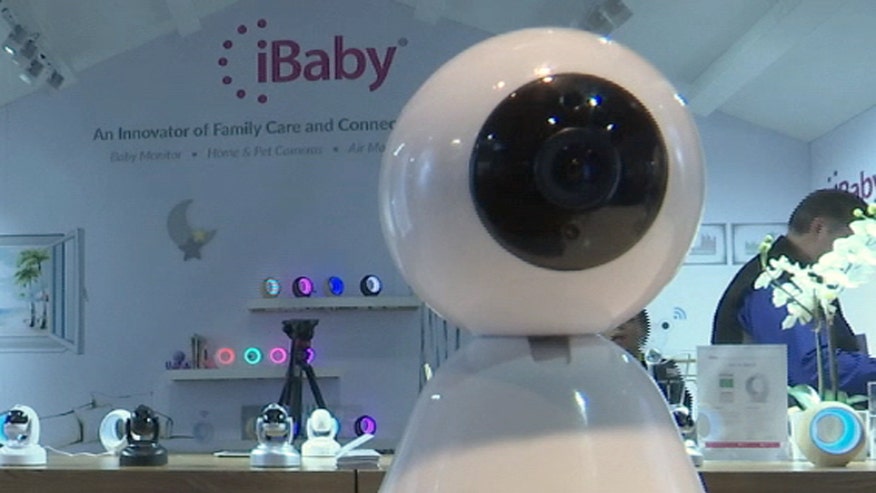 Now you can keep an eye on your baby from anywhere with the iBaby monitor that lets you check on your little munchkin from a phone app.
The iBaby M6S features 1080p video with night vision, dual band router, video streaming and a basic air quality sensor. The air quality sensor lets parents see the air quality, temperature, and humidity in the room where the monitor is.
With a 360 degree pan and 110 degree tilt, there's virtually nowhere that little nugget can crawl without being seen. The iBaby is 6.5 inches all the way around and weighs 3 pounds. The device also comes with a wall mount kit.
CHESS-PLAYING ROBOT AT CES LEARNS FROM EXPERIENCE
The iBaby also has two-way audio speakers that allow parents to talk to their babies, play lullabies and bedtime stories through the app and even add .mp3's or play music via their iTunes library.
"Everything to iBaby is connected to one app, you can download our iBaby care app and install all of our devices and connect them to each other, you can put them in the kitchen, your bedroom, living room and all of them on one app," Elnaz Sarraf, co-founder and president of iBaby Labs, told FoxNews.com.
The iBaby was one of a number of technologies aimed at parents on display at the Conusmer Electronics Show (CES) last week. Another iBaby Labs product at the CES was the Yobi - a device designed to help keep tabs on a baby or loved one, according to Sarraf. Positioned close to the baby, it can see what the little one is doing, can send alerts, and provides sound, motion and air quality monitoring.
Sarraf explained that if your children get home from school, for example, Yobi can see them and send you an alert that they're home.
She also believes air quality sensor technology is very important. "Even in the U.S. the air quality is not that great, the issue is people don't see it, don't realize it," she said.
There are multiple versions of the iBaby monitor, but a recent version, the M6S, sells for $180. Yobi is not on the market yet, but iBaby Labs hopes to get it to market by the second business quarter of 2017, for about $400.
Andrew Craft is a Fox News multimedia reporter based in Las Vegas, Nevada . Follow him on twitter: @AndrewCraft