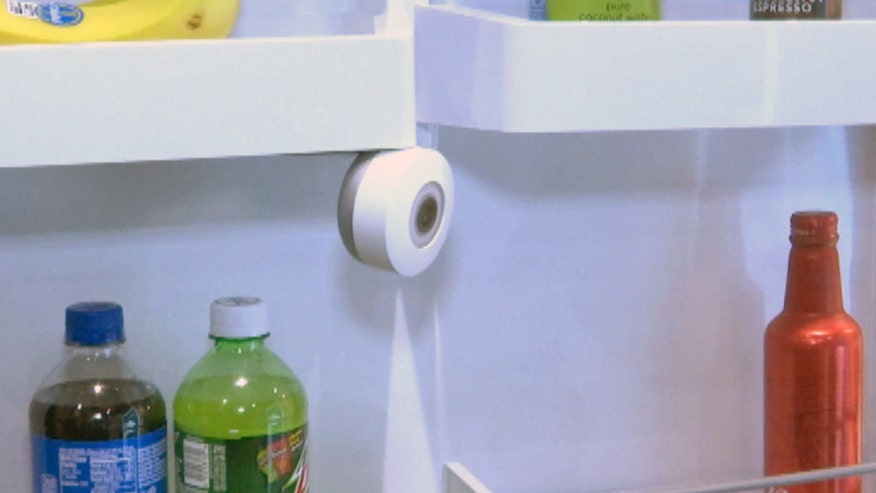 Have you ever bought something perishable from the food store, eaten some of it and thrown the rest in your fridge only to find it two weeks later brown and mushy? Now there's a device that is meant to prevent waste by helping you keep track of what food is in your fridge and when it expires.
The FridgeCam by Smarter is a couple of inches in diameter and attaches to the fridge's door shelf. A wide-angle lens takes a picture of your refrigerator every time you close the door and users can check the free Smarter app on their phone from anywhere to see what's inside.
"We want to retrofit your kitchen and make it affordable and accessible so that you can go to your local electronics store and buy these items and use your existing appliances rather than having to buy a whole new suite of products instead of spending thousands of dollars," Smarter CEO Christian Lane told FoxNews.com.
HOTTEST NEW CES 2017 TECH: HOME ROBOTS
The device sends push notifications to your phone to tell you when you're running out of something or when food is about to expire.
"We were shocked to hear the statistics behind how much food is wasted, especially in the U.S. The average family wastes around $1,500 [per year]," said Lane.
The app identifies when you're near a store using geo-location and can send notifications for items you need to pick up and can create a shopping list based on items you track.
DELL MAY HAVE JUST UNVEILED THE HOTTEST NEW EDGELESS LAPTOP OF CES 2017
In addition, the app can recommend recipes based on ingredients in the refrigerator, something any millennial living on their own for the first time can appreciate. The recipes can be tailored to your diet and to what foods are about to expire. Notifications can be sent if the fridge door is left open or the temperature in the fridge is too warm or cold.
But how does it know that milk is milk and eggs are eggs? Lane explains the device uses object recognition technology and the device actually gets smarter over time. It can also learn from other FridgeCams in use that have seen the same objects.
"Within the next two years, we'll have the largest object recognition database in the world for grocery items and essentially we can share that between users, so that when you put a new item in the fridge instead of having to label it and say this is my milk' it will automatically know based on the learning algorithms we've got." said Lane.
AMAZON IS TAKING AIM AT ROKU WITH ITS NEW FIRE TV EDITION LINE OF TVs
The concept behind the FridgeCam was thought up a couple years ago - it will be announced at the Consumer Electronics Show (CES) in Las Vegas. Lane said the main idea was to make the FridgeCam a cost saving device. There are some fridges with built-in cameras, but some cost over $3,000.
"We realized there's a real need for something affordable and accessible. So the idea was essentially to connect thousands of fridges as opposed to larger brands selling high-end fridges," said Lane.
Smarter creates a line of devices for the kitchen, including the iKettle and coffee maker. The FridgeCam costs about $150 and comes with the camera itself, a magnetic mount and a USB charger.
Andrew Craft is a Fox News multimedia reporter based in Las Vegas, Nevada . Follow him on twitter: @AndrewCraft