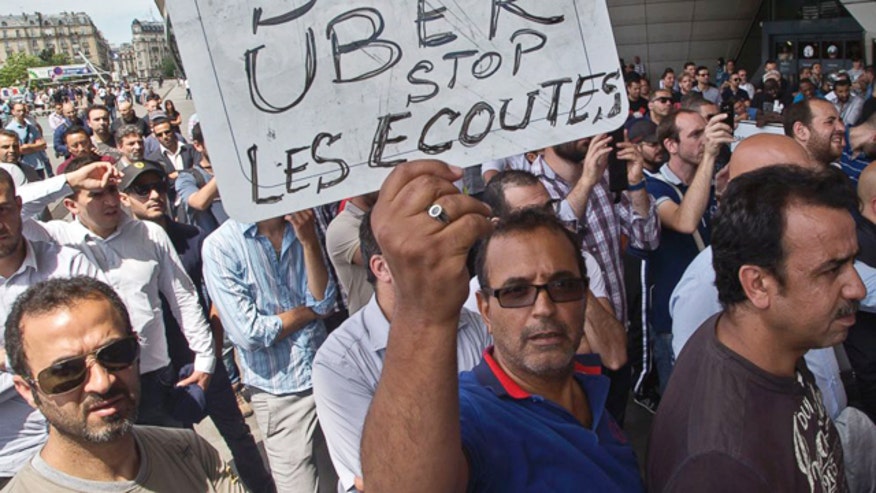 Angry protests against Uber have sparked travel chaos in Paris as French taxi drivers launched a nationwide strike against the popular U.S.-based ridesharing service.
A number of violent incidents erupted during Thursday's protests, which follow weeks of rising opposition to the taxi app.
The BBC reports that taxi drivers blocked the roads to the French capital's airports and the peripherique, the main ring road around the city, building blockades and burning tires. Blockades were also set up in the southern French cities of Marseille and Aix-en-Provence, it reported.
As a result of the strike, Aeroports de Paris urged passengers to use public transport when travelling to the city's airports of Charles de Gaulle and Orly. "Taxi drivers strike: blocked road access. Come to the airport by RER B," it posted on its website, referring to the train connecting Charles de Gaulle and Orly to the center of Paris.
Tweets from musician Courtney Love Cobain strongly suggested that she was caught up in the Paris violence Thursday. Love Cobain tweeted that her taxi was "ambushed" and added that protesters were "beating the cars with metal bats."
they've ambushed our car and are holding our driver hostage. they're beating the cars with metal bats. this is France?? I'm safer in Baghdad

— Courtney Love Cobain (@Courtney) June 25, 2015
Agence France Presse reports that, as part of the strike, thousands of cabs were also due to assemble in a number of other major French cities.
Uber claims more than 1 million customers in France, according to media reports.
Despite repeated rulings outlawing Uber's lowest-cost service, its drivers continue to ply France's roads and the American company is actively recruiting. Uber's more expensive livery service is still legal.
Taxi drivers complain that the company unfairly undercuts them and in recent weeks nearly 100 Uber drivers have been attacked, sometimes while carrying customers. In one case, a taxi passenger was left with a broken face and black eye after he praised Uber.
The ITele network says taxi drivers overturned an Uber-style livery car; at the airport, police were checking entering cars to avoid violence.
San Francisco-based Uber has not yet responded to a request for comment on this story from FoxNews.com.
The Associated Press contributed to this report