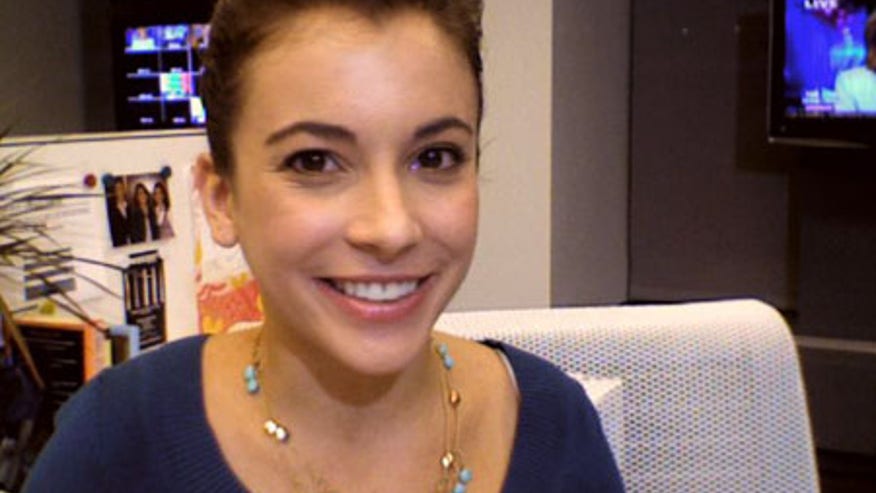 Welcome to the PC&G blog!
My name's Liz, and I scour the Web for cool sites — not all of them make it into our weekly video package, so we're posting them right here. I'll post my finds daily.
Got something you think we should see? Send me an e-mail at mobileliz@foxnews.com!

---
Tuesday, May 27, 2008
• We Need Girlfriends — Every once in a while you stubble upon something so fantastic. You HAVE to check out this site. http://weneedgirlfriends.tv/
• Coding Crayola Crayons — Check out this list of 120 different color names and hex codes … and yes all the classics are there like Macaroni and Cheese, Cornflower Blue and Razzmatazz! http://www.colourlovers.com/blog/2008/04/22/all-120-crayon-names-color-codes-and-fun-facts/
• Real Life Iron Man — I think that says it all, and the guy that thought of it is AWESOME! http://www.sciam.com/article.cfm?id=real-life-iron-man-exoskeleton&ec-su_ironman
• Dinoballs — Need some cuteness in your life? http://www.dinoballs.com/
---
Friday, May 23, 2008
• Geek Gear — I'm not really sure how I feel about this one. It's a pair of pants with a wireless keyboard built right into them. Seems like a novel idea for a super geek, but from these pics, it just looks like this guy's hand is permanently attacked to his nether region. http://www.yankodesign.com/index.php/2008/04/22/beauty-is-skin-deep-geekness-is-to-the-core/
• Potman — As the name implies, it's Pac-Man for potheads (and NO I'm not condoning the use of illegal substances -- it's merely a new spin on an old classic). With your Rasta inspired Pac-Man, maneuver through the maze while avoiding the police … it's pretty self-explanatory. http://weedcollege.com/potman/
• The Smart-Ass Guide to the USA — This one was created by Dan Meth (the genius who brought us "Internet People" ), and it's a simple flash animation exploiting the stereotypes across the states. But seriously, not ALL Jersey girls have big hair and listen to Bon Jovi … it's a select few that give us a bad name. http://www.danmeth.com/smartassusa.htm
---
Thursday, May 22, 2008
• The Waldo Ultimatum — Remember those "Where's Waldo" books? Well, what would happen if Waldo really existed … and the Feds were after his whereabouts? You'd get this awesome live action movie trailer! It's too bad there's no plan to actually make it! http://break.com/index/the-waldo-ultimatum.html
• Groove is in the Heart — I have to admit, I'm 100% jealous of all the guys over at Digg. Not that I don't have the best job in the world, but from what I gather from this video, it just looks like a lot of fun to work there. Come on, how many other companies can you burst into a group song and dance?! http://www.vimeo.com/928615
• Strange Deaths — So I'm not sure how true these all are, but this article on cracked.com is pretty interesting. Did you know it was possible to die while doing the nasty?! And while that's pretty impressive it was the guy who died from laughing at his drunk donkey that really caught my eye. http://www.cracked.com/article_16133_5-historical-figures-who-died-weirdest-deaths.html
---
Monday, May 5, 2008
• The Man Registry — Wedding season is coming up, so here's a site that's set up EXACTLY like a bridal shower registry … but with products geared toward the man of the house! You can buy the groom-to-be a 5-liter kegorator, a 200 piece tool set or even an iPod grill. http://www.themanregistry.com/Default.aspx
• Prank Bot — This one's for all the LAZY pranksters out there. Choose a prank, fill out the info and then send an "official" e-mail to your friend telling them their father has been arrested for prostitution! — Alright, they have a bunch that are a little less cruel, so check it out. http://www.prankbot.com/
• Who Should Redesign? — As we all know, there is good design on the web, and then there's BAD design . I'm sure you've visited sites that drive you ABSOLUTELY crazy because you can't figure out how to navigate them! This one's similar to "Hot or Not" but instead of voting on the facially unfortunate, you get to decided which sites have the best design. http://www.shouldredesign.com/
• Scissor Paper Stone — Or Rock Paper Scissors for all of you who are NORMAL. We should all know the rules to this one (if you don't, shoot me an e-mail and I'll have my mother pray for you), but it's extremely addictive and almost mind-numbing … perfect for a Monday afternoon! http://www.weebls-stuff.com/games/scissors+paper+stone/
---
Friday, May 2, 2008
• Spam Turns 30 — Happy Birthday SPAM! Wonder if the company will be celebrating by cracking open one of the original cans and chowin' down… YUCK! http://www.watblog.com/2008/04/28/spam-gets-older-turns-30-on-may-2nd/
Suggested by Poofy from Wayne, New Jersey:
• Alabama Leprechaun — Yes it's true, there's a leprechaun running around the streets of Alabama — Ok, so he's really hiding in a tree, but I'm picturing a creepy little leprechaun running around screaming "They're magically delicious" in my head… and its hysterical!!! ANYWAYS… what makes this even better is that people are actually expecting to find a pot of gold under that tree. What happened to the rainbow? Guess fairytales have steered us wrong! http://www.evtv1.com/player.aspx?itemnum=1861
---
Thursday, May 1, 2008
• Zombie Emergency Procedure — Just in case you don't know what to do in case of a zombie attack… DON'T USE FIRE! http://zombiepics.net/wp-content/uploads/2008/04/zombie-poster1.jpg
• Creative Photography — TONS of brilliant pics. http://justcreativedesign.com/2008/04/08/creative-photographs/
---
Wednesday, April 30, 2008
• Independent Comedy Network — Their tag line is "Comedy for the 'reasonably' intelligent," and I love it. They have a ton of original content but my personal favorites are W4N News and ICN Shorts — Some of them can be a little corny, but what can I say, I like the cheese. http://www.icn.tv/
• You Are Beautiful — Looking for an instant self-esteem booster? Then check out this site, and stop asking your friends to repeatedly tell you how "good" of a person you are (ok so we all don't do that, but you know it happens). http://www.you-are-beautiful.com/EndPage.html
---
Tuesday, April 29, 2008
• Find Your Geek — A dating site for the overly intelligent and self-proclaimed geeks. Just sign up and start meeting people with the same interests as you. http://findyourgeek.com/index.php
• Fun with Food — Here are some pictures of cute food sculptures, and I will say… some of these are pretty impressive. http://www.snurfy.com/fun-with-food/
• Camel Toads — I'm not a big fan of advice columns, but this is the funniest one I've ever seen. One women woman writes in cause she thinks her nephew has a drug problem after she found a note that said he was going to the local pool to "scout out some camel toads." Now, as funny as that might sound, the BEST part is that of the adviser. I won't give it away, so check it out. http://www.neatorama.com/2008/03/05/scouting-for-camel-toads/
---
Monday, April 28, 2008
• New iPod Ad — This new ad is awesome. Love the colorful happy dancing silhouettes — but love The Ting Tings single "Shut Up and Let Me Go" even more. http://www.youtube.com/watch?v=GSatlDrPNkE
• UPDATED: Face in Hole — One of my favorite sites has added a new feature to their repertoire. Now you can also add text bubbles! http://www.faceinhole.com/home.asp
• WiiBuilder — The Nintendo Wii can be pretty pricey, and almost impossible to find. But for 10 minutes of your time, and 50 bucks or less, you can turn your PC into a Wii-Like device. Its not the perfect substitute, but it's a good activity for a rainy day. http://wiibuilder.com/
---
Friday, April 25, 2008
• Copy Machine Music — I'm not sure if I love this idea, or if it scares the hell out of me. It's a CD with the sounds of Xerox machines on it. But it's even creepier that there are that many different types of Xerox machines, resulting in a CD with multiple tracks. You can review the tracks online, so no need to actually purchase it.http://www.amazon.com/Xerophonics/dp/B000R036M2/ref=sr_1_1?ie=UTF8=dmusic
• Frozen Waves — Amazing pictures of a frozen wave in Michigan. http://codgy.com/michigan-winter-ice-waves/
• Bob Ross — What better way to end the week than by watching Bob Ross paint? Really, who doesn't love him! My favorite part is when he makes "happy little trees." http://vids.myspace.com/index.cfm?fuseaction=vids.individual=2993100
---
Thursday, April 24, 2008
• Finger Puppets — Here's an interesting take on your everyday finger puppets. I think my two favorites are the "Peacock" and the "Bodybuilder" . http://fenyu.org/human-creative-painting/
• Street Art — A group of young artists, who go by the name 6emeia, are beautifying the streets of San Paulo, BrazilŠ and the results are fantastic. It's not your everyday graffiti, but these animated storm drains are extremely cute. http://blog.fotolog.com/2007/09/street-smart
---
Wednesday, April 9, 2008
• Four Second Frenzy — I hate this game — NO I love it! I can't make up my mind, but it's definitely mind blowing. You've got 4 seconds to complete each level… and yes its as hard as it sounds, 4 seconds is hardly enough time for me to process what is going on in front of me, let alone complete a level of a game. http://www.jmtb02.com/flash/4secondfuryce.swf
• Dudeism — If you've never seen the Big Lebowski, then I highly suggest you see it before checking this one out (NOT just because its one of the BEST movies ever, but this site will make a lot more sense if you do). Dudeism, the "slowest growing religion in the world." Now I want a White Russian! http://www.dudeism.com/
---
Tuesday, April 8, 2008
• Apple Shooter — Ever want to shoot an apple off someone's head with a bow an arrow? Well, now you can!! And I absolutely ROCK at it… But leave this one in the virtual world — don't try it at home. http://www.officegamespot.com/officegames/appleshooter.htm
• It's Raining McCain — I am so disturbed! Here's is the 3rd video by the McCain Girls, this time they're singing "It's Raining McCain" — But these girls are SO serious, it's fantastic — someone of any party could appreciate this one. http://www.youtube.com/watch?v=MaP9eiWuX3s
---
Monday, April 7, 2008
• Kegorator — This guy wants to put a kegorator on his wedding registry list… but the little lady won't let him… THAT IS, unless he can get 500 comments on this blog post. http://www.iambetterthanu.com/2008/04/07/i-need-a-keg-orator-on-my-wedding-registry/
---
Thursday, April 3, 2008
• Douchebag Products — A list of the top 10 products that are made specifically for douchebags. Not really sure if I agree with #10 though. http://www.toplessrobot.com/2008/03/the_10_products_only_douchebags_buy.php
• Botched Plastic Surgery — We all know A LOT of celebs have gone under the knife, and we've all seen the consequences of a bad boob job (i.e. Tara Reid)… WELL, here are the top 20 WORST celebrity plastic surgeries of ALL TIME, and I have to agree with most of them. Sad thing is, apart from a few big names, most of these freaks are b-list celebrities who are trying to claw their way to the top, and for most of them… it didn't work.http://www.customizedgirl.com/blog/?p=73
---
Wednesday, April 2, 2008
• Tanning Lotion Gone Bad! — The TOP 10 reasons why you shouldn't tan! http://www.wintrest.com/tanning-lotion/
• Lego Movie Scenes — Scenes from your favorite movies portrayed in Legos – my two favorites are "Edward Scissorhands" and "Pulp Fiction." http://www.soothbrush.com/movie-lego-scenes/
• Is the Baby Drinkin' the Blood? — Stupidity at it's finest!! http://www.gorillasushi.com/?q=node/691
---
Tuesday, April 1, 2008
• Masterminds — See if you can beat this mastermind! The goal of the game is to correctly guess the color sequence. You get 10 guesses and very few hints. It's hard but definitely possible — I got it right in 6 tries! http://www.huragames.com/play-672-Mastermind.html
• Flock of Mullets — See if you can beat this mastermind! The goal of the game is to correctly guess the color sequence. You get 10 guesses and very few hints. It's hard but definitely possible — I got it right in 6 tries! http://www.flockofmullets.com/
• Google Drive — I'm a HUGE fan of Google Mashups, and this is one of my new favorites. Type in a zip code and drive your mini car around the streets of your favorite city. It's a little hard to steer, but once you get used to it, it's a lot of fun! http://www.phatfusion.net/googledrive/
---
Monday, March 31, 2008
• Twhirl — An awesome third party Twitter application that lets you update your Tweets right from your desktop. Best part is, you can shorten URL's, upload pics and even simultaneously post updates to your Pownce and Jaiku accounts. http://www.twhirl.org/
• mp3gle — It's an audio search engine that actually works and allows you to instantly play your music or download it directly. http://www.mp3gle.net/
• How Many Cannibals Could You Feed? — I can feed 9! It's a morbid quiz, but pretty fun. http://www.oneplusyou.com/q/v/cannibal_lunch
---
Monday, March 10, 2008
• Wiggles Dog Wigs — Pet pampering has reached a new low with this one. It's wigs for your dogs, and it's the best way to ensure your pooch looks like a jackass. http://www.wigglesdogwigs.com/
• Be My Bra — I'm an advocate for breast cancer awareness, so I was ecstatic when I ran across this awesome site sponsored by Mylifetime.com. It's a virtual "Hands Across America," and all you have to do is create your animated self to join the chain! It's pretty fun and simple. They also have a petition to help stop "drive thru" mastectomies, which are sending women home from the hospital mere hours after undergoing major surgery. http://www.mylifetime.com/games/be-my-bra/#content
• Metro Siberia — Love this new flash game! They got their inspiration from the class "Helicopter Game," but the graphics on this one are a lot cooler! http://www.salomonsson.se/siberia/
---
Friday, March 7, 2008
• Polls Boutique — If you're addicted to taking polls, as I am, then check this one out. They've got TONS of polls, posted daily. Guaranteed to keep you busy for hours! http://pollsb.com/
• YouTube Theme Song — Written by 92-year-old Irving Fields. Extremely catchy! http://www.youtube.com/watch?v=gxkuYeERt1c
---
Thursday, March 6, 2008
• Wiki Answer — Need an answer to a burning question? Well this site's got an answer to everything, even something as dumb as, "Does drinking vinegar right after sex prevent pregnancy?" Whoever asked that riveting question is a PURE genius! http://wiki.answers.com/Q/Does_drinking_vinegar_right_after_sex_prevent_pregnancy
• E-Mail From Grandma — Do you have that one person in your address book that sends you EVERY cheesy forward/chain letter possible? For me, it's my dad. For the creator of this site, it's their grandma. http://emailfromgrandma.com/
---
Wednesday, March 5, 2008
• Million Dollar Homepage — I wish I came up with this idea when I was 21! Alex Tew from the UK developed the Million Dollar Home page back in 2005. His goal: to sell one million pixels of advertising space for $1 per pixel. Seems like a hoax, right!? Nope. And he's even reached his goal! So now this 21-year-old bloke is rolling in the dough, buying all the new socks he's ever wanted. http://www.milliondollarhomepage.com/
• Need a Bathroom? — Got to go, but don't know where? Well, if you're stuck in Westminster and need a place to pop a squat, just text TOILET to 80097 to find the public restroom nearest you. Ingenious idea, they should have this everywhere! http://www.westminster.gov.uk/environment/streetcareandcleaning/satlav.cfm
---
Click here for last month's cool finds!
---
Keep checking this page for updates, and remember to
e-mail me with YOUR favorite sites!