Here are the most captivating images taken in the past seven days.
The hell? It's colOmbia not this bull crap, fix it. @adidas pic.twitter.com/AvHvaEa89B

— Caleña (@cristinasofiaaa) June 7, 2016
It happens with some frequency: People who are referring to the South American nation, Colombia, often utilize the spelling associated with the Ivy League university, Columbia, instead.
But a major sports manufacturer that's sold and promoted the soccer uniform of the country's men's national team for years?
Adidas, the sports-attire corporation that supplies the uniform of many of the world's most prominent sports teams, has come under fire for misspelling Colombia in some ads promoting jerseys for the 2016 Copa América Centenario.
On social media, angry soccer fans are circulating of a picture of a printed poster with Colombian stars, James Rodríguez, Juan Cuadrado, Frank Fabra and Edwin Cardona wearing the team's white kit over the word, "Columbia: Home jersey 2016."
Seriously, @adidasfootball - IT'S COLOMBIA, not Columbia! Colossal mistake for such a brand. Unacceptable @adidasCO pic.twitter.com/Xvapv2i2RD

— Eña Ossa-Eslait (@EnaOssaEs) June 7, 2016
@adidasCO @adidasfootball And how many years have you been our sponsor? #epicfail #knowyourcountries https://t.co/ycjUK22iLO

— Mauricio Osorio (@Maosomo70) June 7, 2016
Going to the company's U.S. website, the mistake is repeated not just on the page for that jersey, but also for the country's 2014 World Cup away uniform.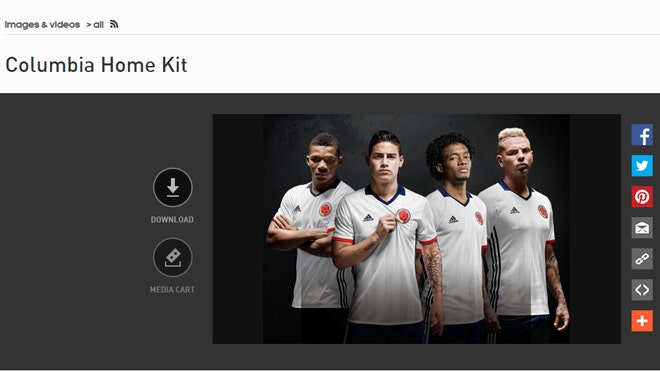 A company spokesperson told Fox News Latino via e-mail, "We value our partnership with the Colombian Football Federation and apologize for our mistake. We're working quickly to fix this."
Like us on Facebook
Follow us on Twitter & Instagram