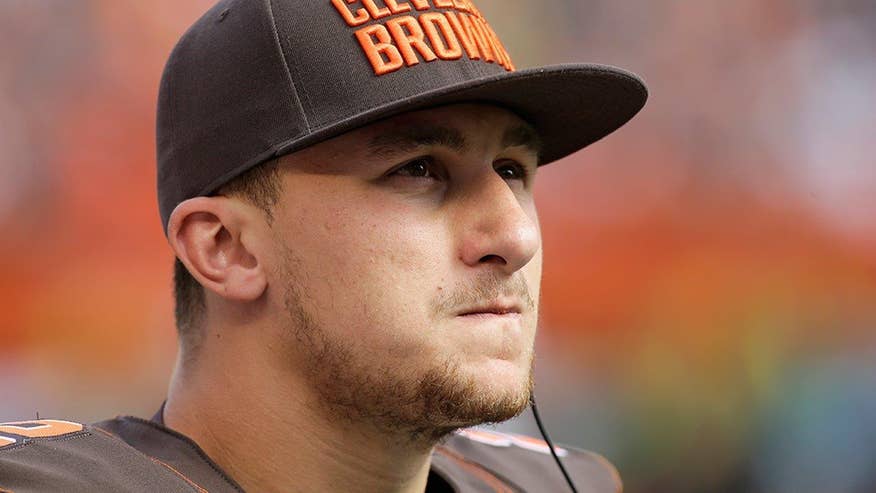 Embattled quarterback Johnny Manziel reportedly will be indicted Monday by a Dallas grand jury hearing his domestic violence case.
The Dallas County district attorney's office told The Dallas Morning News Thursday that a decision not to indict Manziel – called a "no bill" – would be announced Thursday but a formal indictment is expected to come Monday.
The former Cleveland Browns quarterback is accused of kidnapping, hitting and threatening to kill ex-girlfriend Colleen Crowley earlier this year. Dallas authorities handed the case over to a grand jury instead of making an arrest.
Dallas defense attorney Toby Shook told The Morning News the district attorney's office is following the typical procedure for an indictment. "No bills" are usually announced when a grand jury comes to a decision on an indictment, according to the paper. Indictments are announced two working days after the decision.
The 23-year-old former Heisman Trophy winner is accused of striking Crowley in a fight over another woman at an uptown Dallas hotel room on Jan. 29.
Crowley said she had invited Manziel up to her room to talk. Crowley told police that Manziel had slapped her and ruptured her left eardrum. She also told police Manziel dragged her by the hair and forced her into a car and drove her to her home in Fort Worth.
Dallas police opened an investigation into the incident after Crowley filed a report with Fort Worth police.
Manziel could be facing up to a year in jail and a $4,000 fine if he's convicted.
The latest news comes days after his Nike sponsor dropped him from his deal and his agent Drew Rosenhaus severed ties with him.
Manziel did express some hope that he could make it back on the field for the upcoming 2016 season, but it seems less likely if he's indicted in the domestic abuse case.
Click for more from The Dallas Morning News.