The New York Red Bulls were downed at home by Toronto FC, 2-0, on the first day of the Major League Soccer (MLS) season Sunday, which saw an impressive 36 goals scored in 10 games, as hundreds of thousands of fans came out in near record numbers to cheer their teams on.
While it's far too early to judge their form, something was definitely amiss on the field for the Red Bulls as Toronto scored two late goals against the run of play in the 81st and 90th minute, much to the upset of the boisterous home crowd.
Toronto's Italian international, Sebastian Giovinco, the league's top marksman last season, scored from the penalty spot in what seemed to be a poor decision by the ref, and then he assisted California native Marky Delgado with the second goal.
Earlier the diminutive, 5' 5" Italian went for an audacious shot from Toronto's own half, when he spotted Luis Robles off his line. He also nearly grabbed another goal after hitting the post.
Giovinco is a rare international star in his prime in the MLS, in that he still plays for the Italian national team and is under 30. Maybe he can act as a catalyst for other younger star players to come here. He is second in the MLS in salary after Orlando's Brazilian playmaker, Kaká. Both earn around $7 million a year.
At his postgame press conference, Red Bulls coach Jesse Marsch bemoaned his team's lack of incisiveness.
"I knew that today wasn't going to be our sharpest day just because it's the start of the year," he said. "The disappointing part from our end is we knew what this game would look like, and we knew it was important to execute our game plan versus theirs, and in the end they came in with a game plan and executed better than we did, and they wind up winning."
While the Red Bulls suffered defeat on the field, they certainly scored a victory off it. The marketing department has a program called "Field of Dreams," and it enables young soccer players to get engaged with the team through on-field experiences.
My son's team, Silver Lake Kickers, sold around 157 tickets to get the opportunity for the boys to escort the Red Bulls onto the field. We sold them pretty quickly, at a $10.00 discount, and the boys had the thrill of their soccer lives, putting on a brand new Red Bulls team kit in their own changing room with their names adorning each spot.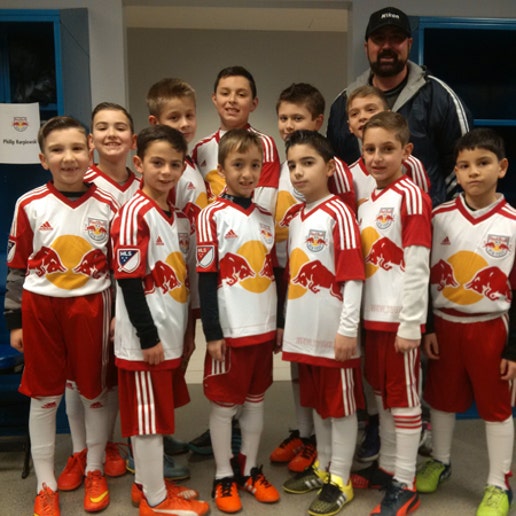 The Silver Lake Kickers with their new Red Bulls kits. (Photo: Ben Evansky/Fox News Latino)
Once dressed and briefed, they went on the field with the two teams, stood with the players for the Canadian and our national anthems and then got to see the game. Field of Dreams is an apt name if ever there was ever one.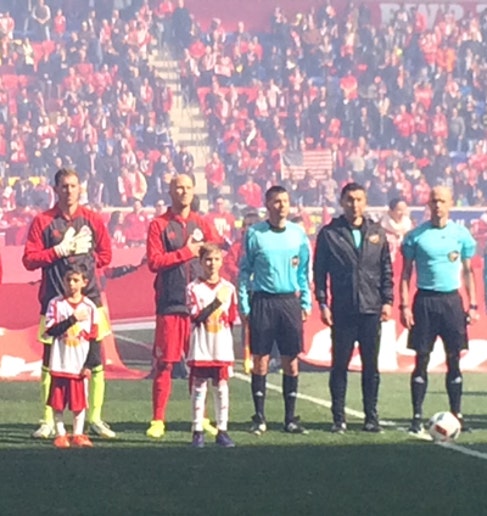 Silver Lake Kickers with Toronto's goalkeeper Clint Irwin and Michael Bradley. (Photo: Ben Evansky/Fox News Latino)
Kudos to the Red Bulls for having such programs, planting the seed early to a generation of mostly new fans. It can only be seen as being a great investment for the future.
Video of the week
Watch as Montreal Impact's Ignacio Piatti weaves his way through the Vancouver Whitecaps defense to score this awesome goal. The Impact went onto win 3-2 in Vancouver on Sunday.
From the wires
Tennis great Billie Jean King has challenged FIFA and new president Gianni Infantino to hire more women for senior jobs.
King said in a keynote speech at FIFA headquarters on Monday that the world soccer body has a chance to transform itself after years of corruption scandals.
"No pressure, but the world is counting on you," King told Infantino, who was sitting in the front row as the long-time equal rights activist addressed a women's soccer leadership conference.
FIFA has no women in top management jobs with responsibility for soccer or commercial issues after more than 17 years led by former president Sepp Blatter.
King suggested "three concrete steps" for FIFA to take: one-third of management hires should be women; appoint a CEO-like secretary general with "a proven track record of supporting gender equality"; appoint staff to create a commercial strategy for women's soccer.
Infantino was elected 10 days ago, hours after FIFA members also voted through a reform package that commits them to promote women's soccer.
"Not only are these reforms the right moral path but they make smart business sense," King said. "The business of women's football has a tremendous upside and it's FIFA's obligation to invest in the assets needed."
The allegations that tainted FIFA in recent years have been blamed partly on a so-called old boys' network. FIFA never had a female member of its executive committee until 2012, but by next year should have at least six — one from each confederation — on an expanded and rebranded 37-member FIFA Council.
That proportion of 17 percent falls short of the 30 percent target set last year by women's soccer activists for the FIFA reforms steering group, which included Infantino.
"We can't just have a seat at the table," said King, who works with the same American corporate advisory firm as FIFA. "It is about having a voice at the table."
Infantino gave an opening speech on his first full day at his presidential office.
"We have to embrace equality," the 45-year-old former lawyer said. "Alone I cannot do anything, I will need all of you. It will not be easy. But if you fight for it, as I will do, I am sure we will achieve some quite important success."
FIFA hosts the annual event to coincide with International Women's Day on March 8.
The Associated Press contributed to this report.