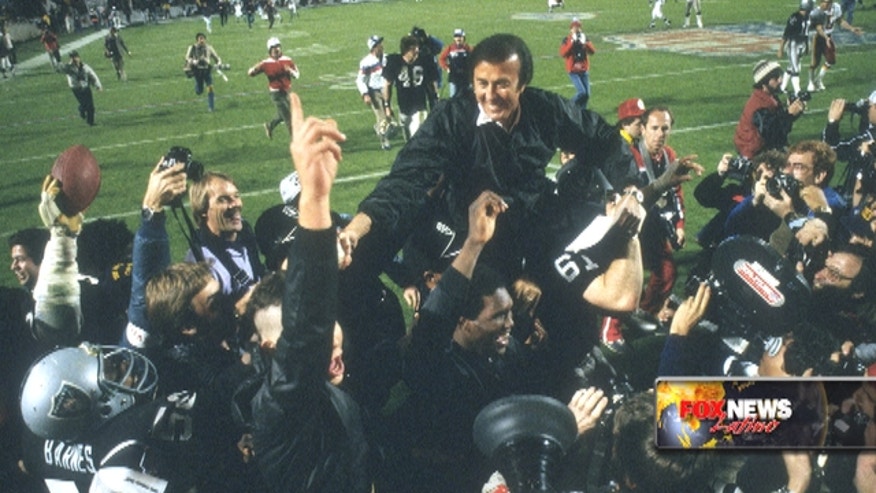 Tom Flores will be the subject this Saturday at 2:30 p.m. of Fox Deportes' "Futuros y Leyendas" ("Future Stars and Legends") documentary show.
When Carolina Panthers Coach Ron Rivera leads his team onto the field on Sunday for Super Bowl 50, in some ways so will the former Oakland Raiders head coach, Tom Flores.
Flores is the only Hispanic head coach to have ever won an NFL championship. He led the Raiders to victory at the Super Bowl in 1981 and again in 1984. In all, Flores has four Super Bowl rings to his name, including one as a player with Kansas City and as an assistant coach to John Madden.
On Sunday, Rivera will become the second Latino head coach to reach the Super Bowl, and with a win over the Denver Broncos, he would join Flores as the second to ever to hoist the Lombardi Trophy.
"I'm excited about it … making history is big, and I'm very proud of him," Flores told Fox News Latino about coach Rivera. "Hopefully Ron will win in the game Sunday, the biggest platform in professional sports, and he'll hold that trophy and he'll be the second and my name will be mentioned again so that's kind of nice. I like that."
Truth is, coach Flores, who now calls Raiders games on the radio, is a humble man whose contributions to the NFL are often overlooked, particularly in Oakland, where larger-than-life team owner Al Davis received much of the credit for those championships.
"It was Al Davis' Raiders. His name was always first," Flores said. "In my first Super Bowl, I had to introduce myself at the press conference, because I didn't think anyone knew I was coaching. That's the way it was. Even Al said, 'You're not getting enough notice because of me.' He admitted it. He knew it."
Flores certainly isn't shying away from the spotlight on his achievements that Rivera's success has brought.
"At the time I didn't even think about it. It wasn't as big a deal then as it is now," said Flores, explaining that it wasn't until well after his '81 Super Bowl win that the impact of his contribution really hit home.
"Everywhere I went, I had someone come up and tell me how their dad or their grandfather cried when I was awarded the trophy," Flores said. "They were so proud of you. I didn't even know these people, but they were proud of me because of my heritage, and their heritage."
On Saturday, the NFL will vote on the 2016 class of the Pro Football Hall of Fame, an honor that continues to elude Flores. He isn't one of the Seniors Committee nominees this time around, although the late quarterback Ken Stabler – who played for Flores and was recently reported to have suffered from Chronic Traumatic Encephalopathy, or CTE – is.
Stabler was someone who always had a "burning desire to be the best and win," Flores told FNL.
Asked if he feels that the Hall underplays his own contributions as a Hispanic trailblazer, Flores said, "They do."
"I think about it. I'd be lying if I said I didn't," he said about the possibility of being enshrined.
"Hopefully someday in the near future, while I'm still around I'll make it – because that will be the culmination of my dream. I don't have any control of that, but it does bother me at times," he added.