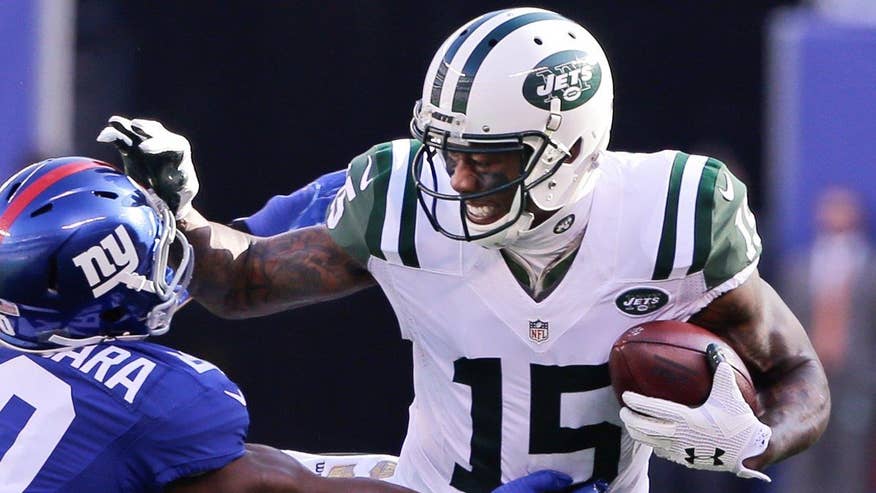 The topic of how much impact football has on the brain has become a controversial and heavily discussed one over the past year, particularly with chronic traumatic encephalopathy (CTE) having been discovered post-mortem in the brains of some former players.
Among the most discussed issues has been whether children should be banned from football, as has been suggested by Dr. Bennet Omalu. Omalu was the first to publish work on CTE following a 2002 autopsy of former Steelers center Mike Webster and, in the process, brought it into the national consciousness.
Omalu is portrayed by Will Smith in the new movie "Concussion."
Jets receiver Brandon Marshall responded to that suggestion with an open letter to Omalu that was published Friday by the Huffington Post. In the letter, Marshall stated his case for kids to continue playing football based on his personal experiences.
The 31-year-old Marshall, who previously played for the Bears, Dolphins and Broncos during his 10-year career, said he played through a concussion in 2010, a contract year, and did not disclose it to the team since missing time would have affected his value. He added that, while he would never do that again, he would "absolutely" pursue a career in the NFL if given a chance to go back and do it all over.
Marshall wrote that he believes today's children should be given the same opportunity since the potential benefits are substantial. He detailed the help he was able to get his mother and sister in alcohol treatment, the opportunity for children in "impoverished places" to make a better life and avoid the pitfalls of drugs and crime, the sport's ever-increasing safety measures and more.
He concluded with: "I have a son who is going to turn 1 in two weeks. To be honest with you, I dread the day when he comes to me and says, 'Daddy, I want to play football.' I really don't want him to play ball, but I know the life skills football has given me and can give him if he chooses to play like so many other boys. For me, football was a lifeline. ... It gives us a chance at life."
Read the full letter here.