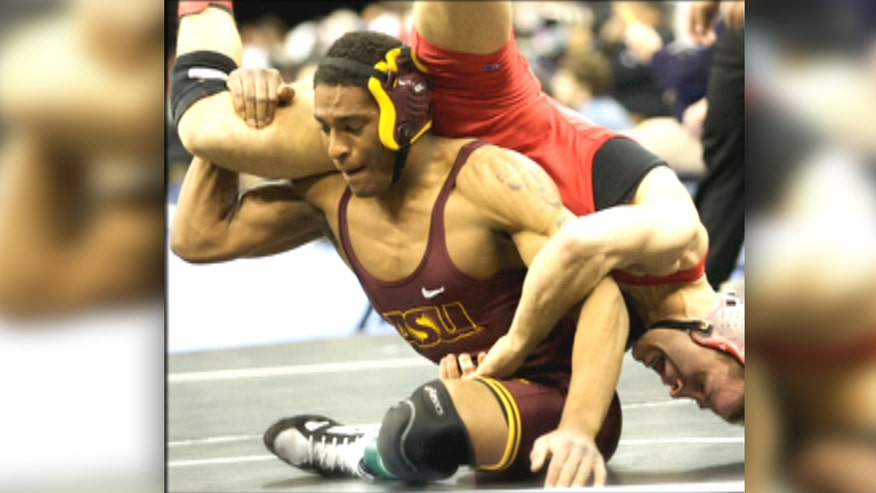 When the doctors showed Anthony Robles' mother her newborn son at the hospital, she saw that he was missing his right leg, but she didn't hesitate for a moment.
The 16-year-old Judy was determined to raise not just a good man who would persevere but a great one.
"I never felt sorry for myself for having a missing leg," Robles said to Fox News Latino. "My mom, you know, she would constantly tell me that God made me this way for a reason … We all have our own challenges."
A three-time-All-America wrestler and the 2011 NCAA national champion, Robles represented Arizona State University with pride, passion and purpose. Guided by his mother's advice, and his own self-belief, Robles used every bit of his 125 pounds to prove the doubters wrong and to inspire those who followed his journey.
"Winning the NCAA, it was my dream come true," Robles said. "It was validating for myself personally because it felt like I had finally reached my mountaintop, and in a way I felt like I was proving a lot of people wrong."
Robles retired from wrestling following his championship, and since then, he has moved on to his most important project – passing on everything he's learned. A highly sought after motivational speaker, Anthony still participates in wrestling clinics, teaching kids life lessons the best way he knows how – down on the mat.
"We bring in guys like Anthony Robles to Iron Sharpens Iron because he's an inspiration for all kids," said Steve Farrell, head of the Iron Sharpens Iron Team Wrestling Camp in Illinois.
Participant Joel Allen said, "This is the most exciting day of our camp, when Anthony is here. And Anthony is the type of guy that he will be the last guy in the building signing every autograph."
For Robles, 26, every moment is another opportunity to see kids' eyes light up when they see him. There even have been a couple of young wrestlers who have told him he made a difference in their lives.
"One in particular – he was a high school wrestler out of Missouri … He was in a motorcycle accident, and he woke up out of a coma and they had to remove his leg. And when he woke up he said, 'It's okay. I am going to be the next Anthony Robles,'" Robles remembered. "Honestly, when he told me that it kind of brought me to tears. You know, I'll never forget that individual. He motivates me."
For Robles, his heritage, mainly his mother's influence on his life, instilled in him a hard-working and humble attitude, and he's now on a mission to show kids how to take hardships and turn them into motivation.
"I do feel like I am living the American Dream," he said. "You know, that can-do attitude, and I feel very fortunate. That is how I was raised: You can do anything you set your mind to, and you have to grind through it. One of my favorite quotes is 'you grind now, you shine later.' Nobody likes to grind, but it is fun to shine on the other side."
Like us on Facebook
Follow us on Twitter & Instagram