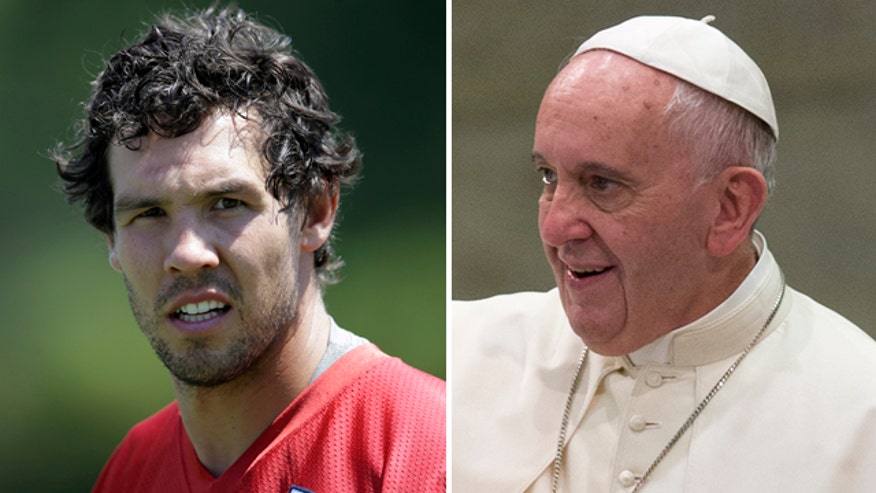 Philadelphia Eagles fans are praying one of their quarterbacks this season will be healthy, and they're drafting a No. 1 pick to get the job done.
A Change.org petition is asking fans to support their plea for Pope Francis to make a special stop while in the "City of Brotherly Love" in September to bless Sam Bradford's knee. The pope will be in Philadelphia to attend the World Meeting of Families.
Bradford missed significant parts of the past two NFL seasons while playing with the St. Louis Rams due to repeated ligament tears. The Eagles signed Bradford earlier this year hoping the quarterback's health has improved.
The petition's creator, Pratik Patel, told FoxNews.com "the pope is coming to Philadelphia; it's an exciting time, doing a lot here in America for the first time … so I thought of a way to put a fun twist to this whole story of the pope coming here."
Part of the petition reads "with this Eagles season coming up, a lot of our Super Bowl hopes rely on Sam Bradford's knees staying healthy. So, with one of the most religious representatives in the world visiting our wonderful place we call home, how about we get him to bless Bradford's knees during his visit to Philly!"
Patel says this upcoming season for the Eagles is crucial for the franchise. "It's [coach] Chip Kelly's third year, new quarterback, half our team is new so this is a big season … having Sam Bradford have those two ACL injuries in the past, it doesn't sit too well on our stomachs being Philadelphia sports fans."
No comment yet from the Vatican, but Bradford told local media Tuesday he's behind the petition and would welcome the opportunity to meet the pope.
The NFL's Twitter account sent out a message Tuesday sharing with their followers the petition.
How far will @Eagles fans go to keep Sam Bradford healthy? 2 words: Petition. Pope. --> http://t.co/eWUWN1SNn6 pic.twitter.com/5M7lsnckZ0

— NFL (@NFL) August 11, 2015
"He's all in for this whole thing, I'm sure he would love if I had two bad ACLs, I'm sure I would take anything I can get to have them healthy," said Patel. "He's on a one-year deal right now, so he's got a lot riding on this season."