Do as I say, not as I post.
The Argentinian soccer player Marcos Rojo is the author of the latest in a series of social media gaffes by players in England's Premier League.
Rojo, a defender for Manchester United, recently posted on Instagram an image of the Colombian drug lord, Pablo Escobar, along with a quote of his: "The only people who will eat at my table are those who experienced hunger with me and never turned their backs on me when I went through bad times."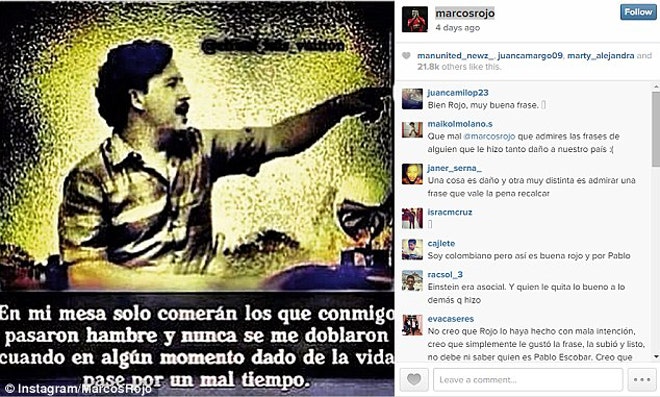 The post, taken down soon afterward, drew myriad detractors upset at the glorification "of somebody who did so much damage to our country," according to one comment quoted by the Daily Mail.
But a fair number—the post had more than 22,000 likes before being removed—expressed sentiments more along the lines of, "Who cares that it's a picture [of] Pablo Escobar? You carry on doing whatever you want, brother."
The English Football Association intends to warn Rojo and remind him of his social media responsibilities as a sports figure, but it won't fine him for the post, the Daily Mail is reporting.
Last month, the sports body chose to fine and suspend for one game Liverpool's star striker, Mario Balotelli, who is black and whose nickname is "Super Mario," after the video game character. Balotelli posted an image of Super Mario with the caption, "Don't be racist. Be like Mario. He's an Italian plumber created by Japanese people who speaks English and looks like a Mexican, jumps like a black man and grabs coins like a Jew."
Stoke City defender Robert Huth may be sanctioned the English FA for tweets that were found offensive by people in the transgender community.
Like us on Facebook
Follow us on Twitter & Instagram