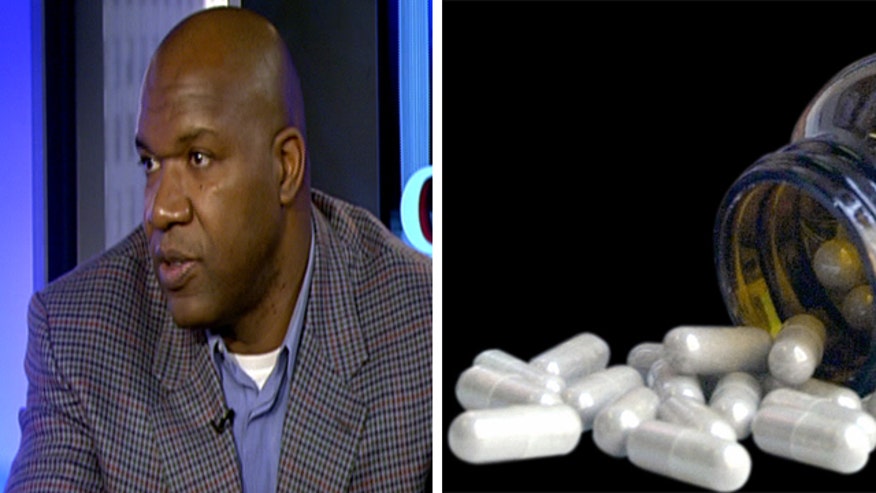 No one warned former NFL star Marvin Washington about the dangers of painkillers during his 11-year career, the onetime defensive end told Fox News two days after federal agents executed unannounced checks on at least five teams' medical staffs.
Speaking to Fox News' Tamara Holder on Tuesday, Washington said if he had known the side effects, he would not have taken the medication.
"When we were taking Toradol, nobody told me about the side effects - that I could have a stroke or seizure or heart attack - because if I would've been educated on it, I wouldn't have taken it and I definitely wouldn't have been taking it every Sunday," Washington said.
Washington played as a defensive end for the New York Jets, San Francisco 49ers and the Denver Broncos from 1989 to 1999.
The Drug Enforcement Administration's investigation into mishandled prescription drugs among NFL players was prompted by a lawsuit filed by more than 1,200 former players who allege the NFL supplied and encouraged players to use pain medication so they could continue to play, even if injured.
"They're part of an environment and a culture that is going to push them to always be on the field," said sports historian Darius Allen. "Whatever the trainer is going to give them, they're going to take it so they can suit up."
Washington is not part of the ongoing lawsuit, but agrees with the sentiment that many players are pushed to take the field regardless of pain or injury.
"If you can get through the pain and you can still function at a high level, then you're going to be out there because you don't want to disappoint your teammates, your coaches, and ultimately the owners that's paying your salary," Washington said. "I'm not part of that lawsuit because I think my doctors and trainers made me aware of what I was taking, except on the side effects side."
Watch the full interview in the video above.