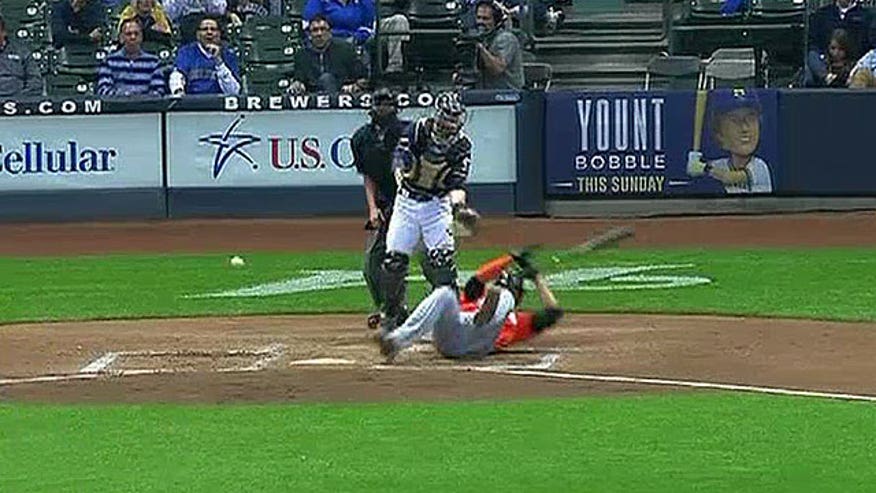 The Milwaukee Brewers won two games in a row Wednesday for the first time in more than two weeks, but the victory was overshadowed by the beaning of Miami Marlins star Giancarlo Stanton, who remains hospitalized after getting hit by a fastball from Mike Fiers.
Stanton, 24, sustained multiple facial fractures, dental damage and cuts that needed stitches after being struck in the face in a 4-2 loss to the Brewers.
Stanton's father, who was at the game, rushed onto the field while his son was treated. Stanton was bleeding heavily from his mouth, and was driven away from the plate in an ambulance. His dad rode with him to the hospital.
Marlins manager Mike Redmond said Stanton did not lose consciousness and did not say anything while down on the ground. Baseball's RBI leader and a top candidate for the NL MVP award is now likely done for the season, Redmond said.
WARNING (GRAPHIC CONTENT): Click here to watch the video.
[pullquote]
Fiers hit Reed Johnson in the hand with his next pitch, triggering a bench-clearing brawl. Fiers said he did not want to get into what happened after Johnson was hit.
"It was heat of the moment stuff," he said. "I just want to make sure that Stanton is OK. I just want to send my thoughts and prayers and everything to Stanton."
"You never think of throwing at somebody like that. Never in my life has that happened. I just feel very, very sad that I hit him. I'm sorry to their teammates, their fans, his family. It is just tough."
The Brewers gained some momentum in the playoff race after they lost 13 of 14 to fall out of the NL Central Lead. The Brewers are 1 1/2 games behind Pittsburgh for the second NL wild-card spot.
Brewers catcher Jonathan Lucroy said Fiers was trying to get a fastball up to Stanton.
"(Fiers) gets a lot of (strikeouts) on fastballs up, and the ball just got away from him," he said. "You saw what happened. It was definitely a scary moment. You never wish that on anybody. It's just a freak accident."
Johnson said the injury was devastating to the Marlins.
"The reason it's a tough one is we've probably lost the MVP of the National League for the rest of the year," he said. "I've been around for a couple of those. I saw it with Marlon Byrd and Jason Heyward. It's obviously going to take time to get him back."
Reports surfaced earlier this week that the Marlins had planned to offer Stanton the most lucrative contract in franchise history, perhaps becoming baseball's first $300 million man. The team has Stanton signed through the 2016 season.
"He's the leader of this franchise,'' Marlins president David Samson told USA Today Sports. "We always knew the talent he had, but what he's done this year, playing every day, he's the definition of a game-changer."
The frightening scene reminded an older generation of fans of the case of Tony Conigliaro, a Red Sox outfielder who led the league in home runs in 1965 — just his second year — and appeared on the way to an illustrious career before a fastball left him badly injured. It was Aug. 18, 1967, when the then-22-year-old Conigliaro was struck by a pitch from California Angels hurler Jack Hamilton on the left cheekbone. Conigliaro suffered a fractured cheekbone and a dislocated jaw, but it was damage to his left eye that left him unable to fully recapture his prowess.
Conigliaro did return to the majors, eventually earning the Comeback Player of the Year award in 1969. But he retired just two years later, although he attempted a short-lived comeback in 1975.
The Associated Press contributed to this report.