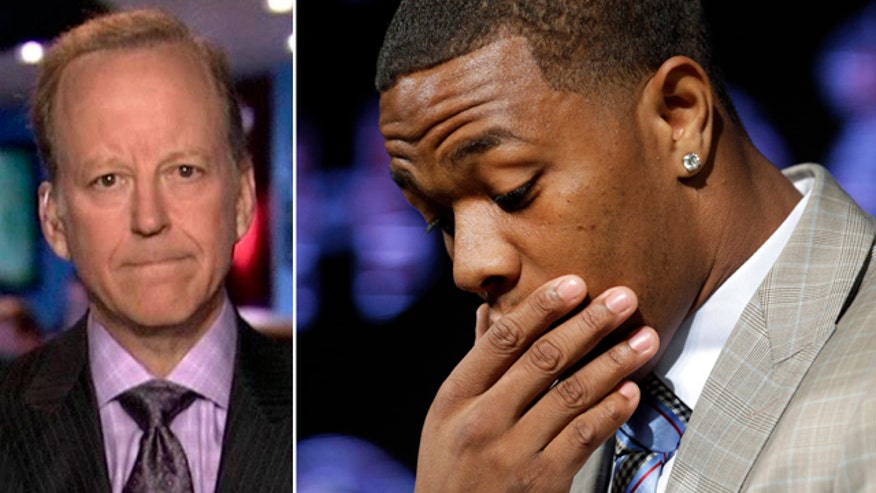 Surveillance video showing Ray Rice slugging his then-fiancée in an Atlantic City hotel elevator turned the ex-Baltimore Ravens running back's two-game suspension into a possible career-ender, but experts are asking why the shocking footage appeared to have blindsided NFL Commissioner Roger Goodell.
Goodell, who was roundly ripped for the earlier suspension, claimed through a league spokesman he never saw the sickening Feb. 15 punch until TMZ released video from the Revel Hotel and Casino elevator Monday. After a full day of media replaying video of the devastating punch that appeared to knock Janay Palmer unconscious, incredulous NFL players blasting one of their own and the Ravens cutting Rice, the NFL announced Rice was suspended indefinitely. That penalty went well beyond the six-game automatic suspension Goodell put on the books in response to criticism over his initial punishment for Rice.
"Roger Goodell has announced that, based on new video evidence that became available today, he has indefinitely suspended Ray Rice," the NFL tweeted.
Both the Ravens and the NFL said the video was not made available to them. Security for Atlantic City casinos is handled by the New Jersey State Police, from whom the league claims it sought pertinent evidence. TMZ reported Tuesday that the league never asked the casino for the damning footage.
However, in an interview with CBS aired Tuesday night, Goodell said, "We assumed that there was a video. We asked for video. But we were never granted that opportunity."
WARNING: GRAPHIC VIDEO OF RAY RICE KNOCKING OUT GIRLFRIEND
"We requested from law enforcement any and all information about the incident, including the video from inside the elevator," the league said in a statement. "That video was not made available to us."
Jay McKeen, a spokesman for the Atlantic County DA's office in New Jersey that struck the plea deal with Rice in his assault case, would not comment on what evidence prosecutors turned over to the NFL as part of the league's investigation, saying "the issue is outside our purview." But in May, Atlantic County Assistant Prosecutor Diane Ruberton told NJ.com that investigators obtained other videos of the incident, so the NFL had reason to know the elevator footage existed.
Rice and Palmer married March 28, one day after a grand jury indicted Rice on an aggravated assault charge. Rice avoided jail time by entering a pretrial diversionary program. Advocates for battered women expressed concern that she stayed in the relationship, and after yesterday's horrific video surfaced, NFL players angrily turned on Rice. But on Tuesday, Palmer wrote on her Instagram account that she still loves Rice.
"I woke up this morning feeling like I had a horrible nightmare, feeling like I'm mourning the death of my closest friend," Palmer wrote. "If your intentions were to hurt us, embarrass us, make us feel alone, take all happiness away, you've succeeded on so many levels. Just know we will continue to grow & show the world what real love is!"
Questions were swirling on Tuesday about why the NFL, which claimed as part of its extra-legal investigation of the incident to have sought "any and all information" relevant to the case, did not get the sickening footage. It was also not clear why visual confirmation of an attack Rice admitted to changed the facts for the league.
Defense attorney Darren Heitner, who has represented several NFL players in criminal cases, said it is difficult to understand how the NFL could view the video as "new evidence." But he said Goodell has "exhaustive" power to hand out discipline, and was likely reacting to a "disgusted" public.
"The NFL's collective bargaining agreement makes Roger Goodell judge, jury and executioner," said Heitner. "But if this information, video or no video, was already known, an attorney has to ask what is the justification for the NFL to enhance the penalty? And secondly, did the NFL have a reasonable opportunity to gain access to the video and simply turn its head? If so, the league should be precluded from enhancing the penalty."
David Cornwell, a sports attorney and former NFL assistant counsel, said the league should have reviewed the elevator video before handing down Rice's initial punishment. But once it was out, Cornwell said the league had no choice but to give Rice the boot.
"The video is so deplorable and offensive that it was impossible to allow Rice to wear an NFL uniform again," Cornwell said. "Doing so would be an insult to current, former and future players."
The team fired Rice on Monday, hours after TMZ released the video it claims to have received from an employee of the since-shuttered casino.
"[The video] is something we saw for the first time today. All of us," said head coach John Harbaugh. "It changed things, of course. It made things a little bit different."
The action represented a complete reversal for the team, even though an Atlantic City police summons stated that Rice caused "bodily injury to Janay Palmer, specifically by striking her with his hand, rendering her unconscious."
The Ravens had used words like "respect" and "proud" in referring to Rice following his arrest and his public shows of contrition.
When the NFL announced Rice's two-game suspension for domestic violence on July 24, general manager Ozzie Newsome said, "We respect the efforts Ray has made to become the best partner and father he can be.
"That night was not typical of the Ray Rice we know and respect. We believe that he will not let that one night define who he is, and he is determined to make sure something like this never happens again," Newsome said.
When the new video emerged, a series of tweets from players around the league shows that whatever support Rice had went up in smoke after the second cleat dropped.
"This piece of sh-- needs to be out of the league. Period," tweeted former Saints and Browns linebacker Scott Fujita, a player's union representative during his career.
"This video makes me sick to my stomach," Denver Broncos defensive tackle Terrance Knighton said in one of several tweets, including one in which he said Rice belongs in prison, not on an NFL football field.
Rice, a second-round draft pick in 2008, had strung together four straight seasons with more than 1,000 yards rushing before last year's meager 660 yards rushing and 3.1 average yards per carry.