From the Formula One Grand Prix race at the Hungaroring in Budapest, Hungary, to the 2014 Tour de France, here are the most captivating photos taken in the past seven days.
It was a strange WGC Bridgestone Invitational tournament for the Spanish golfer, Sergio García, at least as far as diamond rings are concerned. Not only was he accused of giving a flashy piece of bling to a woman present at the Firestone Country Club in Akron, Ohio, he also knocked the rock off a spectator's ring with an errant tee shot.
García led the field after three days, but during Sunday's final round, he struggled early as Rory McIlroy surged into the lead. (They ended the event that way, the second consecutive tournament along with the British Open where García finished as runner-up to McIlroy.)
On the third tee, García's shot drifted into the rough on the left side of the fairway, striking a woman in the gallery on the hand and knocking the diamond off her ring.
The event's marshals found García's ball without problem, but they couldn't find the rock right away.
The golfer joined the search for a minute, gave the woman – whose name has not been released – a signed golf ball and hit his second shot, which flew over the green. García had to settle for a bogey on the hole.
Before moving on, he asked a marshal to get the woman's contact information in case the diamond didn't turn up.
"Obviously, it didn't feel very good because you never like to hit anybody," García said after the tournament, according to the Cleveland Plain Dealer. "But if you hit someone and make her lose a diamond ring, you feel even worse."
Strangely, it wasn't the first time he had been asked about a ring at a post-round press conference in Akron.
After the second round, one reporter noted that García's girlfriend, former College of Charleston golfer Katharina Boehm, recently began wearing a diamond ring on her left hand. Does that mean the couple is now engaged?
"I think that's between Kathy and myself," García said, according to the New York Times. "If we get married or something, I'm sure everybody will find out."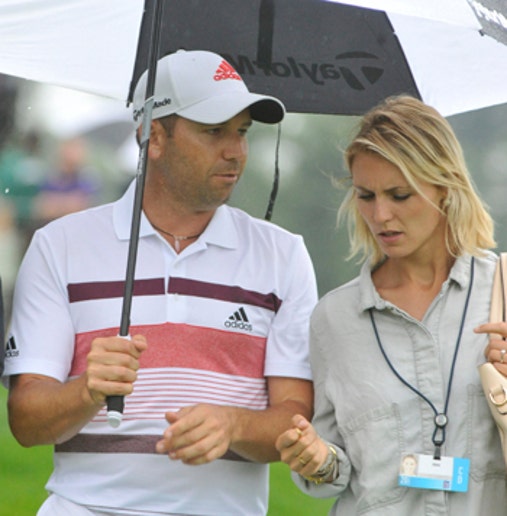 García with Boehm in Akron. (Photo: AP)
After having wrecked that other diamond ring on Sunday, however, García admitted that he was prepared to buy the spectator a replacement ring.
"I don't know how Kathy would have felt about that," he added.
It wasn't necessary. After nearly half an hour of searching, the jewel was found. Quite literally, a diamond in the rough.
Follow us on twitter.com/foxnewslatino
Like us at facebook.com/foxnewslatino