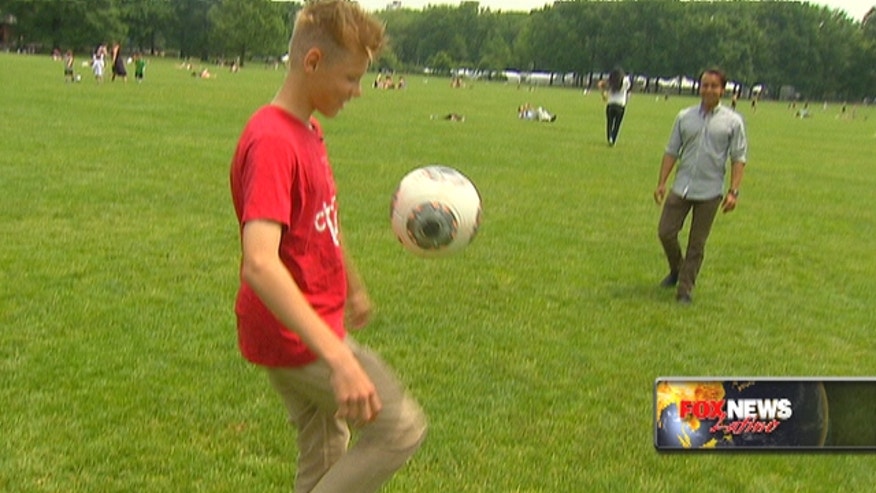 From the ages of 10 to 15, most kids are focused on school and hanging out with their friends – not on starting an international charity organization. But after helping his father provide clean water in Mozambique, Ethan King discovered one need for kids in Africa that nobody seemed to be doing anything about.
"I brought along my soccer ball, and I was going to be playing with some kids in the villages, wanted to get some pickup games going," King told Fox News Latino. "I set it down, I had like five kids playing with me, and the next thing I know 50 kids are playing and there was dust flying everywhere… But when I looked over and saw the balls the kids were used to using was like trash bags wrapped up with twine."
It's been four years since King started Charity Ball and since then 4,000 quality soccer balls have been hand-delivered to kids in 22 different countries. Looking for help for his charitable start-up, Ethan began making calls. The first person actually said "no." Unfazed, Ethan used that initial rejection as a motivation to continue working hard and to call more people. In time, the money came in and the first 100 balls went out to Africa.
Neven Subotic, a pro in Germany, heard about Charity Ball and reached out to Ethan. Together they started the Play Well Cup, a World Cup-style tournament for kids in underdeveloped regions. Within a week they had about 300 kids signed up. The tournament involved 12 teams, a group phase, a knockout phase and closing ceremonies.
"I felt something in my heart as well – like I was being called to do this," King said. "When the ball is on the ground and everyone is playing, it doesn't matter where you're at, as long as you're having fun."
Further boosting the charity's recognition, a documentary called "Pass the Ball" was made. The film's creative director, Dan Covert, deeply admired King's selflessness and dedication. "They're just such great people," Covert told FNL. "And they are really trying to get out [that Charity Ball is] more about just doing great for the world."
To make a donation to the Charity Ball Foundation, you can visit its website.
Follow us on twitter.com/foxnewslatino
Like us at facebook.com/foxnewslatino