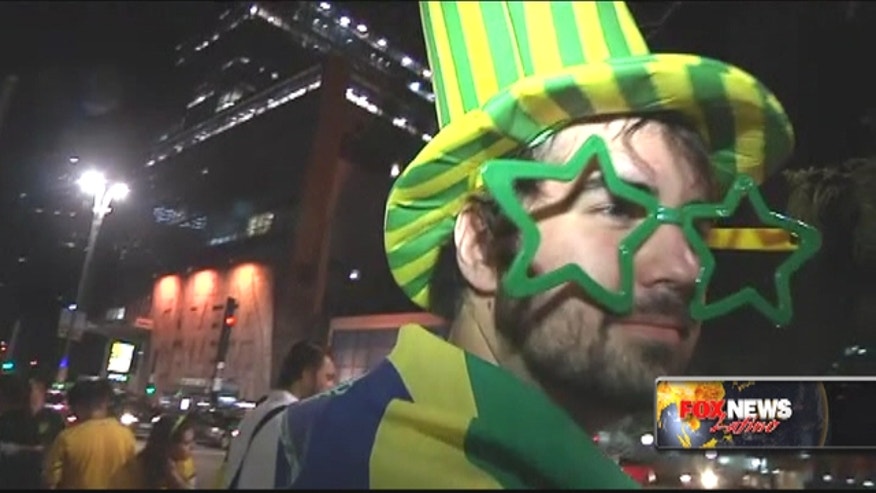 The crowd of 62,000 and some inside São Paulo's Arena Corinthians went stone cold silent 10 minutes into the opening match of the 2014 World Cup, when a cross from the Croatian forward Ivica Olic, bounced off the foot of defender Marcelo and was deflected into the Brazilian goal for a 1-0 Croatia lead.
Suddenly thoughts of the host nation washing out of the tournament during group play flooded through the mind of those in the stadium and the billions watching from home, worries about the protesters who have turned this country upside down for the last year, of President Dilma Rousseff not winning for re-election, of, let's just go ahead and say it, open revolt and civil war in the not-so-pacified streets of Rio de Janeiro and São Paulo.
After a day filled with riots in the city that threatened to erupt into mass violence and an opening ceremony that featured Jennifer Lopez, Pitbull, and a bunch of strange little goblin-like creatures, it was a relief when at last the ball began to roll. But then Marcelo's own goal turned the atmosphere inside the stadium into a stunned silence.
"Eerily quiet," is how Fox News Latino's Andrew O'Reilly, who was in São Paulo but not at the stadium for the game, described the entire city.
President Rousseff, who was in the stands for the game, had a grim expression on her face.
For nearly 20 minutes, the two sides battled evenly until Brazilian superstar Neymar squared up at the top of the penalty area and sent a tricky shot toward the Croatian goal that struck the post and rolled in to tie the score.
Inside the stadium, a cry of joy went up. Throughout Brazil, a sigh of relief was, if not heard, then at least sensed.
For the next 40 minutes of game time, the match went back and forth, with both sides putting together effective attacks on the goal.
A highly controversial penalty kick was awarded by the Japanese referee, Yuichi Nishimura, after Brazilian striker Fred fell to the ground near the goal with little apparent contact from the Croatian defense.
Some in the press suggested it might have been a Dia dos Namorados — the Valentine's Day-like celebration held Thursday in Brazil — gift for the host nation.
In any event, Neymar cashed in the penalty kick, though Croatian keeper Stipe Pletikosa got both hands on the ball, for a 2-1 lead.
Croatia had a number of opportunities to tie the game, including a goal that got called back for a foul on the Brazilian keeper, Júlio César.
All tension dissipated, and the celebrations could begin throughout the country, when midfielder Oscar sent another seeing-eye roller into the back of the net one minute into stoppage time for an insurmountable 3-1 lead.
Even President Rousseff looked relieved.
Follow us on twitter.com/foxnewslatino
Like us at facebook.com/foxnewslatino