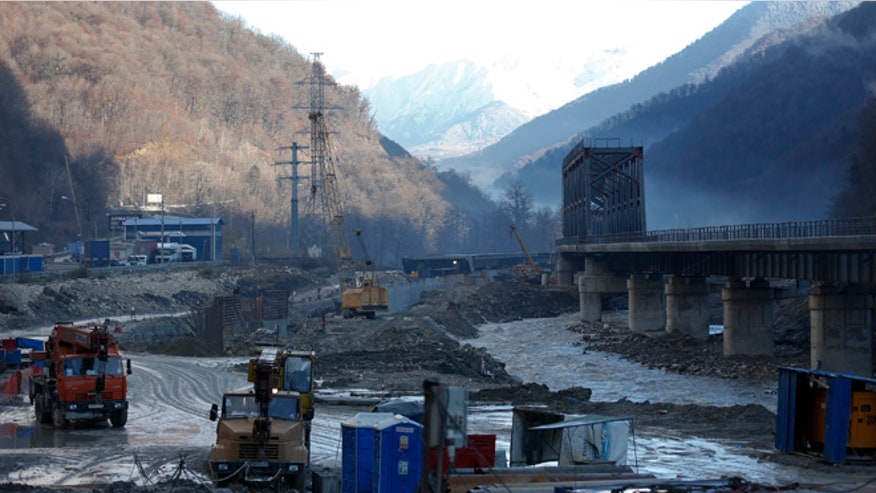 It may be the most expensive road ever built, worthy of a gold medal in the Olympic tradition of boondoggles.
A new road and railway stretches about 25 miles from Sochi's coast to Krasnaya Polyana, a ski resort in a valley in the Caucasus. The total price tag: $9.4 billion, or as The Wall Street Journal put it, $200 million per kilometer. That's reportedly more expensive than the entire budget of the 2010 Vancouver Winter Olympics.
"They may as well have paved it in platinum or caviar," Boris Nemtsov, an opposition politician, said. He estimates that two-thirds of the $51 billion Russia spent on the Olympics was lost to corruption.
To be sure, Russia is not the first Olympic host city to be criticized for funding the Olympics. Athens hosted the Olympics in 2004 and has been criticized because many of the pricey venues it built have since been abandoned. Rio de Janeiro, which is hosting the 2016 Summer Games, has seen a million Brazilians take to the streets to protest the cost and transparency of the upcoming Olympics.
Russia has gone all-out to deliver the Sochi Olympics, which run Feb. 7-23, making them the most expensive games ever, even though as a winter event, it hosts far fewer athletes than do Summer Games.
"They may as well have paved it in platinum or caviar."

- Boris Nemtsov, an opposition politician
Anti-corruption activist Alexei Navalny claims that Russia spent twice as much as necessary to build at least 10 of the Olympic venues – including the Bolshoi Ice Palace, the Fisht Stadium for the opening/closing ceremonies and the speed-skating arena.
"Athletes are not the only people who compete in Sochi," Navalny, who finished a strong second in Moscow's mayoral election last year, wrote on a website. "Officials and businessmen also took part in the games and turned them into a source of income."
President Vladimir Putin has rejected claims about rampant corruption in Sochi, saying the inflated prices were due to the honest mistakes of investors who underestimated the costs.
"If anybody has got this information, please show this to us," Putin said in a recent interview. "But so far we haven't seen anything except speculation."
A 2012 report by the government's Audit Chamber found about 15 billion rubles (about $500 million) in "unreasonable" cost overruns in the preparations for the Sochi Olympics.
Auditors found that the work of some staff members at Olympstroi, the state company in charge of Sochi construction, between 2008 and 2010 was "conducive to incurring unreasonable cost overruns." At least three criminal investigations against Olympstroi employees have been opened, but none has reached court. Olympstroi has since changed its management.
One of the key beneficiaries of lucrative Olympic contracts was Putin's childhood friend Arkady Rotenberg. Through a majority-owned subsidiary, Rotenberg holds nearly 39 percent of the Mostotrest company, which amassed a dozen Olympics-related state contracts to build nearly all of the highways in the area.
Mostotrest's contracts in Sochi amounted to $3.1 billion, including a $1.6 billion bypass for Sochi, as well as tunnels, bridges and railroads, the company confirmed to the AP.
The Associated Press contributed to this report