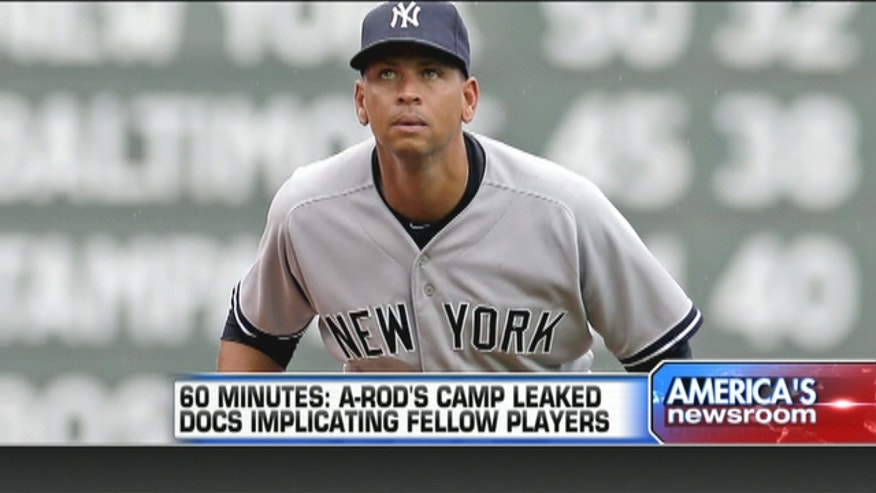 According to a report from CBS' "60 Minutes" news show, Alex Rodriguez's inner circle may be responsible for leaking then names of Milwaukee Brewers' Ryan Braun and Francisco Cervell to the media in connection to a growing doping scandal in professional baseball.
"60 Minutes" obtained leaked documents that implicates that Rodriguez's people released the names days after the Miami New Times newspaper published its much-cited article on the Biogenesis doping scandal.
Braun and Cervelli were redacted from the documents obtained by New Times. Rodriguez's camp obtained unredacted copies and leaked them to Yahoo! Sports, sources told "60 Minutes."
Rodriguez lawyer, David Cornwell, released a statement to "60 Minutes," saying: "The allegations are untrue and are another attempt to harm Alex -- this time by driving a wedge between Alex and other players in the game. While Alex focuses on baseball and repeatedly states that he is going to respect the appeal process, the drumbeat of false allegations continues."
Baseball Commissioner Bud Selig this week insisted he did the right thing in suspending Rodriguez for more than one season.
"It was not difficult for me at all," Selig said. "I spent many, many hours thinking about it, trying to be fair, trying to be logical and rational. I wouldn't second-guess a thing at all. I thought it was eminently fair."
There has been a backlash from Rodriguez's camp because of the harshness of the 211-game penalty, and Rodriguez has appealed. The New York Yankees slugger is playing while the appeal is being considered.
"I can't control what people are saying," Selig said. "I have a job to do, and that's protecting the integrity of the game and enforcing it, and that's what I'm going to do. The public role in this thing — it is what it is and I accept that. I have no concerns about it."
Selig continued: "There are times you'd like it not to be this, but that's just the way life works out. We made a commitment ... that we would do everything we can to clean up this sport. We have and we will. To be where we are today I think is remarkable."
Selig was asked about Rodriguez's suspension this month while the commissioner was announcing a major expansion of video replay for next season on Thursday.
Rodriguez was one of 14 players suspended in the Biogenesis scandal and received the stiffest penalty.
Rodriguez is the only one who is appealing.
Brewers outfielder Ryan Braun received a 65-game suspension while All-Stars Nelson Cruz, Jhonny Peralta and Everth Cabrera were among 12 banned for 50 games apiece on Aug. 5 when MLB disciplined them for their relationship to Biogenesis, a now-closed Florida anti-aging clinic who are accused of distributing banned performance-enhancing drugs.
Based on reporting by The Associated Press.
Follow us on twitter.com/foxnewslatino
Like us at facebook.com/foxnewslatino