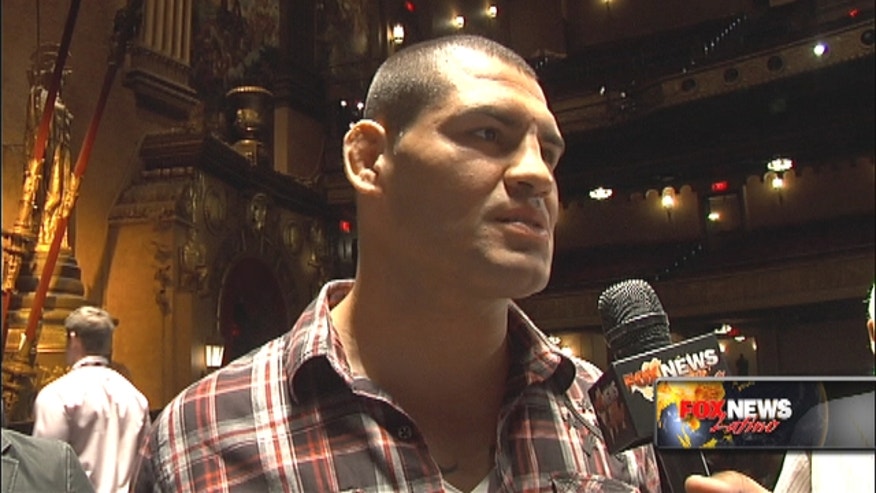 As the UFC presents four of their champions and the four challengers they face during the last four months of this year during a "World Tour" that hits 11 cities in six days, it's hard to argue what match-up stands out the most.
But one that does stand out is the rubber match in a trilogy that's seen the title change hands twice and is leaving many hard-pressed to pick a winner.
That fight is between heavyweight champion Cain Velasquez and Junior "Cigano" dos Santos.
"We're going to keep the same type of pace [as the last fight]," Velasquez told Fox News Latino during their New York City stop Wednesday.
During their first fight, their Fox network debut in 2011, dos Santos shocked the champion by knocking him out in just over a minute and giving him his only loss. In the second fight last year, Velasquez drubbed dos Santos, easily winning a five-round decision.
Velasquez, happy with the outcome, wasn't 100 percent satisfied with everything he did that night.
"There are things we could have done better in that second fight. We got to work on that," Velasquez said. "We're expecting him to come out better, learn from his loss. We're thinking that this fight will be even harder than the first two [fights]."
On the other side of the cage, on October 19th in Houston, Texas, will be former champion dos Santos who in May knocked out fan favorite Mark Hunt earning "Fight of the Night" honors and giving him the rematch he so badly craved.
When it comes to his title loss against Velasquez and what he needs to work on to beat him, the Brazilian is honest.
"Everything," he told Fox News Latino at the same event with a smile on his face. "I'm going to do everything different."
Dos Santos gives Velasquez his due for the game plan and execution from the second fight.
"He did an excellent job. He's a great fighter," dos Santos said. "I know I have to be perfect … to win this belt back."
When talking to dos Santos, a jovial and seemingly happy person, one gets the impression it bugs him that he still isn't holding his title belt. But he's promising his fans he's getting it back.
"They can trust me. I will do everything to get that belt back. And I really believe that belt is mine," dos Santos said. "I'm feeling very motivated for this fight."
Champion Vs. Champion
During the press conference, the media and fans were intrigued by the possibility of UFC light heavyweight champion Jon Jones, who had pledged to one day move up to the heavyweight division facing current champion Velasquez.
"I think it would be great, Jon Jones is a great champion, he's amazing what he does out there," Velasquez said of a possible match with Jones.
Jones still believes he has some unfinished business in the light heavyweight division, notably a battle with "The Mauler" Alexander Gustafson later this month.
"I've got a lot to prove still. I'm not looking past the challenge here, but Glover Teixeira [a Brazilian fighter considered a contender at light heavyweight] is a guy I've got my sights set on."
Both men stood up and squared off briefly, to the delight of the New York City crowd.
Follow Victor Garcia on Twitter @MrVicGarcia
Follow us on twitter.com/foxnewslatino
Like us at facebook.com/foxnewslatino