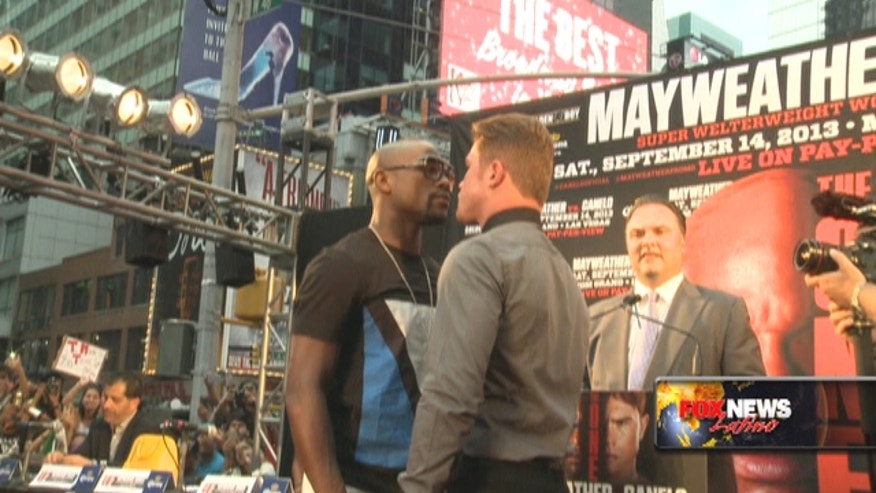 *The footage of the press conference was provided by SHOWTIME.
The most anticipated fight in boxing is actually happening and what better place than New York City to begin the media spectacle.
Floyd "Money" Mayweather Jr. [44-0], boxing's most celebrated pound-for-pound champion and a spry 36-years-old, will take on 22-year-old heralded Saul "Canelo" Alvarez [42-0-1] with four championship belts on the line, in the Super Welterweight division this upcoming September in Las Vegas.
The fighters kicked off an 11-city media tour Monday and are dubbing the SHOWTIME Sports event as "The One," as in the one fight where you'll see the best two fighters in the world face off to prove which one is the best.
"We are looking to break pay-per-view numbers and ratings, with Canelo and Mayweather. I think they can easily surpass what the record is now," Golden Boy Promotion's founder Oscar De La Hoya told Fox News Latino.
De La Hoya, who promotes for both fighters, also has the distinction of fighting Mayweather in 2007 to set that record for 2.4 million buys.
But the "Golden Boy" is quick to point out a distinction between the threats Alvarez poses now as opposed to where he was in his career when he faced Mayweather.
"He has a great shot. This is an even fight. This is a fight that is dangerous for both sides," De La Hoya said. "To win the fight the best advice I have is three letters – jab. Use your jab, it worked for me in the first seven rounds... I obviously broke down because I was over the hill."
After loud calls for a Mayweather bout with Manny Pacquiao were hushed due to drug testing disputes and, more importantly, Pacquiao losing two fights last year, the Alvarez-Mayweather bout became the dream match boxing fans wanted.
"It's the biggest fight that Showtime has had in easily a decade, if not longer, and it's the biggest pay-per-view since the peak of Tyson's career in the late 90's," said Showtime Sports Executive Vice President and General Manager Stephen Espinoza.
"It is the biggest fight of my career, and I already started preparing myself very, very hard. The only thing that's going through my mind is win," Alvarez told Fox News Latino through a translator. "That's what I have to do: win."
At the press conference in Time Square, Mayweather praised his opponent. "He's a guy that I know I cannot overlook," he said.
The Mexican Theme
In what has become a theme in recent years in boxing, the "Mayweather/Canelo" bout is the latest Mayweather event to take place on the weekend of a Mexican holiday.
September 14th, the day of the fight, is Mexican Independence day.
This past May 4th, Mayweather defeated Mexican-American Robert Guerrero on Cinco de Mayo weekend.
Alvarez, a Mexican national from Guadalajara, has a strong Latino following, like his mentor De La Hoya did.
During the press conference Mayweather was forced to speak over chants of "Mex-i-co!"
"I take my hat off to the country of Mexico, and they have produced some tremendous champions and I respect the country of Mexico," Mayweather told the crowd.
Includes some reporting by The Associated Press.
Follow Victor Garcia & Bryan Llenas on Twitter @MrVicGarcia & @Bryan_Llenas