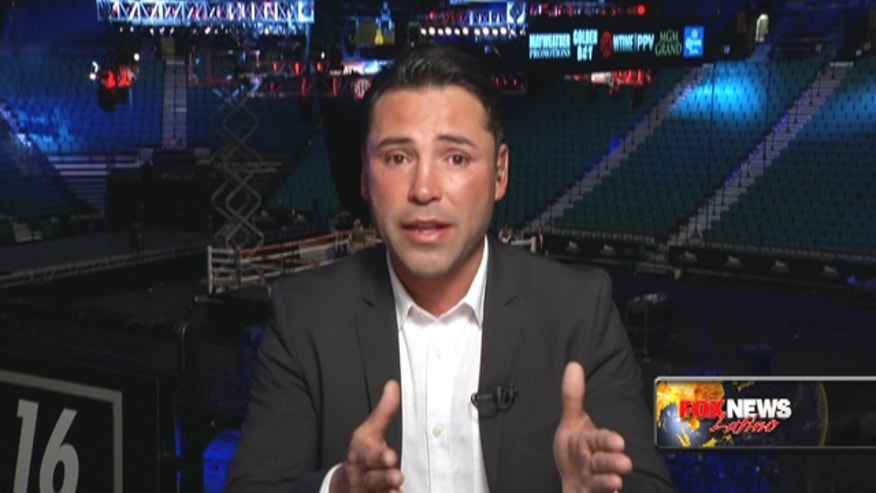 Oscar De La Hoya has been there before.
In the 90s De la Hoya was promoted as one of the best fighters in the world, holding numerous championships and even winning a gold medal in the Olympics.
Now De La Hoya finds himself at the other end of the spectrum, promoting fighters and events for Golden Boy Entertainment, a company he founded and carries his nickname.
"I understand what the fighter goes through, I know how to look for talent, I know what fighter has the special gift to make it as a champion," De La Hoya told Fox News Latino. "It was an easy transition for me."
De La Hoya is promoting this Saturday's Floyd Mayweather Jr.'s latest mega-fight against Robert Guerrero and the successful-boxer-turned-successful businessman couldn't be happier.
"The whole event from top to bottom is really, really good," De La Hoya said.
Those are words you'd expect from a promoter, but unlike anyone else he also has the experience of being in the ring and fighting his champion.
"He's very elusive. He's a thinker," said De La Hoya of Mayweather. "Before he throws he knows what punches are going to land."
Once arguably the most popular fighter in the world, De la Hoya faced Floyd Mayweather Jr. in 2007, giving boxing its biggest pay-per-view pay day with 2.4 million buys.
De La Hoya gave his opinion on what Guerrero should do against his opponent.
"[Guerrero needs] to make it a very rough, tough physical fight," said De La Hoya. "When you're 36 years old like Mayweather, it's almost impossible to fight hard every single minute of every single round."
He added: "I think youth is going to play a big part in this fight."
Calling the fight "pretty even," De La Hoya also addressed the Mayweather phenomenon.
"I think people realize this is Mayweather's … tail end of his career," De La Hoya said. "People want to take advantage and see greatness in the making."
Follow us on twitter.com/foxnewslatino
Like us at facebook.com/foxnewslatino