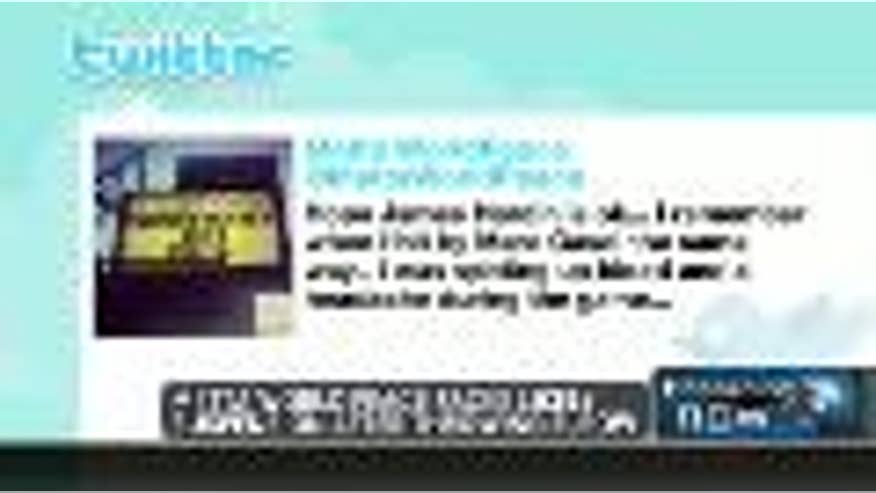 No World Peace Could Be Costly For Lakers in Playoffs
The Lakers must be praying to the basketball gods that the NBA league office doesn't hand down a severe suspension to Metta World Peace after he struck Oklahoma City's James Harden with an elbow to the side of his face, connecting in the area right below Harden's left ear, slightly above the neck with 1:37 remaining in the second quarter Sunday.
The basketball player formerly known as Ron Artest was celebrating a dunk when he pounded his chest with his right fist and swung his left arm, a powerful shot from his elbow sending Harden to the floor.
World Peace was ready to escalate things on the court and squared off with Thunder power forward Serge Ibaka before the referees got in. The refs ejected the controversial Lakers forward.
Lost in the mix is the fact that the Lakers stormed back from an 18-point deficit to force overtime and eventually beat the Thunder 116-114 in 2 OT.
The Lakers have the third seed in the Western Conference playoff race and hold a 0.5 game lead over the Clippers in the Pacific Division.
Goodbye Jersey, Hello Brooklyn
After 35 years it will all come to an end for basketball in New Jersey when the Nets play their last home game Monday night against the Philadelphia 76ers.
The Nets have spent their last two seasons playing in the Prudential Center in Newark after moving over from East Rutherford. The franchise will pack-up and leave for the glitzy Barclays Center in downtown Brooklyn for the start of the 2012-13 season, perhaps the start of a new era that will turn its back on many years of frustration. In New Jersey, the Nets enjoyed success only from 2001-2006, making it to the NBA Finals during the first two years of that stretch, losing to the Los Angeles Lakers and San Antonio Spurs, respectively.
Horford Thinks He's Days Away
Al Horford told reporters yesterday that he's close to returning to the court and thinks he could some minutes Thursday night when the Atlanta Hawks wrap up the regular season before their first playoff game either Saturday or Sunday
The Hawks center rated his chances of playing in the playoffs a "7" out of a scale of 1 to 10.
"I would say a 7. I really want to play," said Horford, according to the Atlanta Journal Constitution. "I don't know if it's the smartest thing for me physically but I want to be out there and I feel like it's realistic."
The All-Star has missed the last 53 games after undergoing surgery to repair a torn pectoral muscle in his left shoulder. Practice time has been limited because of the condensed scheduled. He taken part in some three-on-three with teammates but recently got "frustrated".
"I was struggling. I just wasn't feeling right. I'm supposed to be fully healed but I'm not all there yet," he said. "But I'm putting a lot of pressure to come back."
Rockets' Vacation Starts Early
For the third straight year the Houston Rockets will be missing the playoffs and reflecting on what went wrong. They can first point to a six-game losing streak that came at the wrong time of the season.
It wasn't too long ago that the Rockets owned the sixth spot in the West only to collapse and fall completely out of postseason contention. Losers of seven of its last eight, Houston stopped a six-game skid with a victory over Golden State last night but came up short at Miami on Sunday night as they were eliminated from playoff contention.
Luis Scola stopped short of saying that the Rockets absence from the playoffs was a "failure".
"Failure is a horrible word, I don't like it and I don't consider it a failure. Our goal was to make the playoffs and we are hurt because we couldn't qualify. But a failure? No, I don't see it that way," Scola told reporters.
Najera On The Mend
Charlotte's Eduardo Najera met for the first time with reporters and said he avoided a brain injury "thanks to my big forehead" after an accidental elbow to his forehead by Milwaukee's Jon Brockman.
"Thank God there was no (brain) injury. It was close to the brain, but thanks to my big forehead, didn't get to it," Najera joked Thursday, according to the Charlotte Observer.
Najera, who is in the last year of this contract with the Bobcats, is under doctors orders not to exercise for a month. He will also have to stay away from any physical activity that could cause contact to his head.
Adry Torres, who has covered MLB, NFL, NBA and NCAA basketball games and related events, is a regular contributor to Fox News Latino. He can be reached at elpiloto137@gmail.com or follow him on Twitter: @adrytorresnyc.
Follow us on twitter.com/foxnewslatino
Like us at facebook.com/foxnewslatino