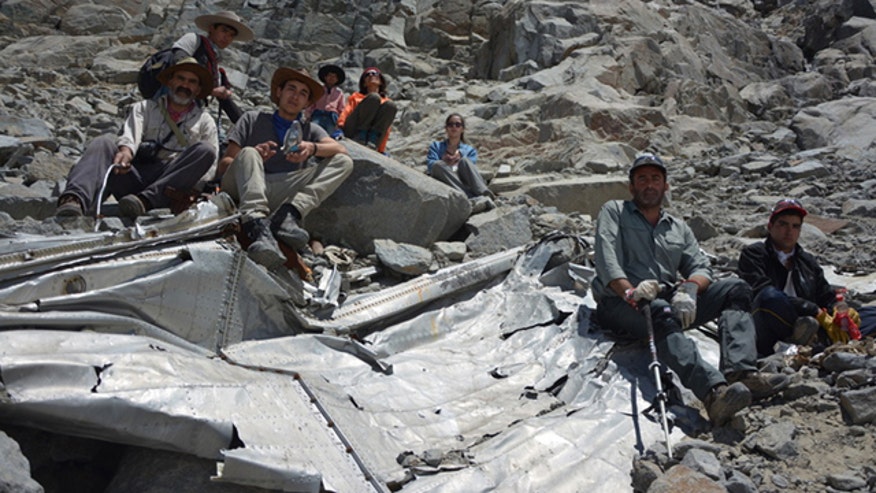 The discovery of twisted pieces of aircraft fuselage high in the Chilean Andes has apparently ended a 54-year aviation and sporting mystery.
Mountaineers say that they have found the wreckage of a plane that crashed more than half a century ago, killing 24 people, including eight members of the Green Cross soccer team from Chile's top division.
The tragedy occurred 11 years before members of a Uruguayan rugby team travelling to a game were famously left stranded for more than two months after their plane crashed in Argentina's high Andes.
The Green Cross crash occurred on April 3 1961 when a Douglas DC-3 carrying members of the team went missing, sending shockwaves through the world of sport. The soccer players were returning to Santiago after playing a Copa de Chile game in the southern Chilean city of Osorno. Argentine soccer star Eliseo Mouriño, a Copa America winner with Argentina in 1955 and 1959, and a member of his country's 1958 World Cup squad, was among the victims.
The U.K.'s Mirror newspaper reports that three referees also lost their lives in the crash. Other members of the team and its staff travelled back to Santiago on a separate flight, which was scheduled to make several stops. Most of the Green Cross first team, however, opted to take the fateful direct flight to Santiago.
The wreckage was found at an altitude of 10,500 feet about 215 miles south of Chile's capital, Santiago. "It was a breathtaking moment and we felt all kinds of sensations. One could feel the energy of the place and breathe the pain," said expedition member Leonardo Albornoz.
Albornoz told Chile's Channel 7 that the exact site is being kept secret to prevent looting.
The expedition found scattered debris and bones, and could see much of the plane's fuselage without having to dig it out. The wreckage was not where official publications indicated that it would be, according to the mountaineers.
After drawing 1-1 in Osorno, Green Cross bravely completed the second game of its domestic cup tie against Osorno Selección, losing 1-0. The 1961 Cope de Chile was named "Copa de Chile Green Cross" in the team's honor.
Green Cross ended the season 12th out of 14 teams in Chile's Primera Division, but were relegated the following season after finishing bottom of the division. The team returned to Chile's top division in 1964. The following year, however, Green Cross merged with Deportes Temuco to become Green Cross Temuco.
The crash came just three years after the Munich air disaster that killed 23 people, including eight players and three staff members from English soccer powerhouse Manchester United. In 1949 31 people, including the entire Torino soccer team, died when their plane crashed into the retaining wall of the Basilica of Superga in Turin, Italy.
The Associated Press contributed to this report.