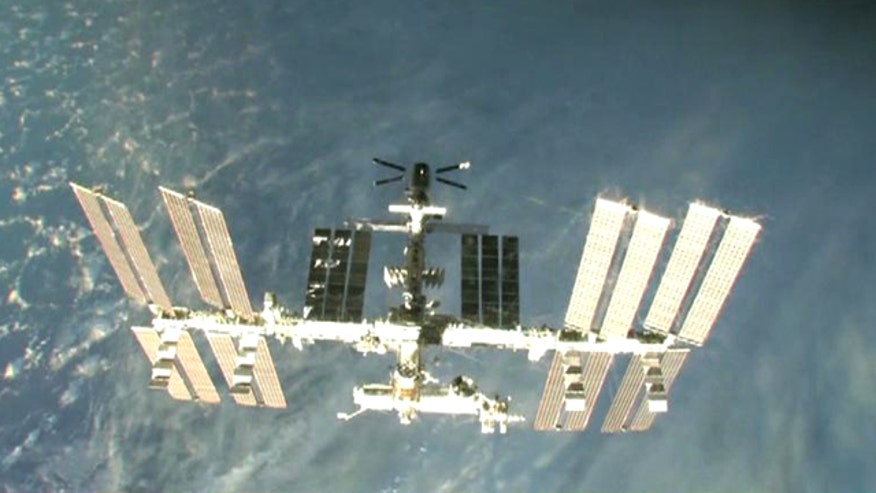 The International Space Station (ISS) was partially shut down Wednesday following a potentially serious problem with a malfunctioning cooling pump, NASA said -- which may leave America once again turning to Russia for help with the space base its scientists largely built.
NASA communications officer Joshua Buck told FoxNews.com Wednesday it was investigating the situation, which posed no immediate danger to the six crewmen on board, thanks to a backup system. But should an emergency occur they will need to rely on Russia's Soyuz spacecraft to return home.
"If there were an emergency on the space station, the crew could use the Soyuz to leave the space station and return to Earth," NASA's website reads. "Russia helps the United States run the International Space Station ... but only Russian spacecraft carry people to it right now."
[pullquote]
Fortunately, there is no risk of that at present, Buck said.
"The crew and the station are doing fine," he told FoxNews.com. "There is no talk of evacuation."
The issue began Wednesday, when one of two identical cooling loops shut down. The system uses ammonia to dissipate heat from science gear on-board, which radiates heat just like a TV or computer. One line was getting too cold.
Mission Control ordered the six-man crew to turn off some science experiments and other non-critical equipment. Those instruments stayed off Thursday, while the astronauts remained safe and comfortable. Suspecting a faulty valve in a pump replaced by spacewalking astronauts three years ago, NASA on Thursday told astronauts aboard the orbiting station that it was scrambling to pin the problem down.
"The ground teams overnight worked to get the systems on board in a stable configuration, with our inability to reject heat to loop alpha," explained Josh Matthew, ISS capsule communicator at Johnson Space Center in Houston. "We will be doing further work today to understand what is going on with the loop A flow control valve," he told the astronauts.
A software repair would be the easiest option, a spacewalk the most complicated. But NASA would be in great shape to accomplish a stroll in space, said NASA astronaut Mike Massimo.
"Mike Hopkins is a rookie astronaut but a great spacewalker. I've been in a pool with him … where we practice our spacewalks," Massimo told Fox News anchor Bill Hemmer.
Should all else fail, Buck confirmed that there are two Soyuz spacecraft attached to the space station for an evacuation.
"Each [spacecraft] carries three people to and from the space station. There is always one Soyuz for every three crew members at the space station, and there are always enough seats to ensure that everyone aboard the station has a way home."
Without the Russian Soyuz, NASA would not have the capability to evacuate, since the grounding of the space shuttle fleet in 2011 after decades of inspiring millions around the globe.
Some of the station's internal electrical systems were moved over to the second loop, and some noncritical things were powered down.

— Johnson Space Center (@NASA_Johnson) December 12, 2013
The station commander is cosmonaut Oleg Kotov. Americans Rick Mastracchio and Michael Hopkins, Russians Mikhail Tyurin and Sergey Ryazanaskiy, and Japanese astronaut Koichi Wakata are aboard.
The orbital outpost, the size of a football field and weighing nearly 1 million pounds, has been in orbit more than 220 miles above Earth since 1998.
The Associated Press contributed to this report.