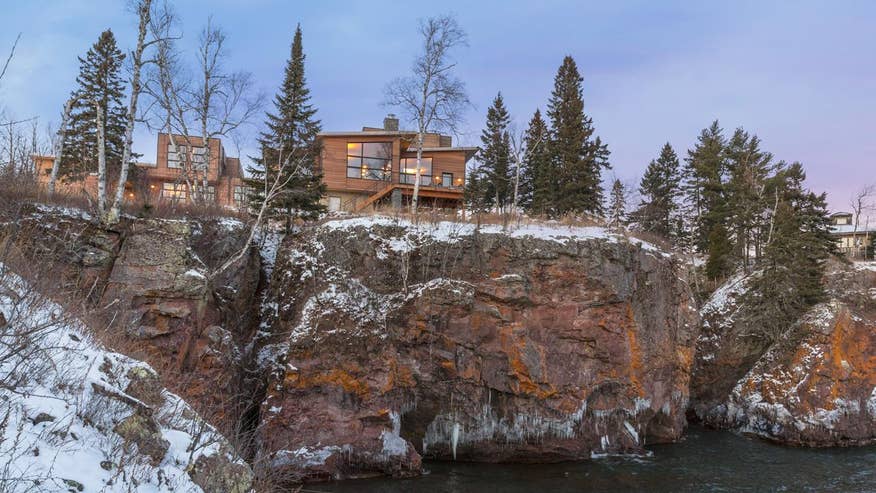 Each week FOXNews.com picks its Top 3 over-the-top luxury listings from Mansion Global.
This week we have a billionaire's Beverly Hills mansion, a lakeside modernist paradise in Minnesota and a St. Bart's getaway that would wow a billionaire.
Looking for a steal on one of the most expensive homes in America?
Billionaire Jeff Greene has recently put his palatial Beverly Hills compound back on the market, and he's now asking $129 million.
The 25-acre property first hit the market in 2014, for a record $195 million. At the time, it became the most expensive home for sale in the U.S., according to public records.
The Mediterranean-style villa, named "Palazzo di Amore," Italian for "Palace of Love," was offered as a $375,000 a month rental after Greene failed to find a buyer three years ago.
But now, The Agency is looking for a someone whose ready to settle down permanently—in high style. So what can $129 million buy in Beverly Hills these days? The home, built by renowned developer Mohamed Hadid, is one the largest residential compounds in Los Angeles with a total of six structures on the premises.
PEEK INSIDE CELINE DION'S PALATIAL FLORIDA MANSION
The 43,000-square-foot main residence features 12 bedrooms, 23 bathrooms and "rooms too numerous to name," according to the listing. Outdoors, there is a pool, a spa, a barbecue station, a tennis court with a tennis pavilion and a full guest house, all divided by manicured gardens and fountains.
The 15,000-square-foot entertainment complex includes a state-of-the-art DJ booth with a revolving dance floor and laser-light system, a two-lane bowling alley, game room, and a movie theater that seats more than 50 guests.
A vineyard on the property produces about 400 to 500 cases of wine each year for Mr. Greene's private collection. He has two wine cellars that store up to 13,000 bottles.
If you're looking for a little more zen look no further than this lakeside getaway in Minnesota, now on the market for $5.4 million.
Situated on seven-and-a-half acres this property is a mid-century modern oasis in the American heartland.
The four-bedroom house has two full bathrooms, five partial bathrooms and clocks in at 7,200 square feet.
The home is perched atop a cliff overlooking Lake Superior and offers 11 different views from inside the house.
Apart from the outdoor hot tub overlooking the lake, the infrared sauna, and the treetop art studio, there's also a bathroom entirely dedicated to wellness. It's fully equipped with a steam shower, a wooden bath and a series of infusers that spray the scent of your choosing.
A place like this is clearly meant to be shared with friends and family. That's why there's a two-bedroom private guest house and two private beaches.
And finally we have a hillside estate in St. Bart. We saved the best, meaning the most expensive, for last. This baby will set you back a cool $57 million.
FOLLOW US ON FACEBOOK FOR MORE FOX LIFESTYLE NEWS
Built in 2008, the estate includes three villas that meander down the hillside to maximize the views and privacy of each room.
In total there are nine bedrooms and 10-and-a-half bathrooms spread throughout three spaces.
The main villa has five designer-themed bedrooms. There's the French king master bedroom, which has its own plunge pool on the terrace. Then there's the Hermes and Christian French king bedrooms in a separate pavilion.
There is also a two-bedroom caretaker cottage and a two-bedroom guesthouse, which has its own living and dining rooms and full kitchen.
Outdoors, there are three swimming pools and multiple covered and open terraces, with barbecues, sitting and dining areas.
For more on our hot house pics and other stunning luxury properties check out Mansion Global.com.