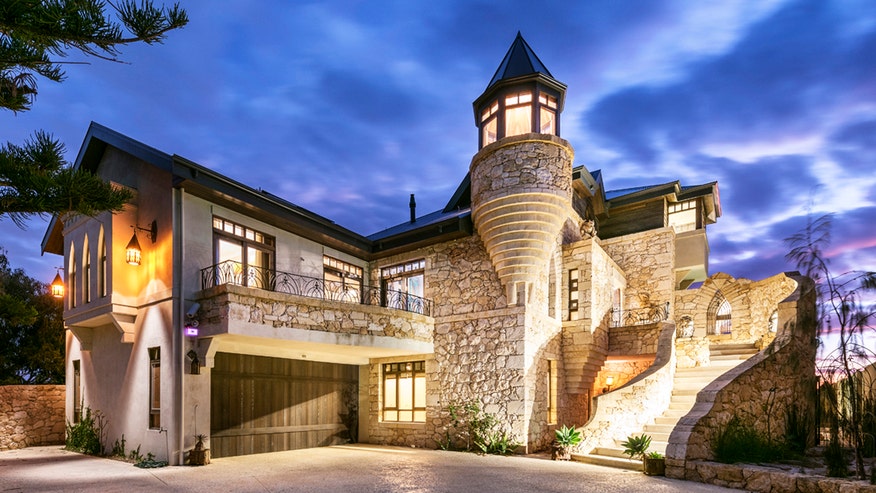 Each week FOXNews.com picks its Top 3 over-the-top luxury listings from Mansion Global.
This week we have a tycoon's gilded Manhattan townhouse, a gorgeous log cabin with some serious Hollywood street cred and a beachside sand castle fit for a princess.
A massive Manhattan townhouse once owned by a cotton tycoon has just hit the market for a cool $72 million.
The home is a true architectural gem. The original owner, prominent cotton and insurance tycoon Otto Dommerich, commissioned the architect behind the famed Cloisters and Riverside Church to build this residence on East 69th Street in Manhattan.
The 21,070-square-foot interior space spans seven floors, with an additional 5,040 square feet in the basement and over 3,350 square feet of outdoor space. The basement could easily be turned into a gym, a swimming pool or a screening room.
The front of the building is a real show stopper with it's a 44-foot-wide limestone façade (making it one of the widest mansions in Manhattan). Inside there's a 22-foot curved staircase illuminated by a stained-glass dome, 14 marble fireplaces and two elevators. Two terraces provide stunning views of the city and Central Park.
When you think about a mansion, you don't typically think log cabin. But this home will make you think twice.
This adorable property in Santa Monica's Rustic Canyon also has some serious Hollywood chops.
It was originally constructed for the silent film "The Courtship of Miles Standish" based on a 19th century poem by American poet Henry Wadsworth Longfellow.
At various times the home was also a bohemian retreat for Hollywood icons such as Walt Disney, Clark Gable, and Will Rogers, according to Partners Trust. The set-turned-private residence also served as the summer home of California Gov. Earl Warren in the 1940s. More recently it was the home of actress Daryl Hannah.
In 2013, the home was disassembled log by log to be rebuilt into a fully modern mansion twice the original size, but using most of the original materials.
The inside of this rustic gem now offers contemporary design elements like an open kitchen and a dining room filled with natural light from bi-fold glass doors and double case windows.
The property also has a plunge pool and large terrace.
It can all be yours for $8 million.
What's more magical than a tinsel town cabin? Your very own beachfront sand castle.
Crafted from hand-laid natural limestone blocks, this home in Perth, Australia was constructed to mimic the look and feel of a sand castle, with its pointed arches, gargoyles, capstone entrance stairs and corbelled turrets.
This 6,800-square-foot-property includes six bedrooms and four bathrooms.
FOR THE LATEST HOME FEATURES FOLLOW FOX LIFESTYLE ON FACEBOOK
Interior details include lime-washed walls and medieval-style ironwork.
The living spaces take full advantage of the northwesterly sea views from a large indoor-outdoor upper floor terrace roofed with segmented solar pergolas.
The home also has an elevator, grotto-style swimming pool, and a separate self-contained apartment on the ground floor. It's expected to sell at auction for $7.2 million.
For more on our hot house pics and other stunning luxury properties check out Mansion Global.com.