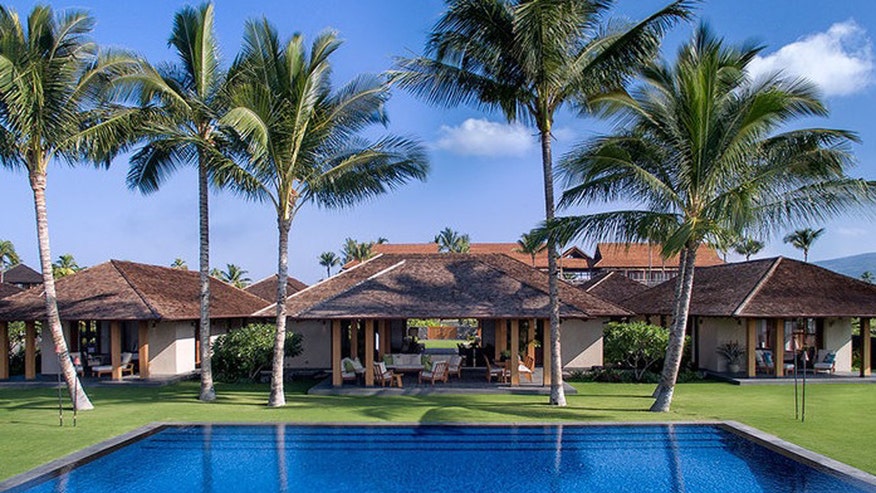 Each week FOXNews.com picks its Top 3 over-the-top luxury listings from Mansion Global.
This week we have a Rocky mountain mansion with its own polo farm, a gorgeous Hawaiian villa on a world class golf course and a private island being auctioned off for less than a million dollars.
Sometimes bigger is just better. That certainly holds true for this sprawling 118- acre Colorado property that comes with its very own polo farm and an FAA approved private airstrip.
The property's two-story 13,000 square foot house has five bedrooms and six full bathrooms. But that's not all. There's also a 2,000 square foot guest house with three bathrooms and a 600 square foot caretaker's house.
The equestrian barn has 13 indoor stables, 13 outdoor stables, a beautiful pasture, and a private creek. The polo field, which can accommodate 50-100 horses during game-time, easily converts to a private airstrip when vacated.
This over-the-top property also includes a well-appointed wine cellar, outdoor pool (with two changing rooms), an in-home fitness center, a home theater, and a flight simulator.
So what will something like this set you back? Oh, just about 22.2 million.
Bring the outside in at this luxurious Hawaiian property that perfectly blends indoor and outdoor spaces with sweeping views of both the ocean and a state-of-the-art golf course.
The $17.5 million 6,141-square-foot property on the Big Island of Hawaii has a total of five bedrooms, five bathrooms, and one partial bath.
The home was constructed to embrace the natural beauty of the island with pocket doors that recede to bring the outside in. With just 10 inches of annual rainfall, you could live outdoors most of the time.
The home is comprised of six separate pavilions including a great room, two master suites, a two-bedroom private guest house and a three car garage. The layout lends itself to both privacy and intimate group gatherings.
There are five outdoor showers bearing bronze hardware and lava rock steps and walls constructed by local Polynesian craftsmen.
The gorgeous mansion is located on the 17th hole of the 100-acre Reese Jones Championship Golf Course and boasts vistas of Kohanaiki Point and the Kona Coast.
Your own private island just might be within reach. This gorgeous 8.4-acre island in Vermont, located at the archipelago of northern Lake Champlain, is going up for auction at a starting price lower than the cost of most one-bedroom apartments in Manhattan.
The entire island was previously listed for $1.7 million, but is now expected to be sold at or above $850,000, according to luxury auctioning house Concierge Auctions.
To allow for the very best views, the island's main residence sits on its highest point. The home includes five bedrooms and two bathrooms with vaulted pine ceilings and cherry hardwood floors throughout.
The outdoor area is home to a fireplace, a deck with a hot tub, a gazebo overlooking the property and a red clay tennis court.
There is also a one-bedroom, one-bathroom guest cottage and an artist cottage on the property.
For more on our hot house pics and other stunning luxury properties check out Mansion Global.com.