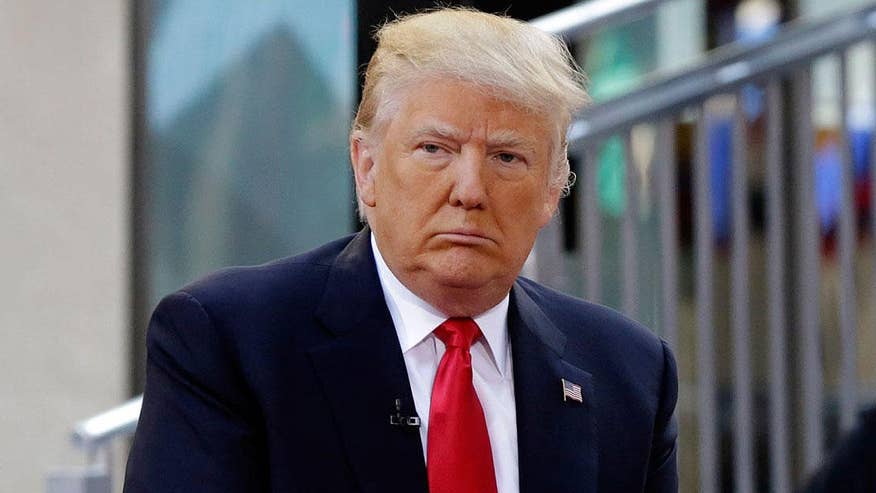 President Trump on Wednesday is hosting Jordan's King Abdullah II, with the question of how world leaders will respond to the deadly chemical attack in Syria likely to surge to the top of the agenda.
Trump has already condemned the attack, which reportedly killed dozens of civilians, calling it "reprehensible" and blaming Syrian President Bashar Assad.
The president is also scheduled to speak Wednesday with German Chancellor Angela Merkel about the Syria issue and with Japanese Prime Minister Shinzo Abe about North Korea earlier in the day firing a newly developed powerful ballistic missile into its eastern waters.
The latest attack also has prompted calls from Capitol Hill for a strong response. But what the president and other world leaders will do remains unanswered, with few good options.
U.S. Ambassador to the United Nations Nikki Haley said Wednesday that the United States in now being "compelled to take action" and urged the body's Security Council "to do the same."
Trump has also blamed former President Barack Obama, saying he "did nothing" in 2013, after Assad crossed Obama's "red line" with a chemical attack.
Trump and Abdullah will meet at the White House for much of the day. They are scheduled to break in the afternoon for a press conference in which they likely will be asked about plans to deal with Syria, crumbling amid a roughly six-year-long civil war that has provided space for the Islamic State terror group to flourish.
WATCH THE TRUMP-ABDULLAH PRESS CONFERENCE ON FOX NEWS AND FOXNEWS.COM AT 1:10 PM ET WEDNESDAY
Trump spoke briefly with reporters before the press conference, saying, "What happened in Syria was a horrible, horrible thing, unspeakable. ... We are going to have some very interesting discussions."
He declined to discuss whether Tuesday's chemical attack would change adminstration policy, saying, "We'll see."
Trump, roughly 10 weeks into his administration, had given no indication about a plan to prevent future atrocities that was any different from Obama's.
Asked how Trump might respond, White House Press Secretary Sean Spicer said he wasn't yet ready to discuss it.
Finding a solution to the Israeli-Palestinian conflict is also expected to be at the top of the Trump and Abdullah's agenda.
And the world leaders are also expected to discuss how to stop the Islamic State, which has also taken over part of Iraq.
The terror group has executed a series of recent attacks that pose an internal and external threat to pro-Western Jordan.
Jordan has been part of a U.S.-led military coalition against ISIS for the past two years, hosting Western military trainers and carrying out airstrikes against ISIS targets.
A senior White House official last week portrayed Jordan as a "critical" U.S. partner in the fight against the extremists.
Jordanian and U.S. interests appear to converge, with both seeking to step up the anti-ISIS campaign.
Obama also faced a dearth of good options in Syria, which he has often acknowledged as the biggest failure of his presidency. Years after Obama predicted that Assad's days were numbered, the Syrian leader remains in power.
Trump left it to his top diplomat, Secretary of State Rex Tillerson, to assign culpability to Russia and Iran, Assad's most powerful allies.
Tillerson noted both countries signed up as guarantors to a recent Syrian cease-fire and said they must pressure Assad not to conduct more such attacks.
The Associated Press contributed to this report.