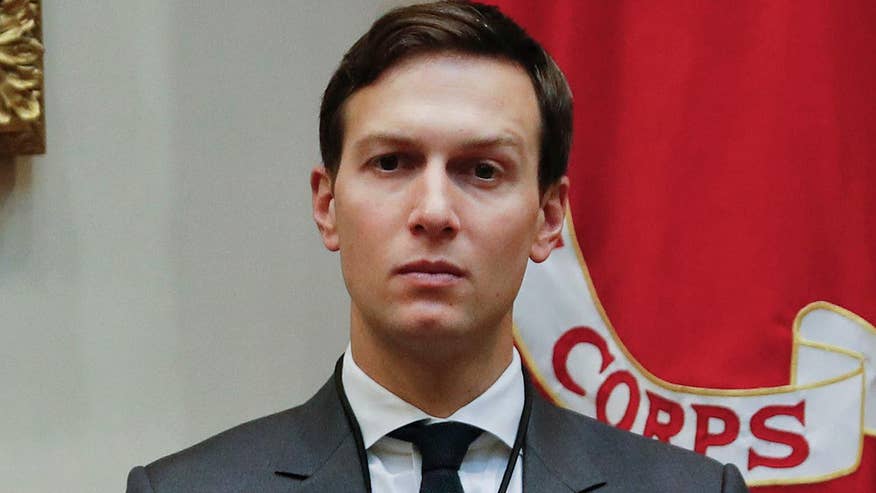 Jared Kushner, a senior White House adviser and the son-in-law of President Trump, has volunteered to meet with the Senate Intelligence Committee as part of an inquiry into ties between the administration, its associates and Russia.
A White House official told Fox News that Kushner will discuss his campaign role, where, among other duties, he arranged and met with Russian Ambassador Sergey Kislyak and other foreign officials.
"Throughout the campaign and transition, Jared Kushner served as the official primary point of contact with foreign governments and officials," a senior administration official told Fox News. "Given this role, he has volunteered to speak with Chairman [Richard] Burr's Committee, but has not yet received confirmation."
Burr, the Republican chairman of the Senate Intelligence Committee, confirmed to Fox News that he asked Kushner to answer questions before the committee about his interactions with Kislyak.
According to The New York Times, which first reported the story, Kushner also met with Sergey N. Gorkov, the chief of the Russian-state owned bank Vnesheconombank. The bank had been placed on the sanctions list during the Obama administration following a controversy in Ukraine.
The White House emphasized Kushner volunteered to meet with the committee as it continues to investigate the extent of Russia's alleged interference, primarily through hacking, into the 2016 presidential election.
The news of Kushner comes on the same day as the White House announced he would head up the Office of American Innovation – which will be tasked with crafting ideas to reshape the federal bureaucracy to make it more efficient by applying business strategies to flaws in the federal government.
Serafin Gomez is a White House Producer for FOX News Channel, who also covered the 2016 election as a Special Events & Politics producer and former special campaign correspondent for Fox News Latino. Fin formerly worked as the Miami Bureau Producer for Fox News Channel where he covered Florida Politics & Latin America. Follow him on Twitter: @Finnygo