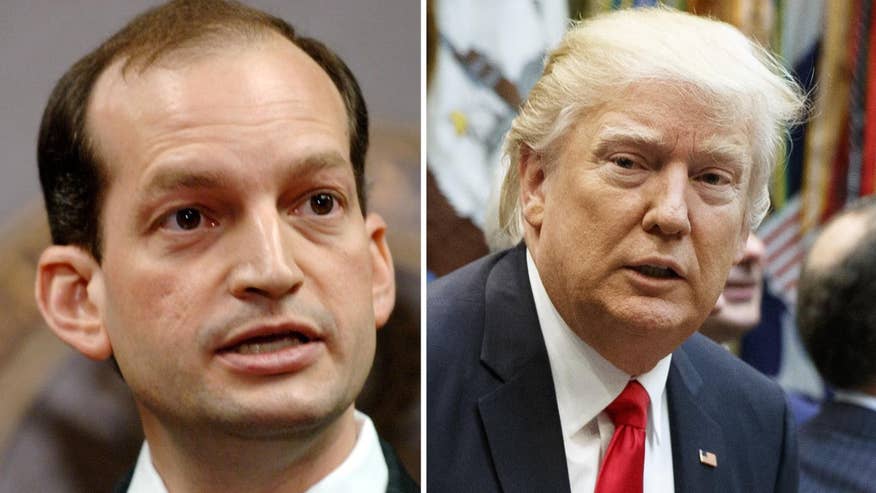 As expected, President Trump's nominee for Labor Secretary, Alexander Acosta, faced tough questions about a decade-old case, as he faced down lawmakers Wednesday morning during his Senate confirmation hearing.
Acosta, a former U.S. attorney in South Florida who is the son of Cuban immigrants, became the nominee after Andrew Puzder withdrew his nomination.
Looming over Acosta was his handling of the Jeffrey Epstein case. Epstein is a billionaire and former money manager who hobnobbed with the world's elite, including U.S. presidents.
In 2008, Epstein pleaded guilty to a single state felony charge of soliciting prostitution from a minor. He served 13 months of an 18-month sentence and registered as a sex offender in Florida. Epstein's secretive plea deal prohibited the feds from prosecuting him or "co-conspirators" for any crimes related to the sex abuse case.
WHO IS LABOR SECRETARY PICK ALEXANDER ACOSTA?
Acosta, the U.S. Attorney for the Southern District of Florida at the time, came under fire for the light sentence. About 40 young minors, some as young as 13, had come forward to claim Epstein had sexual contact with them.
In 2011, two years after he left the U.S. attorney's office, Acosta wrote a letter defending the sentence.
"The bottom line is this: Mr. Jeffrey Epstein, a billionaire, served time in jail and is now a registered sex offender," the letter said. "He has been required to pay his victims restitution, though restitution clearly cannot compensate for the crime. And we know much more today about his crimes because the victims have come forward to speak out."
He also said those critical of the sentence were "not the ones who at the time reviewed the evidence available for trial and assessed the likelihood of success."
Six years later, Acosta is again defending the sentence – this time in front of the Senate Committee on Health, Education, Labor and Pensions.
Sen. Tim Kaine, who was Hillary Clinton's running mate on the campaign trail, kicked off the hearing by quoting a Washington Post article published Tuesday that raised questions about how Acosta handled the case.
Kaine asked about a claim in the article that Acosta did not pursue a federal indictment, even though his staff had advocated that he do so. Acosta denied that was the case.
BILLIONAIRE SEX OFFENDER EPSTEIN ONCE CLAIMED HE CO-FOUNDED CLINTON FOUNDATION
"That is not accurate" Acosta said. "This matter was originally a state case… the Grand Jury in Palm Beach County [Florida] recommended a single count of solicitation not involving minors, I believe, and that would have resulted in zero jail time, zero registration as a sexual offender and zero restitution for the victims in this case."
Acosta said his office stepped in to make sure that did not happen.
"Based on all the evidence, professionals within a prosecutor's office decided," he added, "that a plea that guarantees someone goes to jail, that guarantees that someone register generally, that guarantees other outcomes is a good thing."
Kaine also whether he made that decision himself or whether that was "a consensus decision in your office."
Acosta's responded: "It was a broadly held decision, yes."
Despite the controversy created over the Epstein case, Acosta is expected to be confirmed as labor secretary. But, before that can happen, the grilling will continue.
"I may come back to this in the second round," Kaine said, "thank you."