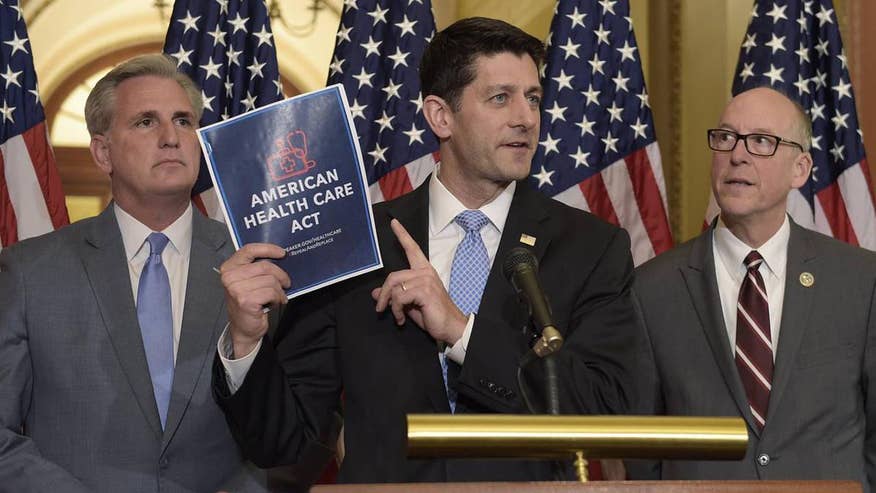 Members of the conservative House Freedom Caucus criticized House Speaker Paul Ryan, R-Wis., Thursday over Ryan's reluctance to allow amendments to the GOP's health care bill.
"God bless the Speaker," Rep. Jim Jordan, R-Ohio told Fox News, "but that's not how the legislative process works ... It's not supposed to be closed off."
Jordan spoke after he, a handful of other Freedom Caucus members and some conservative senators met with President Donald Trump to discuss the health care measure.
The House Energy and Commerce and Ways and Means committees both approved their portions of the bill along party-line votes Thursday after grueling all-night debates. The vote in Ways and Means came before dawn, while the Energy and Commerce meeting lasted past 27 hours. However, no members of the 40-plus-strong Freedom Caucus sit on either committee, leaving them out of the so-called "markup" process.
"I would love an open rule," said Jordan, "because then you could offer an amendment that you think can help make this legislation better and consistent with what the voters sent us here to accomplish."
Ryan has repeatedly argued that too much deviation from his original bill would scupper the measure in the Senate due to the Congress' strict rules on budget reconciliation.
Earlier Thursday, Rep. Dave Brat, R-Va., another Freedom Caucus member, argued that Vice President Mike Pence should use a version of the Senate's so-called "nuclear option" and lower the threshold to break a filibuster on legislation from 60 to 51.
"I think this hurdle that exists in the Senate is a big problem," Jordan said. "This is something thta I think that we're going to have to have a debate on, and may have to change."
Leaders are aiming for passage by the full House in the next couple of weeks, and from there the legislation would go to the Senate and, they hope, on to Trump's desk.
The Associated Press contributed to this report.