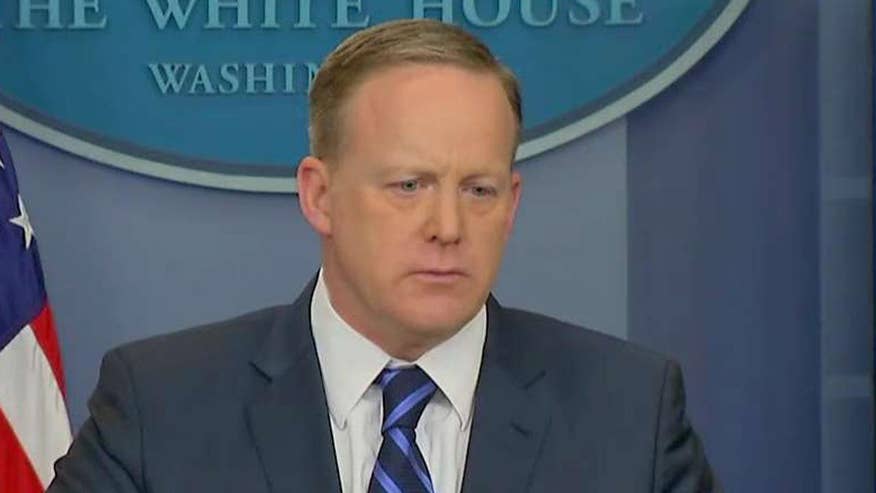 White House Press Secretary Sean Spicer, in his first news conference since controversies erupted regarding wiretapping, health care and the latest version of President Trump's travel ban, promptly turned his podium over to the man who hopes to oversee the successor to ObamaCare.
Spicer began by denouncing a rash of anti-Semitic vandalism around the country, but quickly moved on to the travel ban and bid to repeal ObamaCare. He gave way to Health and Human Services Secretary Tom Price, who discussed the 66-page GOP plan for a replacement of ObamaCare.
First question to Spicer: Any evidence of Trump wiretap charge vs Obama? Sean says prez hasn't asked FBI, press would criticize if he did

— HowardKurtz (@HowardKurtz) March 7, 2017
Price, a physician who Trump picked from Congress to head the department, said Americans need an "empowering" health care system that also allows affordability and access.
"The goal of all of this is patient-centered health care," said Price.
He said no one should lose their coverage because they get a bad diagnosis, and touted the sale of policies across state lines as a cost-cutting measure.
The media session was Spicer's first press briefing since President Trump set off a firestorm Saturday, tweeting that President Obama wiretapped him in Trump Tower during his successful presidential bid.
After Spicer finished his prepared comments, the first question, from ABC News' Jonathan Karl, was about Trump's accusation. But Spicer said he would not comment further on Trump's claims, saying the matter would be investigated by House committees.
Spicer did say Trump has not spoken about the matter with FBI Director James Comey, who reportedly has said no wiretap took place.