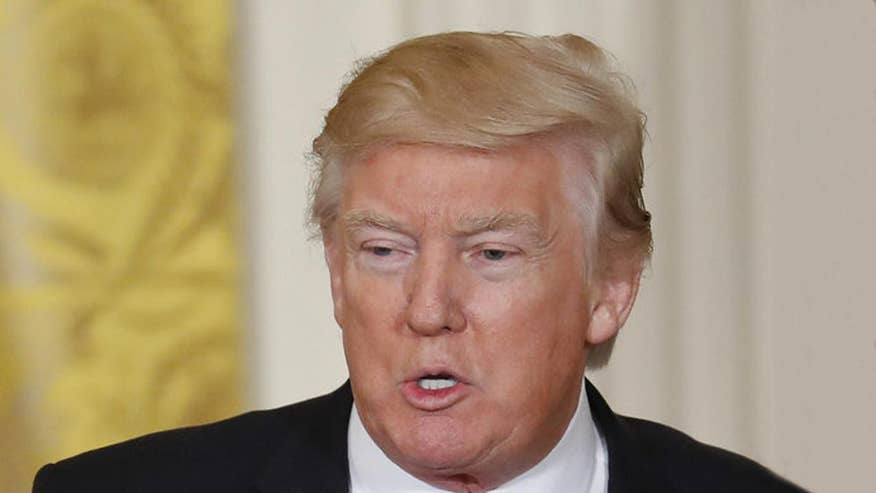 **Want FOX News Halftime Report in your inbox every day? Sign up here.**

On the roster: Trump's real fight on Supreme Court may be with GOP - Meet the frontrunners - Senate Dems retaliate for Trump refugee ban, A.G. firing - Audible: Problems of doing biznass - Imagine the size of the traps!

TRUMP'S REAL FIGHT ON SUPREME COURT MAY BE WITH GOP
If John Marshall himself rose from his grave in Shockoe Hill Cemetery to serve as President Trump's nominee to the Supreme Court, he still probably couldn't get eight Democratic votes in the Senate.

As the nation awaits Trump's primetime announcement of his choice to replace the late Antonin Scalia – call it "Celebrity Apprentice: Judicial Edition" – the focus has been on which potential nominees would be most likely to get 60 votes.

The estimable Harry Enten points out that by choosing an impeccably qualified candidate, Trump might be able to shame some Democrats into supporting the nominee for fear of appearing too rankly political.

Certainly there are a handful of red state Democrats who might feel the squeeze. Joe Manchin of West Virginia is already riding the Trump Train and Heidi Heitkamp of North Dakota, Joe Donnelly of Indiana and John Tester of Montana all also face re-election bids next year in states that Trump won by more than 10 points.

Given the current political climate in Washington, though, where does one imagine Trump would find four others to join them, assuming that the quartet of Manchin, Heitkamp, Donnelly and Tester could be browbeaten into compliance.

If these were normal times we might be thinking about moderates like Mark Warner of Virginia, Bob Casey of Pennsylvania, Angus King of Maine and maybe even Claire McCaskill of Missouri.

But we know these times are not ordinary.

Out of the shock and confusion that followed Trump's Friday evening ban on all refugees as well as all of those applying for entry from seven troubled countries, Democrats have started to find their legs. Hysterical opposition to Trump and his nominees sounded silly before Trump had done anything other than say mean things.

Now, with concrete action that is undoubtedly intensely unpopular among Democratic voters the "resistance" finally has something to resist. Remember that jazz about how Trump could effectively divide Democrats on economic and spending issues to form a new coalition? Not so much right now.

No one on any of Trump's lists of potential nominees would be ideologically attractive to Democrats who were already disposed to vote no given the successful Republican blockade of Obama's choice, Judge Merrick Garland.

The last confirmation vote in the Senate was Justice Elena Kagan in August 2010, just ahead of a hotly-contested midterm race. Five Republicans, all moderates, most from blue states, crossed the aisle – three more than then-President Obama needed. It was a big, hard-fought victory.

Remembering how challenging it was for Obama, how does it sound for Trump who has less political capital and needs three times as many crossover votes? Not super.

In the wake of the refugee ban, it seems more likely than ever that the Democratic Party will be defined by its opposition to Trump over the next four years. It will probably exceed even the degree to which opposition to Obama became the defining trait of Republicanism in the past eight years.

In that way, the quality of the nominee unveiled tonight may matter less than we think. Unless Trump is preparing to shock the nation by jamming his own supporters to pick someone attractive to more Democrats. The political calculus remains solidly against confirmation.

Unless…

By choosing a staunch conservative Trump may not be able to draw many Democrats but he sure as shooting will keep the pressure on Republicans to do anything to put the nominee on the court. And that anything, of course, includes changing the rules of the Senate to allow confirmation with just a simple majority.

The real whip count here may not really be 60 votes, but rather the 51 votes needed to change the rules. Democrats squeaked by when they first deployed the "nuclear option" in 2013, but then-Majority Leader Harry Reid had to sharply limit its scope to just confirmations for lower court vacancies and executive appointments to get Democrats to take the still-dramatic step.

Convincing Republicans to expand the blast radius is easier than it was when the GOP pulled back from the brink a decade ago since Democrats struck first. But old hostility to the concept remains on the right. Conservatives see a slow-working Senate as a good thing, on the whole. And conservatives definitely see strong checks on executive power as a good thing.

Liberals favor activist government. Conservatives favor cautious limitation in government.

If Democrats stick together and tell Trump to deport his nominee, the real pressure will fall on conservatives in the Senate. Remember, just two defections would disarm the procedural bomb. Hard gazes may soon fall upon the likes of Ben Sasse of Nebraska, Marco Rubio of Florida, Tim Scott of South Carolina, Rand Paul of Kentucky, Pat Toomey of Pennsylvania and others.

And that assumes that Senate Majority Leader Mitch McConnell could even be made to press the issue. If conservatives and Trump-opposing moderates like John McCain and Lindsey Graham all say no, McConnell might have to tell Trump "no sale."

It is not hard to imagine an intense firefight breaking out between Trump and restive Republicans in the Senate. If our hypersensitive president sees the same people who opposed his nomination and refused to support his candidacy to a sufficient degree, denying him a Supreme Court pick, things could get ugly very fast. Trump and his supporters would surely come down hard on the holdouts.

We have talked a lot about the dynamic opening act of the Trump administration. But with this certainly incendiary nomination fight, a still unfinished cabinet and the work of repealing and replacing ObamaCare just barely begun, we could be headed for a clash not seen in Washington since the British burned the Capitol.

MEET THE FRONTRUNNERS
Judge Neil Gorsuch is a native of Colorado and an avid skier with an impeccable pedigree. His family has conservative political ties dating back to his mother's time as head of Ronald Reagan's EPA. Gorsuch has made his legal career on legal ethics with a particular interest in the legalization of assisted suicide and euthanasia, which he concluded that despite personal convictions against the idea, he would uphold a patient's autonomy if legal when asked during his appointment hearing to the Tenth Circuit.

Judge Thomas Hardiman has the working class background from Pennyslvania that appealed to many in Trump's base. Hardiman is the son of a cab driver who also drove a cab to put himself through college and law school. He has ties to both sides of the political aisle with his wife's family having run for statewide office as Democrats and his own conservative beliefs. He wrote an opinion in the majority favoring restoring gun rights to non-violent offenders, but went one step further concurring that violent felons should also have their Second Amendment rights restored. Added bonus for Hardiman? He has the backing of fellow judge and sister to the president, Maryanne Trump Barry, who serves with Hardiman on the Third Circuit.

THE RULEBOOK: TO BE CLEAR
"The authority of the proposed Supreme Court of the United States, which is to be a separate and independent body, will be superior to that of the legislature. The power of construing the laws according to the SPIRIT of the Constitution, will enable that court to mould them into whatever shape it may think proper." – Alexander Hamilton, Federalist No. 81

TIME OUT: WORKING TOGETHER
On this day in 1865, the House of Representatives passed the 13th Amendment ending slavery with a small, but significant, amount of the bipartisan support President Abraham Lincoln wanted. History: "In 1864, an amendment abolishing slavery passed the U.S. Senate but died in the House as Democrats rallied in the name of states' rights. The election of 1864 brought Lincoln back to the White House along with significant Republican majorities in both houses, so it appeared the amendment was headed for passage when the new Congress convened in March 1865. Lincoln preferred that the amendment receive bipartisan support–some Democrats indicated support for the measure, but many still resisted. The amendment passed 119 to 56, seven votes above the necessary two-thirds majority. Several Democrats abstained, but the 13th Amendment was sent to the states for ratification, which came in December 1865. With the passage of the amendment, the institution that had indelibly shaped American history was eradicated."

Flag on the play? - Email us at HALFTIMEREPORT@FOXNEWS.COM with your tips, comments or questions.

SENATE DEMS RETALIATE FOR TRUMP REFUGEE BAN, A.G. FIRING
NYT: "Democrats on the Senate Finance Committee sought to stall the confirmations of Steven Mnuchin and Tom Price, President Trump's picks for Treasury secretary and secretary of health and human services, by refusing to attend scheduled votes on Tuesday. As Mr. Trump's dramatic firing of his acting attorney general threw the capital into tumult, Democrats on Tuesday also seized on the contentiousness to try to block Senator Jeff Sessions's nomination as attorney general because they said he was too close to Mr. Trump. In describing their tactic of boycotting the votes on nominees to treasury and to health and human services, Senator Ron Wyden of Oregon said that recent news reports suggested Mr. Mnuchin and Mr. Price had given false statements in their nomination hearings. He said more information was needed before making judgments about the nominees."

The facts of the case - WaPo: "Now-former acting attorney general Sally Yates cemented her place in liberal lore Monday by declining to enforce President Trump's travel ban, which opponents believe is unconstitutional and un-American. And to Democrats, Trump's decision to fire her for it is proof that he's an out-of-control despot bent on running over anybody who stands in his way — the law be damned. But is that really what happened here? The Yates firing is certainly a splashy story — stirring up all kinds of righteous indignation on the American left. But questions have arisen about just how appropriate her defiance was and how big a deal Trump's removal of her was…There's one key point here: Despite how her decision is being presented, Yates didn't actually say Trump's executive order isn't legal. She said she is not 'convinced that the Executive Order is lawful.' Yet words such as 'not lawful,' 'unlawful' and 'illegal' have often been attributed to Yates. And that's a key distinction."

To wit: Dems call Trump 'tyrannical' - The Hill: "The Democratic National Committee released a statement late Monday responding to "tyrannical" President Trump's decision to fire Acting Attorney General Sally Yates."

Meet the new boss - WaPo: "In making Dana Boente acting attorney general, President Trump has elevated a longtime federal prosecutor best known for his handling of public corruption cases. Boente, a 33-year veteran of the Justice Department, most recently oversaw the prosecution of former Virginia governor Robert F. McDonnell — a case ultimately overturned by the Supreme Court. Previously, Boente oversaw the government's cases against U.S. Rep. William J. Jefferson (D-La.) and former New Orleans mayor Ray Nagin (D). Lawyers who have known Boente, who was U.S. attorney for the Eastern District of Virginia, said he has a reputation for being tough but even-handed."

AUDIBLE: PROBLEMS OF DOING BIZNASS
"Since Obamacare and these issues have come up, the women are in my grill no matter where I go." – Rep. Dave Brat, R-Va., at a town hall event Saturday describing the heat he and fellow lawmakers are getting for the ObamaCare repeal decision.
PLAY-BY-PLAY
Dems are leery of Obama becoming the face of the anti-Trump movement - Politico

Trump picks immigration enforcement boss with track record for tough enforcement - Fox News

Border-district Republicans skeptical Trump's wall will solve border problem - The Hill

Trump vows to protect gay rights - The Hill

Kushner reportedly frustrated by Bannon moves - Vanity Fair

Dems blame travel ban for delay on Trump cabinet appointment hearings - Roll Call

Perez rakes in the cash for DNC chairman run - Politico

Flake may face viable primary challenger in 2018 - Arizona Capitol Times

Pro-GOP group raises launches $1.3 million campaign targeting Dems in Trump country - The Hill

Koch-backed group pushes patient-centered health policies on Capitol Hill - The Hill

FROM THE BLEACHERS
"Vanity Fair said that Stephen Bannon and Stephen Miller have written a slew of executive orders signed by Trump. Does anyone know that for sure or are they just blowing smog out their tailpipe?" – Kent Lasater, San Diego

[Ed. note: You must be talking about those eternal denizens of Washington: "officials familiar." The Vanity Fair piece and others rely on sources inside the Trump White House and broader administration to dish on what happens behind the scenes. There is no reason for us to doubt the massive influence Bannon and Miller have in the early going of this administration, but it is hard to know precise details. Anonymous sourcing has long bedeviled journalism, especially in Washington. Reporters, myself included, grant sources anonymity to that they can say things that might put their jobs at risk or cause them significant discomfort or even embarrassment. But that allows those sources freedom from accountability. The balancing test for journalists is to weigh the benefit to readers verses the opportunity for mischief on the part of sources. On the whole, political journalism has grown very sloppy about the granting on anonymity. This is an occasion where I think it is merited given the high stakes of what is going on and the closed-door mechanism for the orders construction. We should always be careful, though, knowing that a leak may be little more than strategic gossiping designed to help or hurt those inside an organization.]

"Cute side story but where I'm from the white tailed deer run considerably faster than 30 mph. Actual speeds would be closer to the top end of a very fast dog - so about 45 mph." – Drew Thatcher, Tacoma, Wash.

[Ed. note: Maybe. But, I hear the deer are faster in Washington because they're outrunning all those sasquatches…]

"First of all Chris, I just love you!! You make me laugh when I need a laugh the most! So thank you. I was have thinking about the times we are in. (Can't escape it) It reminds me of the 60's. I was a sophomore in college in the middle of the cornfields of Illinois when Kent State happened. All these scary feelings are rushing back, because the animosity between people is so strong. It's hard to find any middle ground. It wouldn't matter if President Trump did anything the Democrats approved of, they would never admit it. So I look forward every day for your Halftime Report! Keep it up, we are going to need informative and thoughtful reporting! You along with my horse Stormy make my day!" – Marne Holstein, Lake Bluff, Ill.

[Ed. note: Well, that puts me in pretty good company to be with Stormy! I hear what you're saying about times of turmoil, even though I didn't live through the upheaval of the 1960s. But I would point out that our history is etched with turmoil. We perhaps became too complacent in the post-Soviet era of world history and believed that our story would always be one of unrivaled global dominance and unbroken prosperity at home. We have many mountains to climb, but I remain confident that this nation still has strong legs and clear lungs.]

Share your color commentary: Email us at HALFTIMEREPORT@FOXNEWS.COM and please make sure to include your name and hometown.

IMAGINE THE SIZE OF THE TRAPS!
The Weather Channel: "It's not uncommon to find an undesirable critter in a long-neglected wing of a basement – roaches, spiders and rodents come to mind. In Hailey, Idaho, one such creature found Sunday morning was just a little larger. Authorities responded very early in the morning to a call that there was a moose trapped in a resident's basement, according to a Facebook post by the Blaine County Sheriff's Office. Once they arrived, officials tried to walk the large animal up the stairs and out of the house (because Idaho), but the moose did not budge during multiple attempts to move it, the Idaho Department of Fish and Game said on its website. They had no choice but to sedate the moose. 'With all hands on deck, the sleeping giant was carried up the stairs and out the front door,' the IDFG wrote on its website. 'It woke up in the snow-covered street, groggy and confused, but free.'"

Chris Stirewalt is the politics editor for Fox News. Sally Persons contributed to this report. Want FOX News Halftime Report in your inbox every day? Sign up here.
Chris Stirewalt joined Fox News Channel (FNC) in July of 2010 and serves as politics editor based in Washington, D.C. Additionally, he authors the daily Fox News Halftime Report political news note and co-hosts the hit podcast, Perino & Stirewalt: I'll Tell You What. He also is the host of Power Play, a feature video series on FoxNews.com. Stirewalt makes frequent appearances on network programs, including America's Newsroom, Special Report with Bret Baier and Fox News Sunday with Chris Wallace. He also provides expert political analysis for FNC's coverage of state, congressional and presidential elections.