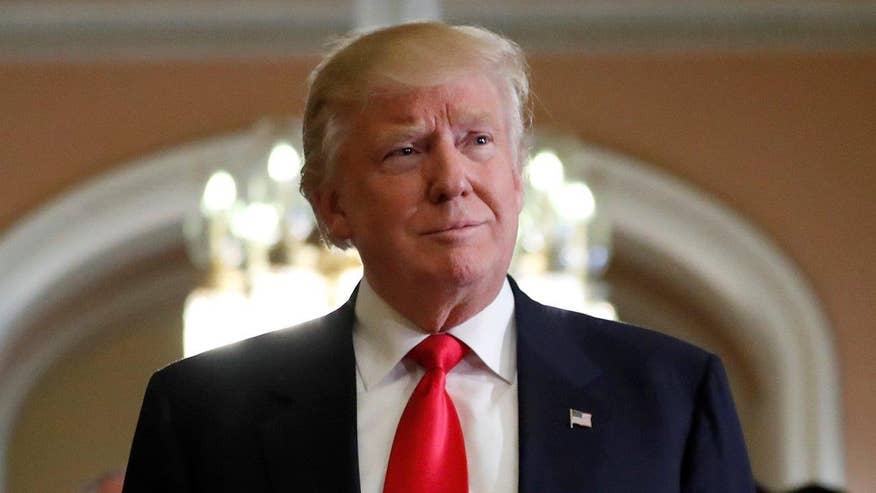 The number of unaccompanied children crossing into the U.S. from Mexico nearly doubled this year, a key lawmaker said Wednesday, citing Border Patrol figures that could drive swift action by the incoming Trump administration and even prompted a Democrat to acknowledge the need for "strong borders."
Senate Homeland Security Chairman Ron Johnson, R-Wis., said the 96 percent increase in arrests of unaccompanied children from El Salvador, Guatemala and Honduras attempting to cross over the border this year compared to last has come with little fanfare, but is causing big problems.
"We haven't seen any publicity about the unaccompanied children coming in from Central America and we want to highlight that," Johnson said at a late-morning Capitol Hill hearing. "It's a real problem, but it's not the only problem."
Minors from non-contiguous nations who make it into the U.S. unaccompanied are entitled to immigration hearings before they can be deported under federal law as interpreted by the Obama administration. The policy has prompted a wave of children from impoverished Central American nations coming to the U.S. through Mexico.
It was the Homeland Security Committee's 19th hearing on border security, and included testimony from U.S. Border Patrol Chief Mark Morgan and Carla Provost, the first-female deputy chief at CBP.
The U.S. Border Patrol also saw a 179 percent increase in arrests of family units, consisting of at least one parent and one child, in the same time period.
U.S. Border Patrol uses the term "apprehension" when referring to the arrest of a removable alien by U.S. Immigration and Customs Enforcement (ICE), and according to the definition, each apprehension of the same alien in a fiscal year is counted separately. Some may have been counted multiple times, officials acknowledge.
In October, alone, almost 50,000 individuals were apprehended between ports of entry, compared to almost 40,000 the previous month.
"If we don't have strong borders, we have a real problem," Sen. Thomas Carper, D-Del., said during the hearing. "But we need to remain clear-eyed on the real solutions."
Much of Trump's campaign was focused on border security, with a promise to build a wall on the southern border.
During the hearing, Morgan said there is a need for fencing along the border, to provide a "persistent method to impede illegal cross-border activity," which according to the CBP Chiefs' testimony, would offer Border Patrol agents additional time to respond to and resolve threats.
"Based on the results of the election, I am encouraged by the fact that we have an incoming Administration that is dedicated to securing the border," Johnson said at the hearing.
U.S. Customs and Border Patrol spokesman Dan Hetlage said the agency is responding to the influx in unaccompanied children and family units by temporarily deploying 150 border patrol agents to the Rio Grande Valley to assist with processing.
The agency also has opened a temporary facility in Tornillo, Texas, that will provide additional capacity for unaccompanied children and family units. Hetlage told FoxNews.com that CBP is prepared to open more facilities, each holding up to 500 people, along the southern border should they be needed.
The Border Patrol does more than provide accommodations, though, Hetlage said.
"In support of [a] layered approach to security, CBP deploys air, land and marine assets to patrol and safeguard U.S. border areas, as well as sophisticated systems to effectively detect and interdict potential threats beyond our borders," he said.
Brooke Singman is a Politics Reporter for Fox News. Follow her on Twitter at @brookefoxnews.