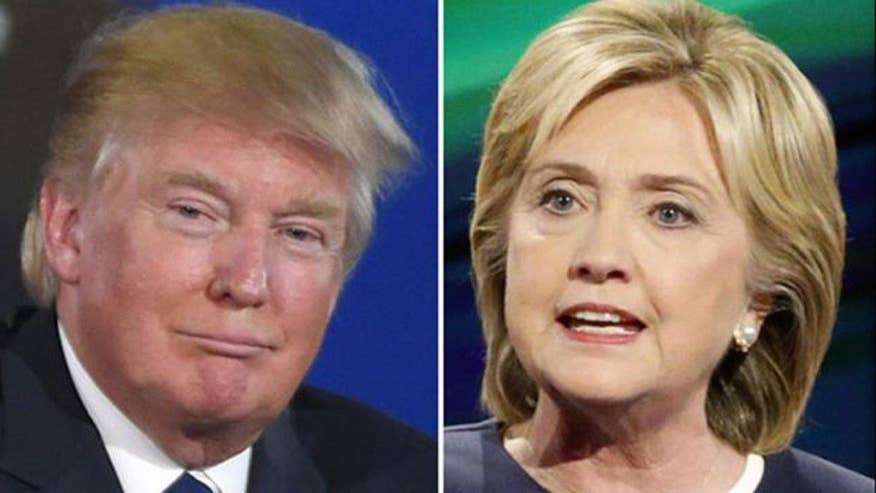 **Want FOX News Halftime Report in your inbox every day? Sign up here.**
On the roster: Swing state polls measure minimal Comey effect - GOP gets mixed news in the battle for the Senate - Obama on email probe: Voters should avoid 'innuendo' - The rulebook: Bad to the bone -That's a lot of nickels
SWING STATE POLLS MEASURE MINIMAL COMEY EFFECT
Donald Trump is looking for an ace in the hole.

A slew of swing state polls, all taken at least partly in the wake of the revelation that federal agents are continuing their probe of Hillary Clinton's mishandling of state secrets show the race mostly unchanged.

And that means Trump still needs to flip a big blue state to make his path to victory plausible.

Think of it this way, in order to win, Trump needs every state Mitt Romney won in 2012, which would still leave this year's Republican nominee 64 electoral votes of victory.

Now, we recognize that not all of those Romney states are shoo-ins. Certainly, North Carolina has proven a hard sell for Trump this cycle, but, homeward bound Republicans in Arizona, Georgia, Texas and Utah seem to be trending the in the right direction for Trump wins there.

So, granting Trump a win in North Carolina, where does he make up his electoral deficit?

Iowa's six electoral votes look pretty solid for Trump. He hasn't trailed in a poll there since August. Pretty much the same thing goes for Ohio, where Trump has been on top or tied in most polls since mid-October.

Now we've got Trump just 40 electoral votes short.

Despite what Team Trump is saying about elector-rich Michigan, Colorado and Pennsylvania, polls indicate Trump is not in a good position in either place. Michigan has never looked competitive and Trump has led in exactly zero polls in Pennsylvania since the end of July, including the two surveys from CNN and Monmouth University out today.

The same goes for little New Hampshire and one of the most persistent myths from the campaign: blue state Virginia.

The verdict from Virginia and most other places show that while the email explosion certainly has helped Trump bring Republicans back in to the fold and damaged the enthusiasm among Democratic voters, the race is really unchanged in the key states.

Two places that may be okay for Trump are Florida and Nevada, where the trend has been better for Trump. The new Nevada poll today shows Trump up bigly, a return to his prior advantage in the Silver State.

The race looks closer in Florida, but Trump has some advantages and actually showed up with a lead outside the margin of error in the latest NYT poll there – and that was taken before the FBI story broke.

If we give Trump the benefit of the doubt in both states and chip in the one electoral vote from Maine, which splits its electoral votes by congressional district and has one Trump-curious region, the Republican remains four votes short of a win with only one state still up for grabs: Wisconsin.

And there was news from the Badger State today.

The Marquette University Law School poll, the sharpest cheddar in the world of Wisconsin opinion research, showed Trump down 6 points, essentially unchanged since before the FBI came back on the stage.

The poll confirms the trend in Wisconsin, essentially closing the door on the idea of Trump putting together a winning map that way.

So those who wonder why Trump is spending so much time and energy in places like Pennsylvania, Colorado and Virginia, the answer is that he needs a miracle in a big state to put his map together.

THE RULEBOOK: BAD TO THE BONE
"A feeble Executive implies a feeble execution of the government. A feeble execution is but another phrase for a bad execution; and a government ill executed, whatever it may be in theory, must be, in practice, a bad government."– Alexander Hamilton, Federalist No. 70

TIME OUT: TALK TO ME
Remember Clippy? The helpful, anthropomorphized paperclip that assisted your typing needs in Microsoft Office? Well, not only did he help you, but he changed the way we interact with computers. NY Magazine: "In 2011, Apple announced the marquee feature of the latest edition of the iPhone 4s: Siri…Other chatty, helpful assistants soon followed…Maybe most familiar to Microsoft Word users of the 1990s is the Google conversation AI assistant, which is at the heart of the operating system on Google's new Pixel phone. The current assistants are better than Clippy…They can fulfill more tasks and understand more requests. But they come from the same kernel of an idea: that your computer should be able to understand what you want, and do it automatically."

Flag on the play? - Email us at HALFTIMEREPORT@FOXNEWS.COM with your tips, comments or questions

SCOREBOARD
Average of national head-to-head presidential polls: Clinton vs. Trump: Clinton +4.4 points
[Polls included: IBD, ABC/WaPo, Fox News, Pew and CNBC.]

Average of national four-way presidential polls: Clinton vs. Trump vs. Johnson vs. Stein: Clinton +3.8 points
[Polls included: IBD, ABC/WaPo, Fox News, Pew and CNBC.]

GOP GETS MIXED NEWS IN THE BATTLE FOR THE SENATE
In Pennsylvania, incumbent Sen. Pat Toomey fell 3 points behind his Democratic challenger Katie McGinty in a new Monmouth University poll. That race was tied last month, although McGinty did enjoy a 4-point lead in the Keystone State this summer, showing there's still flexibility in this race. In Wisconsin, however, Sen. Ron Johnson, is down by just a single point in the latest Marquette University Law School poll, closing the gap on popular former Sen. Russ Feingold.
OBAMA ON EMAIL PROBE: VOTERS SHOULD AVOID 'INNUENDO'
Roll Call: "President Barack Obama for the first time waded into the choppy waters left by FBI Director James Comey's revelation of new emails connected to the private server Hillary Clinton used while secretary of State. In an interview with NowThisNews taped Tuesday and released Wednesday, Obama suggested voters should consider 'concrete decisions' rather than 'innuendo.' 'I do think that there is a norm that when there are investigations we don't operate on innuendo and we don't operate on incomplete information and we don't operate on leaks,' said Obama, who has endorsed and will continue campaigning for Clinton on Wednesday and until Election Day. White House officials had largely refrained from commenting about the disclosure, which came just over a week before voters will decide between Clinton or GOP presidential nominee Donald Trump."

Awkward ties between Clinton camp and DOJ lawyer - Fox News: "The Justice Department official in charge of informing Congress about the newly reactivated Hillary Clinton email probe is a political appointee and former private-practice lawyer who kept Clinton Campaign Chairman John Podesta 'out of jail,' lobbied for a tax cheat later pardoned by President Bill Clinton and led the effort to confirm Attorney General Loretta Lynch. Peter Kadzik, who was confirmed as assistant attorney general for legislative affairs in June 2014, represented Podesta in 1998 when independent counsel Kenneth Starr was investigating Podesta for his possible role in helping ex-Bill Clinton intern and mistress Monica Lewinsky land a job at the United Nations. 'Fantastic lawyer. Kept me out of jail,' Podesta wrote on Sept. 8, 2008 to Obama aide Cassandra Butts, according to emails hacked from Podesta's Gmail account and posted by WikiLeaks."

As Hillary keeps pushing into red states - AP: "Hillary Clinton is pressing into reliably Republican Arizona as she tries to steal a state away from Donald Trump. Her rival, reinvigorated by the FBI's new email review, is laser-focused on Florida, a marquee battleground state he can't win the White House without."

And Biden hits up N.C. - WashEx: "Vice President Joe Biden was in North Carolina Tuesday urging voters there to deny Donald Trump a win in the state, because without it Trump attaining 270 electoral votes will be a far more difficult feat. A Clinton win in North Carolina, Biden said, would almost assure a Trump defeat."

AUDIBLE: ZEROED OUT
"Under a Donald Trump administration, ladies and gentleman, there will never be any bulls***" – Retired basketball coach Bobby Knight quoted by Yahoo! News

PLAY-BY-PLAY
Silver: The odds of a popular vote, Electoral College split are increasing - FiveThirtyEight

Black turnout for early voting falls dramatically from four years ago - NYT

Trump denounces KKK endorsement - Fox News

Ricketts, Adelson pro-Trump PAC pledges another $10 million to campaign - Fox News

Freedom Caucus plots possible Ryan ouster - Politico

GOP House majority looks assured - Cook Political Report

Cotton says Clinton family foundation one of the world's largest money laundering schemes - The Hill

Dem Senate hopes could depend on Missouri race - Politico

FROM THE BLEACHERS
"Señor Geek, I am curious about the forecasting model you guys use at Fox News to predict who will win the presidency. Curious as to what variables are baked in, and which data points contribute the most to the predictive win? Thanks so much!" –Lizette Zuniga, Birmingham, Ala.

[Ed. note: Well, there's no Predictotron 3000 buzzing and whirring away at FNC headquarters. It's just people, and a lot of smart ones. Predictions are based on polling data and historical electoral performance. And that process continues apace up through election night when we start to get exit poll results. And that's the moment – 5 p.m. ET on Tuesday – that I have been waiting for all year long. It's an awesome thing to behold for we geeks.]

"Chris, I would hope that the GOP would not be so stupidly vindictive as to continue investigations after (gulp) Hilary is elected; it could ruin the party. Obama would do justice a disservice but the country a service by issuing her a pardon on November 9, irrespective of win or lose." – John A. Johnson, Tucson, Ariz.

[Ed. note: One of the problems with politics that attacks patriotism and motives is that it necessarily carries over into office. If one believes that Clinton is a traitor and a criminal, why submit to her rule? And if the election is also going to be stolen, why abide by its result? Moving beyond the "politics of personal destruction" and into the politics of dispatriotism comes at a serious cost. President Obama and other Democrats like to say that "government is the name for things we choose to do together." That sounds very nice and all, but government is the thing that stands between civilization and chaos, and chaos doesn't seem so far over the horizon at times these days. Politicians in both parties have slipped into the practice of not just disagreeing but demonizing. We will pay a price for that after this election, regardless of who wins.]

Share your color commentary: Email us at HALFTIMEREPORT@FOXNEWS.COM and please make sure to include your name and hometown.

THAT'S A LOT OF NICKLES
WNYT: "William Shirer's 'The Rise and Fall of the Third Reich' has sat in the 900 section of New York's Guilderland Library since it was first published in 1960 - but it isn't the original copy. That one was checked out in April 1974, and returned Tuesday. 'It's a notable thing. Doesn't happen very often. I've been in libraries for 30 years and this is the most extreme overdue book I'm aware of,' explains Guilderland Library Director Tim Wiles. It's unclear why, exactly, the patron kept the book for so long. But it seems this chronicle of Nazi Germany now has a history of its own. 'He left, he told us he moved to another country and had taken the book with him and moved back but felt it should come back home,' explains Wiles. Late fees for a book that's 15,531 days overdue total $3,106.20."

AND NOW, A WORD FROM CHARLES…
"What's happening here is [Clinton] is now drowning in the cumulative effect of the WikiLeaks and of the FBI deal. She can't get her message out." – Charles Krauthammer on "Special Report with Bret Baier."

Chris Stirewalt is digital politics editor for Fox News. Sally Persons contributed to this report. Want FOX News Halftime Report in your inbox every day? Sign up here.
Chris Stirewalt joined Fox News Channel (FNC) in July of 2010 and serves as politics editor based in Washington, D.C. Additionally, he authors the daily Fox News Halftime Report political news note and co-hosts the hit podcast, Perino & Stirewalt: I'll Tell You What. He also is the host of Power Play, a feature video series on FoxNews.com. Stirewalt makes frequent appearances on network programs, including America's Newsroom, Special Report with Bret Baier and Fox News Sunday with Chris Wallace. He also provides expert political analysis for FNC's coverage of state, congressional and presidential elections.