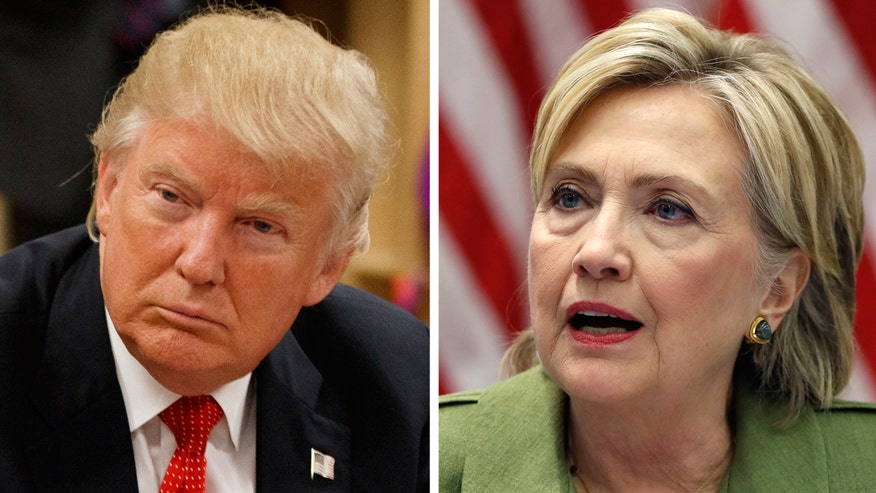 Hillary Clinton and Donald Trump both are planning to release additional personal health information, after Clinton experienced a medical episode Sunday that forced her to leave a 9/11 anniversary ceremony early -- and after Trump said Monday morning that candidate health is now an "issue" in this campaign.
Clinton spokesman Brian Fallon said on MSNBC that the campaign will release more information in the next couple days.
Trump told Fox News' "Fox & Friends" earlier Monday morning that he'll be releasing "very, very specific" details from a recent physical.
"I think they're going to be good. I feel great," he said. Fox News has learned Trump plans to release those details during his appearance Thursday on "The Dr. Oz Show."
As for Clinton's health, Trump said: "Something's going on, but I just hope she gets well and gets back on the trail."
Clinton earlier canceled plans to visit California on Monday and Tuesday, and will instead rest at her home in Chappaqua, N.Y. After the Democratic presidential nominee was seen stumbling on her way to her van as she left Sunday's event, her doctor revealed she had been diagnosed with pneumonia on Friday. Her doctor also said the candidate had become "overheated and dehydrated" at Sunday's ceremony, but is "recovering nicely."
The incident fueled questions about Clinton's health. Trump on Monday brushed aside any speculation that Clinton might be replaced as the Democratic nominee, but said of the candidate's health: "I think it's an issue."
Trump, meanwhile, continued to criticize Clinton for saying – before her health episode – that half his supporters fall into a "basket of deplorables." Clinton has expressed regret for the remarks, but Trump said, "I think this is the biggest mistake of the political season."
Even before Monday's comments, Trump already had said both candidates should release detailed medical records.
Clinton's campaign earlier released a July 2015 letter from Dr. Lisa Bardack describing Clinton as "a healthy 67-year-old female whose current medical conditions include hypothyroidism and seasonal pollen allergies." The letter noted her elbow fracture in 2009 and concussion in 2012. Bardack detailed how Clinton, now 68, had to undergo "anticoagulation therapy" to dissolve a clot, and experienced "double vision for a period of time," after the concussion.
But the campaign has not released detailed records beyond that.
Former President Obama adviser David Axelrod rapped Clinton Monday on her "penchant for privacy."
Antibiotics can take care of pneumonia. What's the cure for an unhealthy penchant for privacy that repeatedly creates unnecessary problems?

— David Axelrod (@davidaxelrod) September 12, 2016
Clinton spokesman Nick Merrill provided an update Monday morning, saying Clinton "continues to feel better, but intends to remain at home today, following her doctor's recommendation to rest." He said she would "phone in briefly" to an event in San Francisco proceeding in her absence.
Meanwhile, Fox News has learned that several top Clinton advisers – including communications director Jennifer Palmieri, campaign chairman John Podesta and campaign manager Robby Mook – have been sick with a bug in recent weeks, with one making a trip to the hospital.
However, a senior aide to Clinton pushed back on a report that it's related to Clinton's illness.
"There is a bug that's been going around the office, no indication it's related to her being sick," the aide said.
An air of mystery surrounded the incident on Sunday. After Clinton left the ceremony, reporters following her on the campaign trail were prevented from leaving the media area for a period of time.
Clinton emerged from Chelsea Clinton's apartment just before noon and said she was "feeling great."
"It's a beautiful day in New York," Clinton yelled to press waiting across the street.
"I am glad to learn that Secretary Clinton is already feeling better and I wish her a speedy recovery," said DNC Interim Chair Donna Brazile in a statement. "I look forward to seeing her back out on the campaign trail and continuing on the path to victory."
Fox News' Jennifer Griffin and John Roberts and The Associated Press contributed to this report.