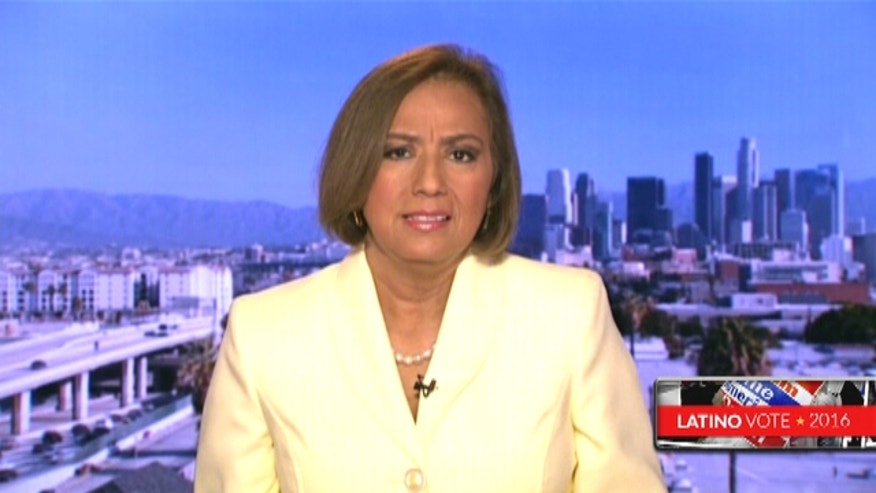 A day after she rocked the political world with news that she was endorsing Hillary Clinton – an endorsement so unlikely and high-profile that the Democratic candidate treated it like a major coup in a press release – Republican stalwart Rosario Marin described her decision as gut-wrenching.
In an interview with Fox News Latino via satellite from Los Angeles, the former U.S. Treasurer, who served in the George W. Bush administration, said that while she disagrees with Clinton on a wide range of issues, she firmly opposes "everything" that GOP presidential nominee Donald Trump stands for.
"He insulted me as a Mexican, as an immigrant, me as a woman, me as the mother of a child with a disability by mocking a reporter who has a disability," Marin said. "At this point, it's either going to be him (Trump) or her (Clinton), the president of the United States. I'm going to do everything that I can to stop him."
Marin likens Trump's notoriety among Republicans to that of former California Gov. Pete Wilson, whose 1994 crackdown on undocumented immigrants is seen as the spark that turned Latinos against the GOP in the state.
Wilson was a vocal proponent of a 1994 ballot measure aimed at eliminating public benefits to undocumented immigrants. Since then, Democrats have dominated in statewide politics, and controlled the legislature.
Marin said she had once supported Wilson, but drew the line at what clearly was an anti-Latino agenda.
"I have personally seen what has happened to our party here in California," Marin said. "Twenty years later we're still paying handsomely for what the party did with 187."
"My Republican principles, what I believe in, that hasn't changed," Marin said. "But my party is allowing this man (Trump) to come in and hijack our party."
For the GOP "to not stand up to him, that's an embarrassment to me."
Elizabeth Llorente is Senior Reporter for FoxNews.com, and can be reached at Elizabeth.Llorente@Foxnews.com. Follow her on Twitter @Liz_Llorente.