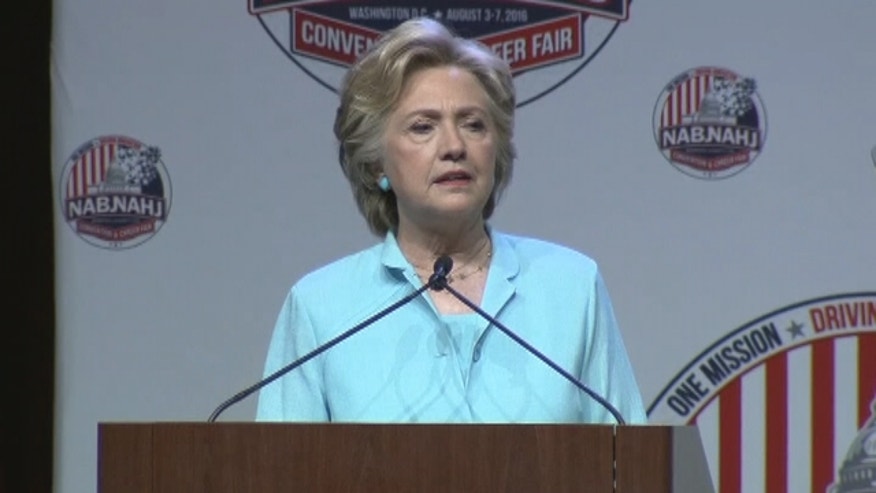 Washington D.C. – Hillary Clinton conceded Friday that she may have "short-circuited" during a recent interview with Fox News host Chris Wallace when addressing the controversy surrounding her email server.
At a press conference at a convention for Latino and African-American journalists, Clinton said: "Director Comey has said that my answers in my FBI interview were truthful. That's really the bottom line here."
"I have said during the interview and in many other occasions during over the past month that what I told the FBI, which he said I was truthful, is consistent with what I have said publicly," Clinton said at the press conference at a joint convention of the National Association of Hispanic Journalists and the National Association of Black Journalists.
"So I may have short-circuited," she added in her response to a question from reporters during the joint press event, her closest to an official press conference in eight months.
A Washington Post reporter pressed Clinton to explain why she did not field more questions on the campaign trail, a common criticism by journalists who cover the Democratic presidential nominee.
"I encourage you to do this more often with all of us across the country – especially those news organizations who travel with you wherever you go," the reporter said.
The reporter went on to ask Clinton how she would lead a nation as president when the majority of people don't trust her.
"I take it seriously," she said. "I do take it seriously when people say those things, and I recognize that I have work to do."
Clinton fired shots at Republican rival Donald Trump for his controversial rhetoric at campaign rallies.
"He stokes division and says horrible things," she said. " We need to stand up and say Trump does not represent our country."
Clinton also addressed immigration, an issue toward which Trump has taken a decidedly hard line.
She told the audience of several hundred, mostly journalists, that reforming the immigration system to allow for a pathway to legal status for certain undocumented immigrants would be a top priority in her administration.
"The Republican nominee is vehemently anti-immigrant, but there is nothing like winning to change people's minds," she said.
Nonetheless, when President Barack Obama held majorities in both the Senate and House during his first term, he was still unable to find widespread Republican support for his plans.
The Associated Press contributed to this report.
Serafin Gomez is a White House Producer for FOX News Channel, who also covered the 2016 election as a Special Events & Politics producer and former special campaign correspondent for Fox News Latino. Fin formerly worked as the Miami Bureau Producer for Fox News Channel where he covered Florida Politics & Latin America. Follow him on Twitter: @Finnygo