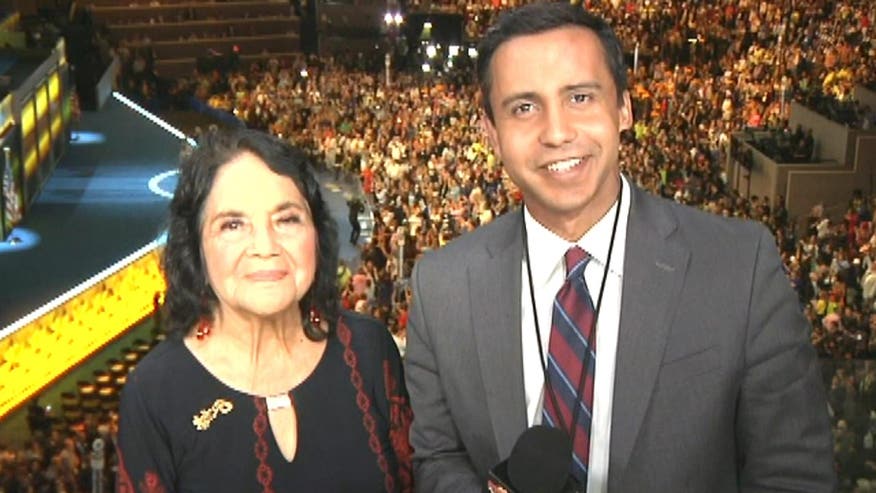 For Dolores Huerta, it is a "dream come true" to see a woman accept the nomination for president
When the labor leader and civil rights activist took the microphone on Thursday night at the Democratic National Convention, she held back no punches. The 86-year-old started swinging as soon as she began her speech.
"Ya basta con Donald Trump!" (Enough with Donald Trump!) Huerta said. "Abajo con Donald Trump!" (Down with Trump!)
She spoke with Fox News Latino after her speech and said this was her response to what she characterizes as personal attacks on the Mexican-American community from the Republican presidential nominee after he said Mexico was sending rapists and criminals to the U.S.
"We know that we do not deserve that," she told FNL.
But Thursday night wasn't about Trump for her. For Huerta, seeing Hillary Clinton become the first woman to accept the nomination for president of the United States from a major party was a culmination of her life's work as a feminist activist who has worked her entire life, not only to empower migrant workers alongside Cesar Chavez, but to empower Latinas as well.
"This is a dream come true for many, many women who have fought so many years to make sure women are taken seriously because we know we are as qualified. This will be an inspiration for all women for all girls," Huerta said. "This is something I think that all of us, especially in the feminist movement, that we've been working for to be able to get women elected and progressive women elected."
Huerta has been working for decades to help increase the number of Latina political representatives from communities around the country and she's earned national awards including the Presidential Medal of Freedom for her life's work.
She has also known Clinton for a quarter of a century and has been involved in projects with her.
"Hillary has done service for all these years and this is what I've tried to do with my work. How can we improve the lives of other people?" Huerta said. "How can we make lives better for other people? All of us should think about doing that."
During her speech on Thursday night, Huerta urged people to go out and vote in November in what she called the most important day of our lives.
She believes the Latino vote will make the difference in the election and she plans on continuing to help Clinton's campaign win in November.
At 86 years old, Huerta continues going at a frantic pace. She says it's because she loves empowering people and organizing. It's also because she knows there is still much work to be done – to set the stage for girls who want to live out their dreams.
"I am sure," Huerta said, "the Latina president has already been born."
Bryan Llenas currently serves as a New York-based correspondent for Fox News Channel (FNC). Click here for more information on Bryan Llenas. Follow him on Twitter @BryanLlenas.