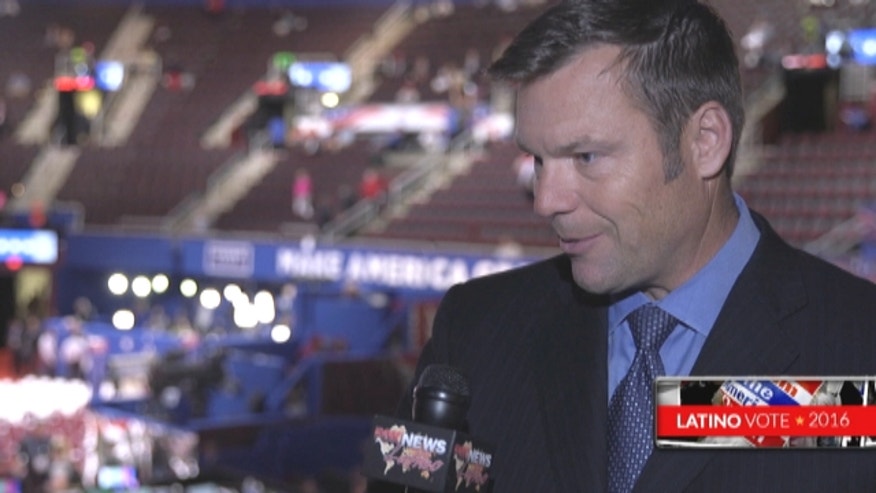 Cleveland – Take controversial immigration positions in the last three Republican National Convention party platforms, notorious immigration enforcement laws in such states as Arizona and Alabama and Donald Trump's proposal to build a huge wall along the Southern border and make Mexico pay for it.
Behind all these measures and proposals is one man – Kansas Secretary of State Kris Kobach.
All week, at the convention in Cleveland, Kobach has heard his hard line immigration proposals raised time and time again. His influence was strongly present in Trump's nomination acceptance speech Thursday night, when he addressed many of the positions Kobach helped draft for the campaign and the Republican Party platform.
In an interview with Fox News Latino, Kobach, 50, explained his virtual obsession with immigration as a commitment to the rule of law. In this year's platform, Kobach said, strict immigration policy is portrayed as a national security necessity.
"The immigration policy in the United States needs to serve the national interests of the United States," Kobach said. "The platform has never really spelled it out that way."
"In particular, we need to do a better job screening individuals coming from high risk parts of the world."
Kobach influenced 2012 GOP presidential nominee Mitt Romney's embrace of "self-deportation" as a way to drive millions of the nation's undocumented immigrants out of the country.
If life becomes too miserable for people living here illegally, Kobach has argued, they'll return to their homelands. The concept of self-deportation dominated headlines, painted Romney as being insensitive to immigrants and was blamed for having alienated Latino voters, who wound up giving him a dismal 27 percent of their vote.
Kobach firmly defends the concept, describing it as attrition. He maintains that the no-nonsense immigration measures he is the mastermind of are beneficial to Latinos and other immigrants who are here lawfully.
"We have to enforce our laws," said Kobach, a tall, large-framed man with a deliberate, soft-spoken style. "We especially have to enforce our laws to the benefit of those people who do it legally – people who come in legally and respect our laws. It is a slap in the face to them if we ignore our laws and allow people to come in illegally and give them amnesty."
The Kansas Secretary of State also maintains that strict immigration laws keep jobs open for U.S. citizens and legal immigrants.
"Whether they are U.S. citizens or non-citizens who have come here from some country, they get here and find out that their job was taken from somebody who came here illegally."
Kobach has high praise for Trump, saying that he is more committed and focused on cracking down on illegal immigration than previous presidential candidates he has advised.
He had a hand in creating the Republican nominee's proposal on how to make Mexico pay for the border wall, coercing the country by not allowing remittances from Mexicans here back to their homeland which add billions to the country's economy.
Kobach also was pivotal in the Texas-led court challenge of Obama's executive action to extend Deferred Action for Childhood Arrivals (DACA) and to grant Deferred Action for Parents of American and Lawful Permanent Residents (DAPA).
He is unfazed by arguments that his measures – including the fight to do away with DACA and DAPA – wreak havoc on immigrant families.
He says that what he is taking on is "President Obama's disregard for the rule of law over the last four years. He's implemented two executive amnesties which he doesn't have the authority to do and which usurp the power of Congress. We talk about those amnesties and our disapproval of those amnesties" in the GOP convention platform.
Kobach draws the ire of many, from immigration activists to the editorial board of the New York Times, which recently called him "a blight on true democracy."
The newspaper noted that Kobach also has been an influence behind what it refers to as "extreme positions" on guns, same-sex marriage and strict voting laws.
Does it matter at all to him that he's seen this way?
"It matters a great deal to me that people think that, because it's not true," Kobach said, "and it hurts me when somebody says ... you are xenophobic or racist."
"I understand that usually when people make those accusations, it's because they don't have a better argument to make," he told FNL. "They would rather not talk about the policy, instead they attack the person. I don't think that's the respectful way to debate these issues."
Elizabeth Llorente is Senior Reporter for FoxNews.com, and can be reached at Elizabeth.Llorente@Foxnews.com. Follow her on Twitter @Liz_Llorente.