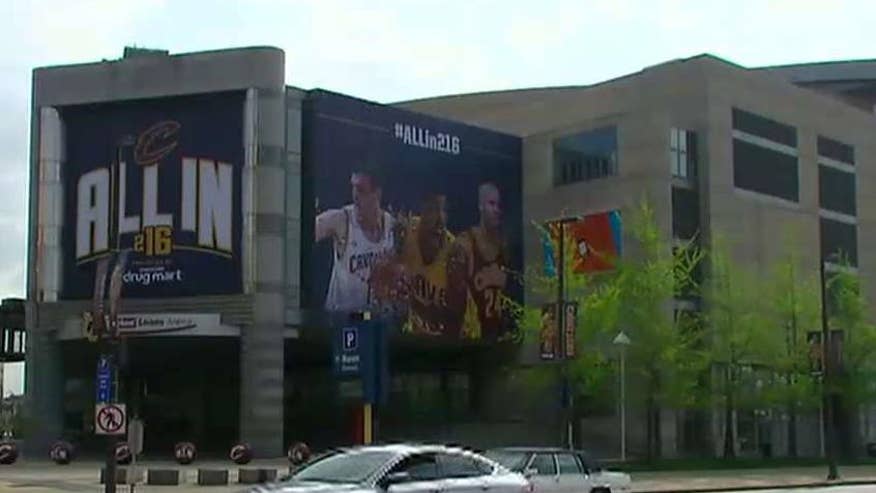 Cleveland's mayor and police chief plan to outline what security measures the city will need to take for the Republican National Convention next week.
Officials in Cleveland are gearing up for the thousands of visitors expected to descend upon northeast Ohio for the convention from July 18 to 21. The convention is expected to nominate billionaire real estate mogul Donald Trump.
Trump's rallies themselves have drawn intense protests with demonstrations resulting in violence between supporters and opponents and arrests and rioting in some cities. At least 35 people were arrested Friday in San Diego after one of his events.
Cleveland Mayor Frank Jackson will join the Police Chief Calvin Williams and other city officials Tuesday to go over a "comprehensive overview of security preparations" for the upcoming convention, Jackson said in a statement.
"Despite rumors, the Division of Police is prepared and is on track with its planning goals," the statement said.
A Cleveland police union official has been sounding the alarm for months about how Cleveland officers are not being properly trained to deal with potentially tumultuous protests.
"The city of Cleveland has been absolutely irresponsible for preparation of this convention," Steve Loomis, president of the Cleveland Police Patrolmen's Association, said Friday.
Furthermore, several police departments across the nation have already pulled out of going to the convention, citing security concerns.
Greensboro, North Carolina police had planned to send at least 50 officers to Cleveland, but decided not to after saying earlier this week the city isn't providing workers' compensation for coverage for out-of-town officers and is requiring them to get physical exams they'd have to pay for themselves.
Deputy Police Chief Brian James wrote in a memo to the city's police chief that he had spoken with police administrators experienced in planning events like the GOP convention and that they expressed "a lack of confidence in the city of Cleveland and their preparedness."
"We have a responsibility to ensure that we are sending our officers to an event that is well planned," James wrote.
A Cincinnati police spokesman said Friday that the previous police chief had discussed sending officers to Cleveland, but his successor decided against it because of the insurance issue and because Cincinnati is hosting the national NAACP convention the same week.
City Council members have said officials are deploying about 5,000 officers – including police from other law enforcement agencies – to provide security for the convention.
"A lot has been said that Cleveland is not prepared for the RNC," Williams assured Wednesday at a news conference. "Well, I'll tell you today, we are prepared."
The Associated Press contributed to this report.