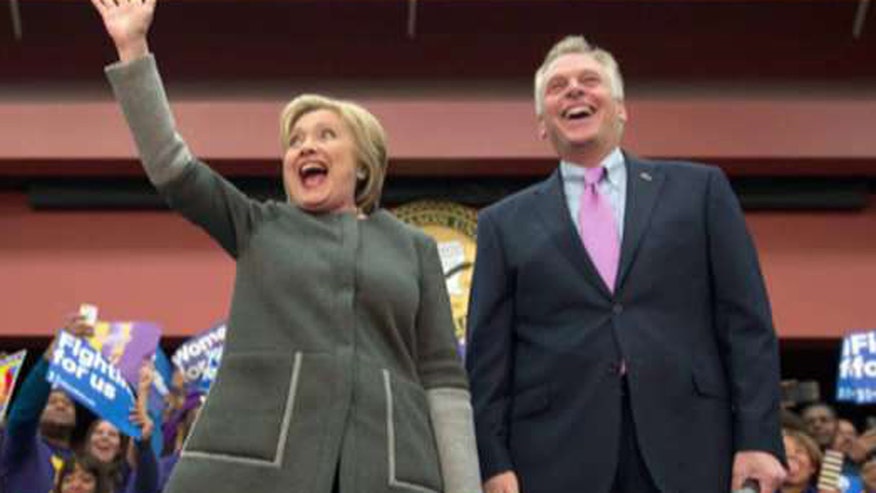 Longtime Clinton ally and Virginia Gov. Terry McAuliffe insisted Tuesday that a newly revealed federal probe into contributions accepted by his 2013 campaign has "nothing to do" with the Clinton Foundation or Hillary Clinton – as the news put renewed focus on the dozens of donors he and the foundation have in common.
The Democratic governor was peppered with questions from the media about the investigation on Tuesday. He said he was shocked to learn about the probe and can "absolutely" guarantee that federal investigators will find no wrongdoing.
"We're very confident," he said.
Sources familiar with the investigation confirmed to Fox News on Monday that investigators are probing whether the governor's 2013 campaign accepted illegal contributions.
The probe, first reported by CNN, apparently involves a $120,000 donation from Chinese businessman Wang Wenliang through his U.S. businesses. U.S. election law prohibits foreign nationals to donate to political races.
McAuliffe's attorney, Marc Elias, said in a statement his office had not been aware of the investigation, but would cooperate if contacted by federal officials. The governor said Tuesday that the businessman in question is a "valid donor" and has been a green-card holder for years.
The individual, though, also is a donor to the Clinton Foundation. CBS News reported last year that Rilin Enterprises – a company run by Wenliang and reportedly connected to the McAuliffe donation in question – pledged $2 million in 2013 to the Clinton Foundation's endowment.
And he's far from the only donor to both McAuliffe's campaign and the foundation. The Washington Post reported last year that 120 donors have given to both McAuliffe and the foundation.
Asked about the overlap, McAuliffe said Tuesday, "We have a lot of the same friends." But he insisted the situation "has nothing to do with the Clinton Foundation."
Asked later if he's concerned the probe might reflect poorly on Democratic presidential candidate Clinton, he said it has nothing to do with her, either.
Republicans nevertheless seized on the connections.
"Not only is this FBI investigation another reminder of the kind of corruption and sleaze the Clintons and their friends traffic in, it raises additional questions about the legitimacy of the Clintons' charitable enterprises," Republican National Committee spokesman Michael Short said in a statement.