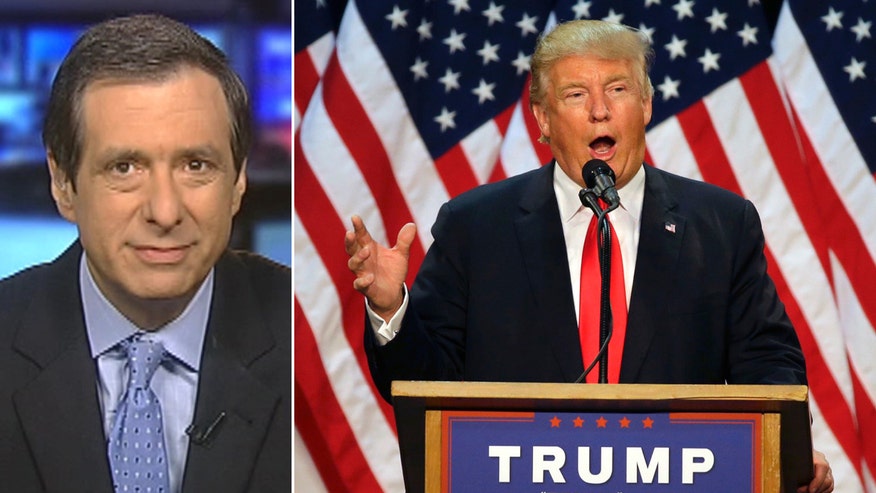 Just as the rest of the world is focused on a Donald/Hillary matchup, the #NeverTrump crowd is still hoping to somehow derail him in Cleveland.
Isn't it a little late for that? The Republicans running against Trump have all dropped out. This feels so last month.
I understand why those who believe Trump will lead the GOP to defeat, ruin the party's brand or just don't like the guy are still taking their whacks. But it seems like there's an air of unreality around these last-ditch schemes.
And if they did succeed, of course, the hijacking of the nomination from a man who clobbered the competition and won more than 10 million votes in the primaries would totally rupture the party.
If Bill Kristol, the Weekly Standard editor, succeeds in launching an effort to mount a third-party conservative bid, it will, in my view, hand the election to Hillary Clinton. I know there's this fantasy that no one gets to 270 and the contest winds up in the House, but that sounds more far-fetched than the notion that Trump wasn't going to get to 1,237.
And it comes at a time when Trump has stunned the media establishment by pulling almost even in the polls. NBC has Clinton narrowly beating him, 48 to 45 percent, which is essentially a tie. Sure, May matchups don't mean much, and a presidential campaign is all about the swing states. But those are eye-opening numbers for a non-politician with high negatives who is widely portrayed as polarizing.
Still, the Washington Post gave front-page display yesterday to a story on Trump declaring that "grass-roots conservative activists are still trying to find a way to stop him at the party's convention in July."
How could this be? Forget the fact that primary and caucus voters turned out to support delegates pledged to their candidates, which is the whole point of the democratic process. Now these activists want the delegates "unbound":
"Veteran Republican campaign operatives familiar with convention planning are offering to educate delegates on how they can act as free agents, even if the Republican National Committee insists that delegates adhere to the results of their state primary."
Conservative blogger Erick Erickson is on board:
"It should be increasingly clear to Republican delegates that their rendezvous in Cleveland is going to be a ritual mass suicide. In addition to losing the presidency, they will lose the Senate, endanger the House, and see catastrophe all the way down the ballot. But they can choose not to commit suicide. The Republican delegates have the power to reject the purported nominee."
The new wave here is ripping Republicans who are, with whatever degree of reluctance, boarding the Trump train. A Washington Post editorial slams Reince Priebus for having "exposed the rank nihilism that is driving Republican leaders' acceptance of Mr. Trump."
Post columnist Michael Gerson, a former George W. Bush staffer, says that Trump was right on one point: "He attacked the Republican establishment as low-energy, cowering weaklings. Now Republican leaders are lining up to surrender to him — like low-energy, cowering weaklings. The capitulation has justified the accusation…
"For the sake of partisanship — for a mess of pottage — some conservatives are surrendering their identity."
But the anti-Trump folks have a bit of problem: they have no horse to ride. Even if they could overcome the inherent problems of an independent bid, such as ballot access, which conservative is going to be the standard-bearer? Mitt Romney, Tom Coburn and Ben Sasse all say they don't want to do it.
Kristol, whose old boss Dan Quayle is backing Trump, has bought the web address NeitherTrumpNorHillary.com. But right now the site is just a logo featuring a dog.
Kristol got a little testy yesterday with CNN's Alisyn Camerota for pointing out the lack of a leader:
"Yes, no one stepped forward," Kristol said., adding: "Have I been in touch with people? Yes. Do I think the country deserves better? Yes. If you just want to say people so far said, no, can't happen, great, you guys would love a Trump/Clinton race. Fantastic news every day. Two unattractive candidates fighting stupidly about their personal lives, fighting with the New York Times. I'd like someone to run who could really do better for the country."
At this point, it's not about what the press wants. Primaries have consequences. The time for Trump's detractors to derail him was somewhere between Iowa and Indiana. The question now isn't whether Trump can win over conservative leaders in the media and the GOP, it's whether rank-and-file Republican voters are falling in behind him.
Howard Kurtz is a Fox News analyst and the host of "MediaBuzz" (Sundays 11 a.m.). He is the author of five books and is based in Washington. Follow him at @HowardKurtz. Click here for more information on Howard Kurtz.